⌘ December 31, 2021
The HeyDingus 2021 Favorites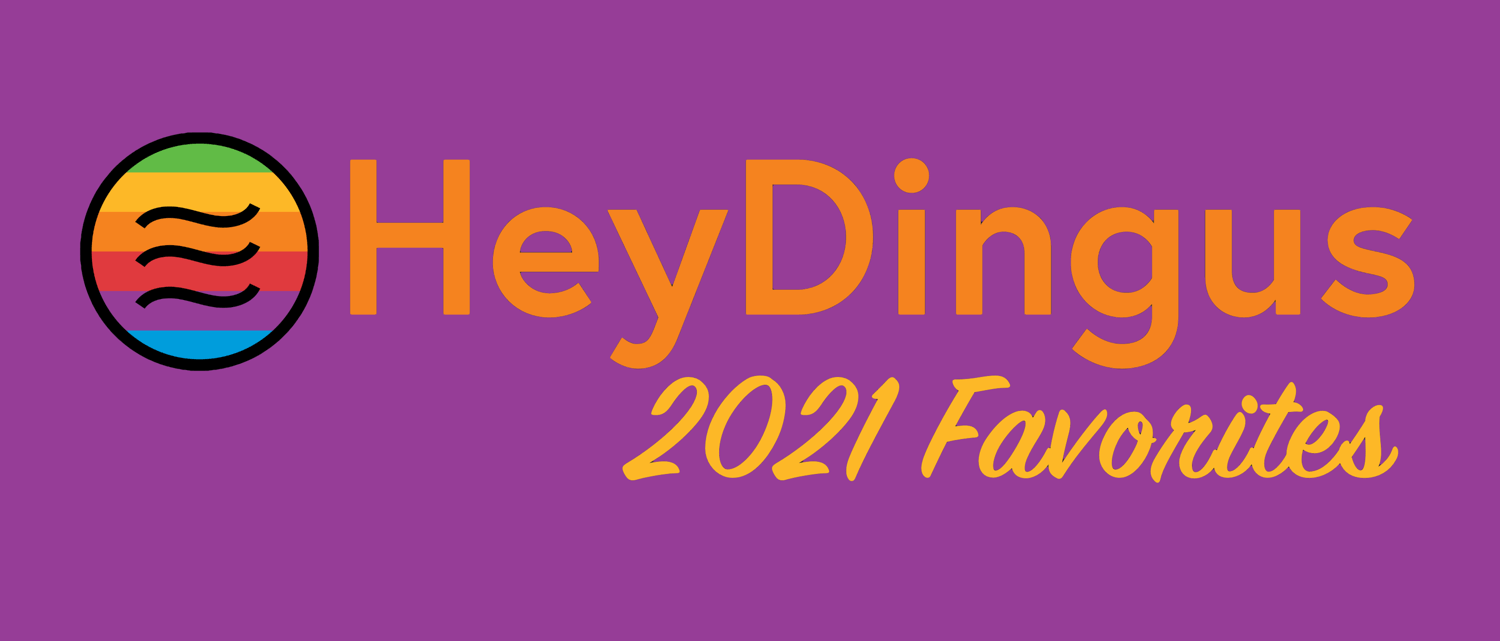 While I like to think of myself as a considerate person, I don't usually find that reflection comes easily. But I believe it's fun and vital to think about the best of each year. So I've made a concerted effort to narrow down what has made the most significant impact on me over the past 12 months.
Reflection this year was particularly challenging because time has gotten weird as the world has somewhat exited from the COVID pandemic's restrictions. I can't decide if January feels likes weeks ago or years. And while I'm sure I have said that about each year, the pandemic has exacerbated the feeling.
But from that wibbly-wobbly, timey-wimey mess of a year came some remarkable advances in technology and well-crafted entertainment. So, with only a little further ado — as inspired by The Upgradies, and building on my inaugural edition last year — I present my favorite things: the products, media, tools, and more that stood apart this past year.
Apps
Favorite iOS App — Marvis Pro
While I certainly could have given this award to something more long-standing in my setup, like Drafts or Things, the truth is I had less of a need for those apps this year. A job change provided me more time to enjoy life rather than just work through it; I have loved filling it with music using Marvis Pro. It's a fast, fluid, and customizable version of the Music app. Key to Marvis's success is the Home page. Not only can you make it as informationally dense or sparse as you like, but you can also create custom sections to display your library or Apple Music content in a way that makes sense for you.
For example, I've set up Marvis to give me top-of-page access to my most-used playlists. Then I've got a scrolling list of albums that I've added that came out just this year (very helpful in narrowing down for the Favorite Album category). Then I have sections for music recently added and played. Finally, at the bottom of my home page, I set smart sections to pull in songs and albums that I may have forgotten about — things that I have loved or have high play counts but haven't been played in a while.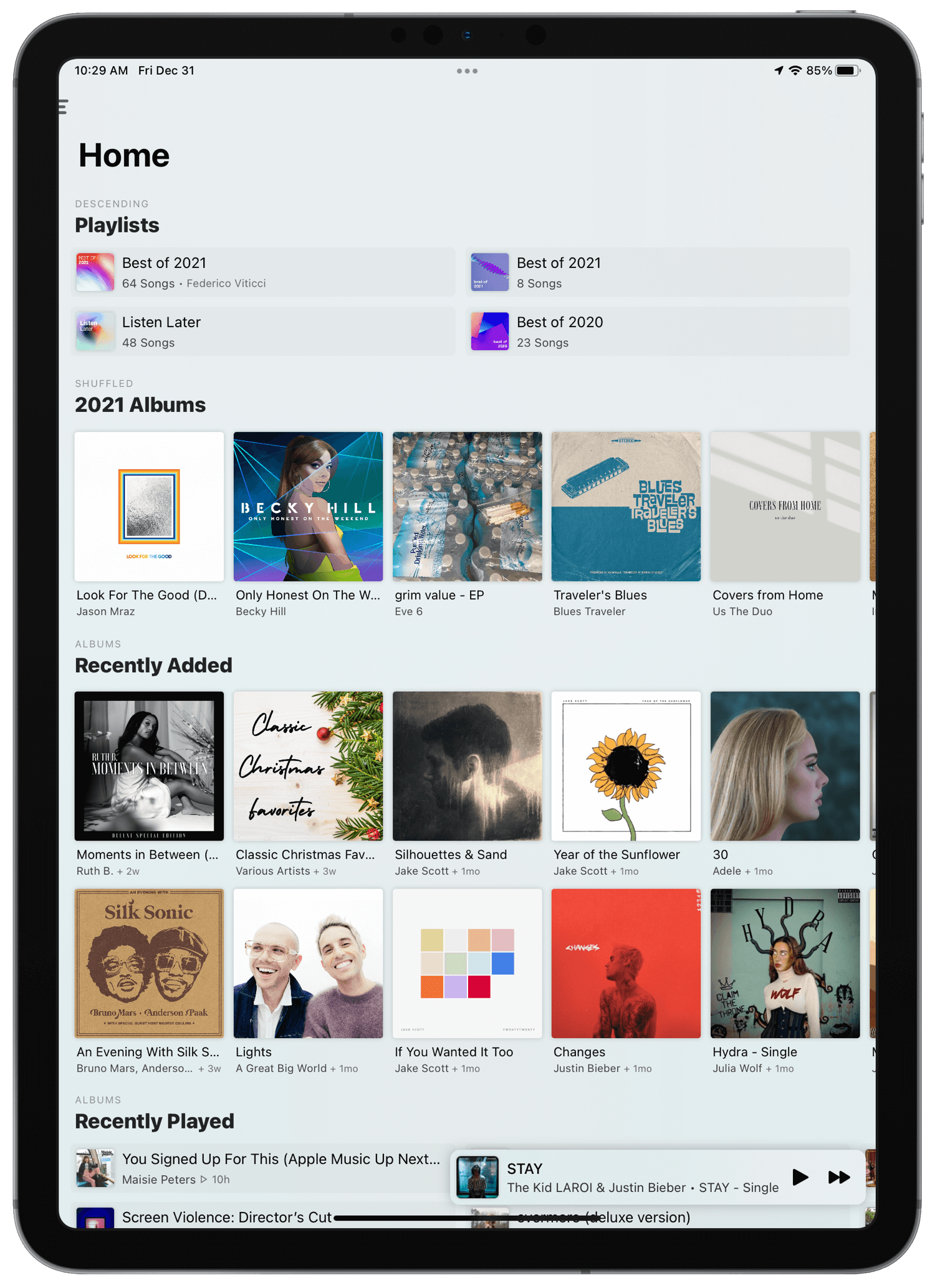 Marvis has helped me rediscover and expand my music library in a way that the Music app never has. Plus, its swiping interface is stupid fast and very intuitive. I sometimes have to jump into the Music app (easy with customizable top and long-press actions), but Marvis is where all my listening starts.
Runner Up: Libby — The library ebook and audiobook companion built upon Overdrive's infrastructure doesn't follow any of the modern iOS app conventions, but that gives it some of its charm. I've been using Libby for years to check out ebooks from local libraries straight to my Kindle, and it's saved me tons of both money and time. Though I did not read as many books as I usually do this year, I have to give it the runner-up award because I think it broke into the general mainstream in a big way. Pandemic lockdowns certainly helped it along, sure, but its become part of everyday vernacular in a way that very few apps have. Both my 90-year-old Grandpa and my technology change-averse wife have discovered and fallen in love with Libby this year. It's a solid app that works just as well as an audiobook player as it does a book discovery and delivery engine. Libby gets a big thumbs up from me.
Favorite Newcomer iOS App — Parcel
Parcel stole the crown as my go-to deliveries app in 2021, and it's another beneficiary in the surge of at-home convenience. After being a Deliveries customer for years, the promise of Amazon package integration made me try out Parcel, and it works great! I was able to turn off Amazon app notifications entirely and rely on the automatic import of items purchased from my Amazon account to show up alongside all the UPS and USPS items I add manually. There are still some design choices that I prefer in the Deliveries app, but since I don't spend a lot of time in either, I value the functionality of Parcel higher. Plus, it's fully universal, and sync has been rock solid. (I don't know for sure if Parcel came out in 2021, but it certainly only got onto my radar this year.)
Favorite Mac App — Things
I used to be a person who relied on my task manager to get anything done. I had too much going on to keep it all in my head, so I used a combination of Drafts and Things to make sure that nothing got missed. And working between home, an office, and on the road meant that I needed a to-do app that would sync all my devices. And I wanted a consistent experience between them. Luckily, Things is a Mac-assed Mac app that is also excellent on the iPhone, iPad, and Apple Watch. But my needs changed enough that I probably got the most use out of Things on my Mac this year.
Some things that Things gets just right: design, integration with the operating system, and integration with other apps. The interface of Things feels right at home no matter which platform you use, but it also distinctly Cultured Code's brand. The ubiquitous white background with clean lines and iconography brings a sense of calm to my tasks. There are plenty of power-user features like tagging, Markdown support, Shortcuts actions, and excellent keyboard navigation. Still, it never feels overcomplicated, which is more than I can say for most other task managers.
But perhaps my favorite feature of Things on Mac is its Quick-Add functionality. No matter what I'm doing in macOS, I can hit Control-Space to bring up the new task window. Or, I can press Control-Option-Space to bring up the same window, but with a URL ready in the notes field linking back to whatever I was currently in. Webpages and emails from Spark are my most commonly linked items, but lots of things around the system get pulled in automatically. It's made contextual computing and getting back to the right place to complete a task more effortless than ever before.

Runner Up: CleanShot X — Writing HeyDingus this year has made me even more appreciative of CleanShot X, the excellent screenshotting software from MTW. Sometimes a post needs a screenshot, and while there are many great solutions on the iPhone and iPad to frame and markup those screenshots, for the Mac Cleanshot is the only way to go. It offers way more functionality and customization than the built-in screenshot features in macOS. I love the persistence previews, one-click actions, and desktop background borders. But what seals the deal are the top-notch (😉) annotation tools. I've used them countless times for marking up a screenshot with words, arrows, highlights, and more — you've seen them used most prominently here in my Shortcuts Tips series. I used to be a Skitch user but grew frustrated by its heavy-handed Evernote integration. The tools are similar, but Cleanshot X is better in every way.
Favorite Newcomer Mac App — Shortcuts for Mac
Alright, here's where I know I'll ruffle some feathers. Shortcuts for Mac was debuted at WWDC with the promise of being "the future of automation on Mac." Excitement and expectations were high but quickly rocketed down throughout the beta period because of Shortcuts' bugs, inconsistencies, and general unreliability. Some of those issues have been cleaned up, and I would call the app quite stable in macOS 12.1. But there's no denying that problems persist, mostly — as I understand it — stemming from Apple's decision to build Shortcuts for Mac with SwiftUI. (A decision that I applaud because I think it will push SwiftUI forward as these issues that need to be dealt with are discovered. Though I think it would have saved Apple some lousy press by labeling Shortcuts as the beta app that it truly is.)
All that being said, I'm so glad that Apple didn't decide to wait even longer to bring Shortcuts to the Mac. My primary automation and scripting education is in Shortcuts from iOS and iPadOS. Sure, I could learn AppleScript or Automator, but if Shortcuts really is the way forward, I don't want to waste my time and the hundreds of hours already put into the workflows I've made from the iPhone and iPad.
With Universal Control on the horizon, it could have been the stopgap for accessing iOS automations while working at my Mac, but a native solution is so much better. Working on shortcuts with my large monitor, multiple windows, and mouse has been a joy and unexpectedly reinvigorated me this fall. I, for one, and am even more excited about Shortcuts now than I was at that WWDC announcement. I'm confident the Shortcuts team will clean up the rough patches and continue to pave new ground for its many users.
Plus, it's produced the only new permanent additions to my Dock this year:
Media
Favorite Game — Ticket to Ride
My friends introduced me to this railroad-building game this year, and I was hooked right away. (Perhaps because I won my first round.) I appreciate this game because it is strategic without being too competitive. It's hard to know precisely what your opponents are aiming for until the end of the game. That secrecy means that tension builds throughout the game as you hope that no one builds their track in a critical spot you had your eye on. There are a few rules to understand initially, but not a lot must be explained while playing. Which makes it a great conversation game. I can't recommend it highly enough.
Runner Up: Spyro Reignited Trilogy for PlayStation 4 — When we switched out our PS2 for a PS5 last year, my wife and I agreed that we would try to find modern versions of our favorite games getting left behind. Spyro was one of those games. We both grew up on it and have returned to it often, even though modern consoles and graphics left it in the dust long ago. I was thrilled to find the entire three-game series on one disc, and it looks great on the PS5. It's been a real journey through nostalgia to play from the beginning.
Favorite iOS Game — Alto's Adventure
You might think that since I've been working on this game for several years now, I'd be sick of it. On the contrary, I love this game, even though I'm still slowly slogging my way through its challenges. Snowboarding through the gorgeous scenery, collecting llamas, and attempting not to crash — all backed by a stellar soundtrack — is one of the more calming ways I spend time on my phone. I also appreciate that it works with the Backbone One controller, which is how I played on most of my flights over the past few years. I'm also glad to know that once I'm done with Adventure, I'll be able to move onto Odyssey
Favorite Movie — CODA
When I sat down to watch CODA (titled as the acronym for Child Of Deaf Adults), I didn't expect to be so moved by it. Being the only member of her family who can hear, you'd expect that Ruby would be thrilled with her lot dealt in life. But navigating her family through a hearing-centric world comes with a boatload of responsibility heavy for any young person. Ruby shoulders it, lovingly, the best she can until an opportunity of a lifetime comes along to pursue her passion that her family cannot understand: singing. The movie has ups and downs, love and heartbreak, and many side stories that kept me glued to the screen. Will Ruby's brother gain the respect he craves? How could the family's fishing business survive without Ruby? I haven't stopped thinking about this film for months.
Runner Up: Spider-Man: No Way Home — This is an easy runner-up winner. I've loved every Spider-Man movie that's come out over the past two decades, and this one ties them all together. Spider-Man is, by far, my favorite superhero. I won't spoil any of it here, but I was impressed with how the writers weaved together so many storylines into a compelling viewing experience. It wasn't perfect — I think Peter makes a lot of questionable decisions that seem a bit out of character — but the superb acting from so many fan favorites more than made up for those plot points. It gets a hearty two thumbs up from me!
Favorite TV Show — Trying (Season 2)
I continue to believe that Trying is Apple TV+'s most underrated show. And that's coming from a fan of Dickinson, which I've also been evangelizing but has been more mainstream. Trying holds a special place for me. It's got the heart of Ted Lasso but with more relatable characters. The inspiring relationship between the main characters Jason and Nikki makes me happy teary as often as it makes me laugh aloud. I'm so invested in their chaotic journey in trying to become parents, and I'm rooting for them!
Runner Up: Loki (Season 1) — Disney knocked it out of the park with this series. I wondered how they would make a compelling series about a character who is supposed to be villainous but who we all know ultimately has a soft spot. Would we hate Loki? Love him? The answer, as usual, is both. And it's compelling not only because Loki serves as the lynchpin for the next stage of the multiverse but also because of the seasoned acting and incredible set design throughout the show. I recently heard it compared to Doctor Who, but with a Disney-sized budget. That description is apt.
Favorite Book — All The Light We Cannot See by Anthony Doerr
2021 was a light reading year for me. At least when it comes to novels. But my favorite of the year was Anthony Doerr's telling of the fictional experience of two young children on opposing sides of World War II. Marie-Laure is blind and lives with her father, and keeps a secret. Werner is an orphan obsessed with terrestrial radio tech who gets shepherded into the Nazi army. How and why their stories intertwine kept me turning page after page, tension building all the while.
Favorite Album — You Signed Up For This by Maisie Peters
Speaking of Trying, that show is where I discovered Maisie Peters. She performed a song in Season 1 and then was asked to create the entire soundtrack for Season 2. You Signed Up For This is her debut album, but the fit, finish, and consistently great tracks reveal an artist with talent beyond her years. The Taylor Swift influence is unmistakable, but Maisie makes the music entirely her own. "John Huges Movie", "Psycho", and "Brooklyn" are among my most played songs this year, but I'd be hard-pressed to name a bad track on the album.
Runner Up: Screen Violence: Director's Cut by CHVRCHES — In full transparency, Screen Violence had the top spot for my favorite album until my very last relisten two it and You Signed Up For This. I don't say that to suggest that Screen Violence didn't hold up; it's just that Maise Peters barely edged it out.
With several albums now under their belt, CHVRCHES was on the top of their game with this latest one. It's the tight, refined next step in the pop-alternative sound that could be defined with a picture of this band. I appreciate albums with a theme from start to finish, and Screen Violence definitely does. They have something to say and package it up in an album that can be listened to comfortably in one sitting. But you'll want to hit replay.
Favorite Tech Podcast — Connected on Relay FM
Come for the tech, stay for the japes. The Connected trio continues to impress. Even after nearly a decade of podcasting together, the show evolves, becoming funnier and wilder each passing year. But don't think that means they're leaving tech news by the wayside. Stephen, Myke, and Federico are at the top of their game, but Connected is where they can 'let their hair down.' I never miss an episode.
Runner Up: Accidental Tech Podcast — Come for the tech, stay for the opinions. Another long-standing tech podcast, ATP is where I go to get insider knowledge. Not that Marco, Casey, or John have excessive insight into Apple's secrets, but they have been covering the tech scene for a long time. And each has hands-on experience in software development, with strong opinions on design, user experience, business practices, cars, toasters, and much more.
Favorite Non-Tech Podcast — All Consuming
This is the only two-time winner in these HeyDingus annual favorites. There's not much more that I can say about All Consuming, a show ostensibly about trying direct-to-consumer goods that I didn't say last year except that it's only gotten better over time. The antics, the bits, and the wild things that Noah and Adam make their editor, Paul, add into the show keep me laughing week after week. I've even purchased a couple of the items they reviewed, but that's not really the point. Oh, and the listener-made website to track each item's rating on the 'World Famous One Hundred Point Scale' is a wonder in itself.
Favorite Podcast Newcomer — Football is Life on The Incomparable
As you might have guessed from the TV section, I'm a huge Ted Lasso fan. The premise sounded awful, but then stole the whole of 2020 as the show we all needed. Season 2 certainly took a turn, but I think I can see where it's going, and I trust the show creators. With its rotating set of hosts, this podcast went back to the beginning of Season 1 to rewatch and talk about it — you know, the way podcasts do. I enjoyed hearing folks talk about their favorite bits and episodes and how things that weren't obvious at the time paid off over multiple episodes or into the second season. I anxiously await Season 3 and will absolutely be following along with Football is Life for the play-by-plays.
Favorite Blog — Birchtree.me
I can't say for sure when I started following Matt Birchler's work. It was probably after seeing his watchOS concepts pop up year after year. But 2021 is when I began reading his blog in earnest. As the tagline on Birchtree proudly states, he's been "talking tech since 2010," and I think his site serves as a real-life example of what can happen when you consistently work at something for a decade. Matt doesn't have the notoriety of some of the other big names in the Apple community, but there's no denying that he's known, and his presence is growing. What I appreciate most about his blog, though, is that it's not trying to be one thing. Matt writes about and links to stuff in all of his interests: photography, gaming, Apple, payment systems, design concepts, applications, and workflows. Another don't-miss is his YouTube channel, A Better Computer. Matt is receptive on Twitter, writes a weekly newsletter, and might be the most impressive screencaster out there right now.
Runner Up: SixColors.com — If Matt Birchler is an up-and-comer, Jason Snell and Dan Moren sit at the opposite end of the spectrum. Anyone in the Apple community who isn't aware of Jason's legacy at Macworld and subsequent foray into self-employment with Six Colors is missing out. Despite being long-toothed in Apple coverage, I continue to be impressed by Six Colors posts. Their enthusiasm, along with expertise, is exactly what I look for in quality reporting.
Favorite Newcomer Blog — BasicAppleGuy.com
If I'm being honest, this guy is pumping out the kind of content that I imagined I would create when I started HeyDingus. I'm happy with what my blog has turned into — a place for me to think aloud and contribute to the automation and workflow conversation — but that makes me doubly glad that BasicAppleGuy.com exists. Besides having a swell general demeanor, Basic Apple Guy tells the stories of Apple devices, legacy and modern, with excitement that I can feel through his writing. And that's not to mention the superb quality of wallpapers that he's regularly crafting. As someone on Twitter recently put it, "I don't know what his day job is, but he should consider being a graphic designer." Add this site to your follow list, and you won't be disappointed.
Products
Favorite Apple Product — iPhone 13 mini
I said last year that the iPhone 12 mini was the phone I wished I would have bought. I thought I wouldn't notice the size increase from 11 Pro to 12 Pro, but I totally did. The iPhone no longer fit my hand, and I actively struggled to reach things on the screen. Well, as a member of the iPhone Upgrade Program and with whispers that the mini line may soon come to an end, I took the opportunity to put my money where my mouth was. The iPhone 13 mini was a phone worth craving. It changes everything, and it's a joy to use. It's so lightweight, and thumb typing is so much more comfortable. My last reservations were quelled with the improvements over the 12 mini — increased battery life, sharper cameras, and better 5G coverage. I'm in love with this phone, and if there's no direct replacement for it next fall, I can't see myself upgrading, which would be the first time in several years.
Runner Up: M1 Mac mini — I'm on a mini-train this year! This computer has been everything I dreamed of. After the pandemic sent everyone home and seriously strained our computers with streaming endless video calls, I knew the natural life of my 12-inch MacBook was coming to an end. However, since I already had everything I needed for a desktop setup — an external keyboard and mouse and a decent display — I knew the right next Mac for me. Everything you've heard is true. This Mac runs silently. Sometimes I think I've pushed it hard enough to turn on the fan, but it's always just my external Time Machine drive spinning up. It's responsive. It doesn't care how many apps I open, though the occasional Safari tab will bog down memory. It's the always-on and ready-to-go Mac that I wanted, and I intend to run it for many years to come.
Favorite Non-Apple Product — Keychron K2 Keyboard
The vast majority of the words that you read here on HeyDingus have been pounded out on this very Keychron keyboard. Especially as the year wore on and I had less opportunity to write out of the house, my iPad's Magic Keyboard fell by the wayside. I still love that accessory, but it doesn't bring me as much enjoyment as this clicky, glowy, color-changing wonder under my fingers. The broader world of mechanical keyboards isn't something that I am interested in exploring, but I know that its tactile feeling makes writing feel more substantial. Keychron has, thankfully, made this keyboard an easy plug-and-play for people like me who don't know anything about hot-swapping, soldering, or keycap pullers. Next year I may try out the slimmer model to help out my wrists, but otherwise, I couldn't be happier.
Most Life-Changing Hardware — Self-Watering Pot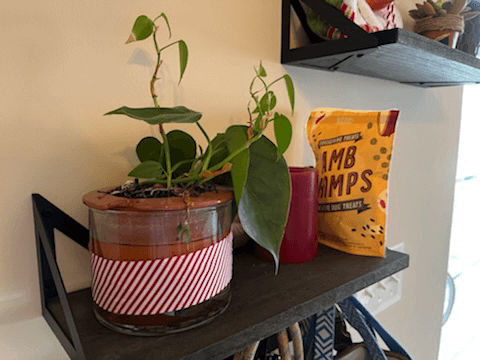 This item is a little different. It's a gift I got for my wife last Christmas because I thought it looked so cool. But it's probably had a more significant impact on me than her because I perpetually forget to water the plants in our home. With its semi-permeable terracotta pot sitting inside a glass cup, the plant can consume water at the rate it needs. And it lets me keep an eye on when the water level gets low. Since the plant only sips, I have to refill the pot once every few weeks. It's not earth-shattering, but it is a nice improvement. Plus, it makes a handsome home decoration. This MoMA one has the edge in design, but here's an Amazon version that I expect would work just as well.
---
Thanks for letting me get all that out. As I mentioned at the top, it's fun to take stock of what was most notable each year. I'd love to hear if we have similar tastes in products and media, or if you have suggestions for great stuff that I missed!
I wish you all a happy New Year, with the hope for great gadgets, goodies, and adventures to come.
---
❮ Previous post
A Few Desk Setup Additions: Winter 2021
December 27, 2021
Next post ❯
Looking Back at the First Year of HeyDingus
January 1, 2022