⌘ May 31, 2023
Letters with Jose: May 31, 2023
This is my third and final letter to Jose. He posted this response, quoted below, on his site.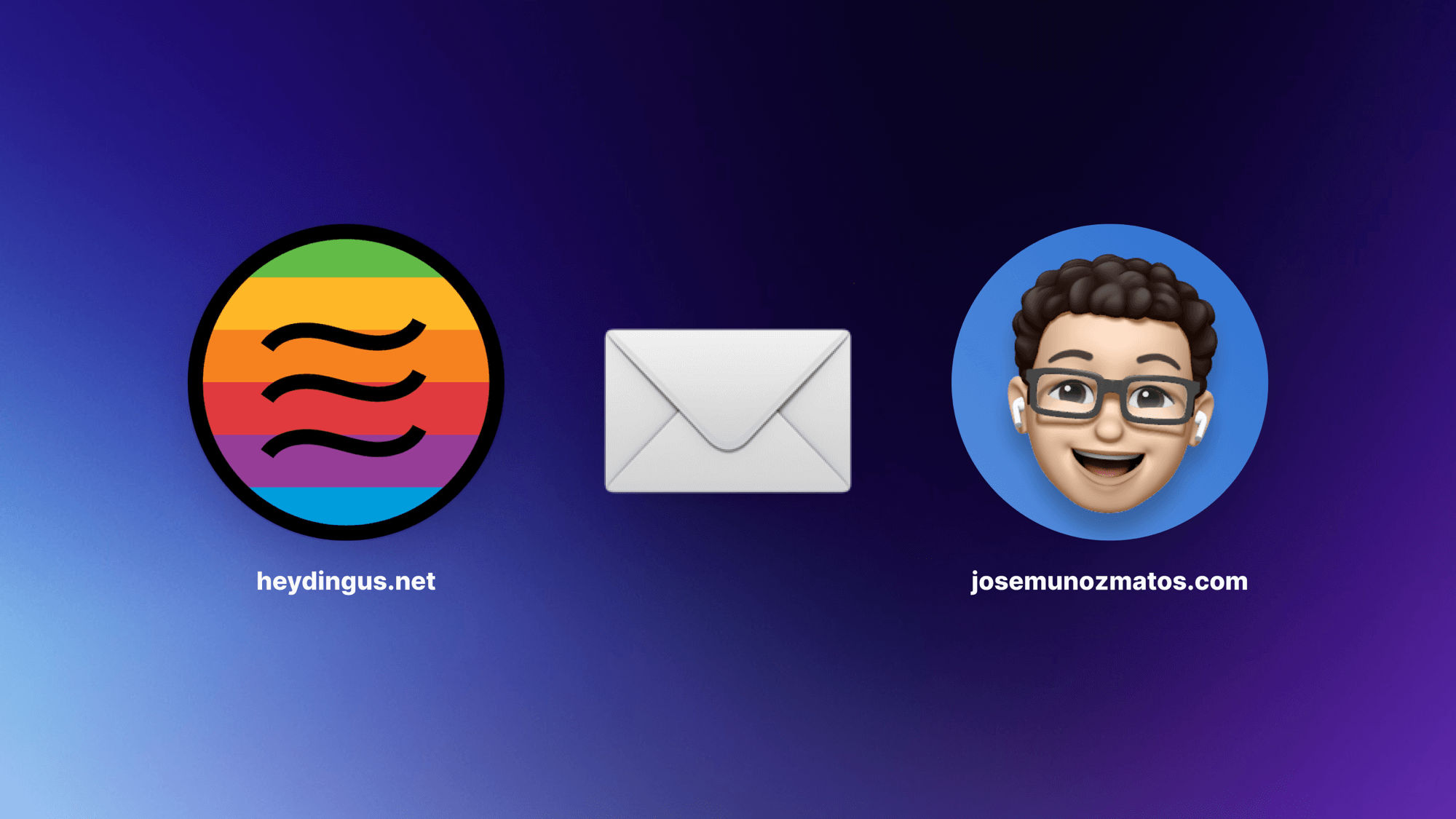 Jose's Last Letter
Hey Jarrod!

Sorry for the delay in the response. I had no time to write during my trip, which means it was good, haha. I'm working on the pics and post and will probably post it in June!

Thank you! Ohh, it's definitely strange living in a territory, but I've gotten used to it. At least we get almost all the same benefits as other states. The big one, tho, is we can't vote for US President. Also, shipping is a nightmare! Even tho shipping to PR costs the same as in other states, many stores flag PR as international by default, so it can be a pain. First-world problems.

Oh, it's good to learn you're also a Graphic Designer! Although one can tell by looking at your site, you have a good eye for data! Ugh, I dreaded those classes, too; so many things to remember, and it was even more challenging with more abstract art periods.

Yes, I'm massive fan of the Apple Stores displays. I've always wanted to either work at an Apple store or be an Apple genius, but there are no Apple Stores in PR, only retailers (another downside of living in a territorry haha)

I started working on my "portfolio website" in 2021. Still, I abandoned it after I got promoted and stopped looking for jobs. Still, for the current website, I started work, I think, last October. But I was collecting personal websites I loved for a while, and yours was a great inspiration! You have nailed the perfect balance between a blog and a personal website. I feel honored that you are taking some inspo on my site, btw anything you think could be improved, let me know! Ohh, and the Charizard idea came from Dennis Cortes's website; he has a Gengar, super adorable!

Your upcoming trip sounds fun, camping with family is always interesting, I get what you mean about the kids haha. Oh, I can't imagine a 14-hour drive; in PR, the longest trip we can make is 2.5 hours. I might rent a car on my next trip to the states and do a long roadtrip.

Loved your story about how your website came to be! If you haven't done a post about it, you should! I like your idea for separating the words. When I first saw your site, I had the feeling you mentioned, that "Dingus" referred to you, and the Hey part alluded to the conversations on your site. And now, knowing about the connection with tech, voice assistants, and shortcuts makes even more sense, and it's super clever! Btw seems like we have the same reading interests, too, because those sites are where I spent the most time reading, besides personal blogs! Also, looking forward to the new Project idea! Your days sound amazing; I admire how you find time to do outdoor activities and work on your projects at night, that is something I'm currently working on. I alsolaughed when you mentioned Dinner because it's the same here; I can only cook the bare necessities and don't enjoy it, but my wife does! Also, I loved how you structured the list, so I will follow the same layout. Here is what my days look like. I work remotely, and most of my team is on SF time, 3-4 hours behind, so I structured my days to accommodate for more overlap time:

6:00 am - Wake up and have breakfast: My wife wakes up around this time to get ready for work, so I wake up with her so our sleep schedules and in sync. We'll have coffee, catch up with

RSS

, have breakfast, tidy up a few things and get ready to work.
8am-10am Design work: Right after breakfast is the time Im the most productive, so I try to use this time to focus on things like designing or prototyping for my job or doing presentations. Now, folks on the west coast have not started their day yet, so it's almost distraction-free.
10am-12pm - Workout/Errands/Lunch: I try to do a workout every weekday if possible. I've tried doing this in the afternoons s, but my willpower is depleted by then.
12pm-6pm - Meetings & Work: At this time is where most of my meetings and calls are scheduled. Syncs, planning, and design reviews. In between calls, I usually catch up with admin tasks or chat with colleagues via Slack.
6pm - Relax/Windows: I step outside of the office and take our dog to the rooftop to play for a while, then sometimes play video games until my wife is home.
7pm - Dinner and

TV

: We have Dinner together on the sofa while catching up with

TV

shows. Ted Lasso fan here as well!
10pm-11pm - Bedtime: Because we have to get up so early, we have been going to bed earlier - too early, maybe. In bed we either finish a show or watch YouTube videos until we fall asleep mid-video and decide it is time to sleep.

Seeing one's routine written down like this is interesting, and now I'm tempted to make some tweaks! I don't like how my work block is split in half, so I might consider something different! Like you, I also want to allocate time in the afternoon to work on projects like my website.

So for board games, I'd say I'm more mainstream; I've only played your typical commercial games and not the super cool indy ones. My favorite to play was either Risk or Monopoly. I think Risk because there was a bit more strategy. How about you? Are you a big Board Games fan? What is your favorite?

As for hobbies outside tech, I love to collect and build Lego, mostly star wars. I have a huge collection of Lego Star Wars minifigs. For outdoor hobbies, I often played tennis in competitive leagues. Still, it has been a while since I've played, mostly because of all the time the leagues consumed between practices and road games. I'm considering playing again but more for fun. I don't know if this is considered a hobby, but as I mentioned in the daily routine, I also like a workout at the gym, primarily weights. What would you say is your favorite recent hobby?

This has been super fun! Again, I'm sorry that it is almost the end of May and we don't have as many letters as we should. Oh, I'm happy you liked the graphic! Of course, feel free to use it and to keep using the format for your future letters if you like 🙌

Talk soon

Jose
---
My Letter Back
Hey Jose,
I'm glad to hear you had a good trip! Can't wait to see the pictures and hear some stories about your travels. I'll be taking notes for our own eventual Disney excursion.
This evening that I'm writing to you, I'm honestly feeling a little out of it. I just got off a pretty nasty cold that I picked up while camping but got invited on a long trail run in preparation for a race I'm trying to do. I didn't want to say no, so out I went on an 11-mile run up over some local mountains with 3,000 feet of elevation gain throughout it. Oh, and it was like 80 degrees out. My body feels a little wrecked, but hopefully, my mind stays sharp enough for writing. My apologies if I get ramble-y.
I also just finished watching the final episode in S3 of Ted Lasso. The final one from that storyline and characters? I'm not sure! But I did enjoy the season finale, even though worked out the way that I would have hoped. My wife was not a fan of how things went, so I can attest that it's not as universally loved as the first season. I'm happy to hear you're a Lasso fan, too!
Thinking more about Puerto Rico, it doesn't sit well with me that you're not able to vote for President. I'm sure there are more complexities in play there, but I consider that another strike against our overall voting system. I'd like to see some real change happen there. The gerrymandering, electoral college, voter suppression — they all hurt our country and I'd like to see our democracy progress in those areas, though it feels like the opposite has been happening lately, unfortunately.
I'll confess that I rarely think about the US territories — it's just not a subject that comes up often in my life. But three things got me thinking about Puerto Rico in particular recently. (1) Talking with you, of course. 😉 (2) The 'Where Have I Been?' trend going around Micro.blog this week. And (3) I heard that there is excellent rock climbing there. It's officially on my shortlist of places I want to go visit. It blows my mind that you couldn't travel more than three hours anywhere. I'd feel the need to explore every inch!
I'm astounded that your site came together so quickly. Your design and product shipping prowess is showing there. I think I spent at least two or three months on each of my launches — the original Squarespace one, and then again when I moved to Blot — but I was flying by the seat of my pants on both. I had a lot to learn and was very picky. Not a great combo if aiming for speed. But your site seemed to arrive in perfect form. I'm tickled that HeyDingus was an inspiration. It feels most of the time that I'm writing into the void — perhaps you've felt the same — so it's always exciting to hear that there are people out there reading, enjoying, and returning.
Thanks for indulging me in the HeyDingus story! I have a little bit about the origin on my About page but never gotten everything out before. I suppose that last post can count as a blog post retelling! And thanks for the encouragement on evolving the "brand". I'll continue to think on it.
Your day-to-day sounds quite pleasant to me. Except for the getting up at 6 AM part. 😝 I'm more of a night owl than an early bird. But getting to tackle your most creative work right away without distractions from the rest of your team sounds like a real benefit. And that break in the middle of the day lets you get to some errands and things while the rest of the world is still "in business". Sounds like you do most of your internet reading in the morning. For me, I collect throughout the day and then try to cram in as much as I can before bed, but I'm terribly behind. Trying to catch up before WWDC so I'm ready for the summer beta season.
My wife and I are, indeed, board game fans. We don't play regularly, but it's a common feature of any friend get-togethers that we host. My favorite of the past couple of years is a game called Ticket to Ride. It's pretty slow-paced, and everyone is kind of on their own trying to build a train line to connect their "secret" destinations across the map. So, it's great for playing while carrying on other conversations. The intensity rises toward the end, though, because you're hoping you'll be able to complete your line before time runs out, and other people could swoop in and take a connection you need at any moment. It's great fun.
I've been admiring your Lego collection. I used to build those when I was young and had them proudly on display around my room. My favorites were the Harry Potter-themed kits, which I see you have several of! The Hogwarts castle was a challenge. I imagine that it's relaxing to build the kits out of the instructions, and I like how they serve as a physical momento to your interests. My favorite most recent hobby might be ice climbing. It's what I've tried new most recently that really "clicked" with me. Although, now I'll have to wait until winter again to do some more. I've been thinking about picking up a tennis racket though. I'm partial to Table Tennis, but the full-size one looks like great fun and great exercise. Sounds like it gets your endorsement!
Thank you so much for being part of this project! This was a great conversation to kick things off, and I've very much enjoyed getting to know you better. I look forward to more chats in the future. There is a lot about your site that I want to pick your brain about.
Best of luck with your own correspondents in the coming months of your Letters project. I'll be reading along! 🙌
Take care,
Jarrod
---
If you'd like to be part of this Letters project, please reach out! I might still have spots open.
---
❮ Previous post
Two of My Favorite Bits of Reader That I Wish Were Replicated in Every Other Reading App
May 30, 2023
Next post ❯
Why I Happily Spent $70 on an App I Almost Ignored
June 1, 2023