⌘ January 1, 2021
My 2020 Upgradies
On the annual awards show of Upgrade (episode #332):
It's the 7th annual Upgradies! Myke and Jason discuss their favorites of 2020 across many categories.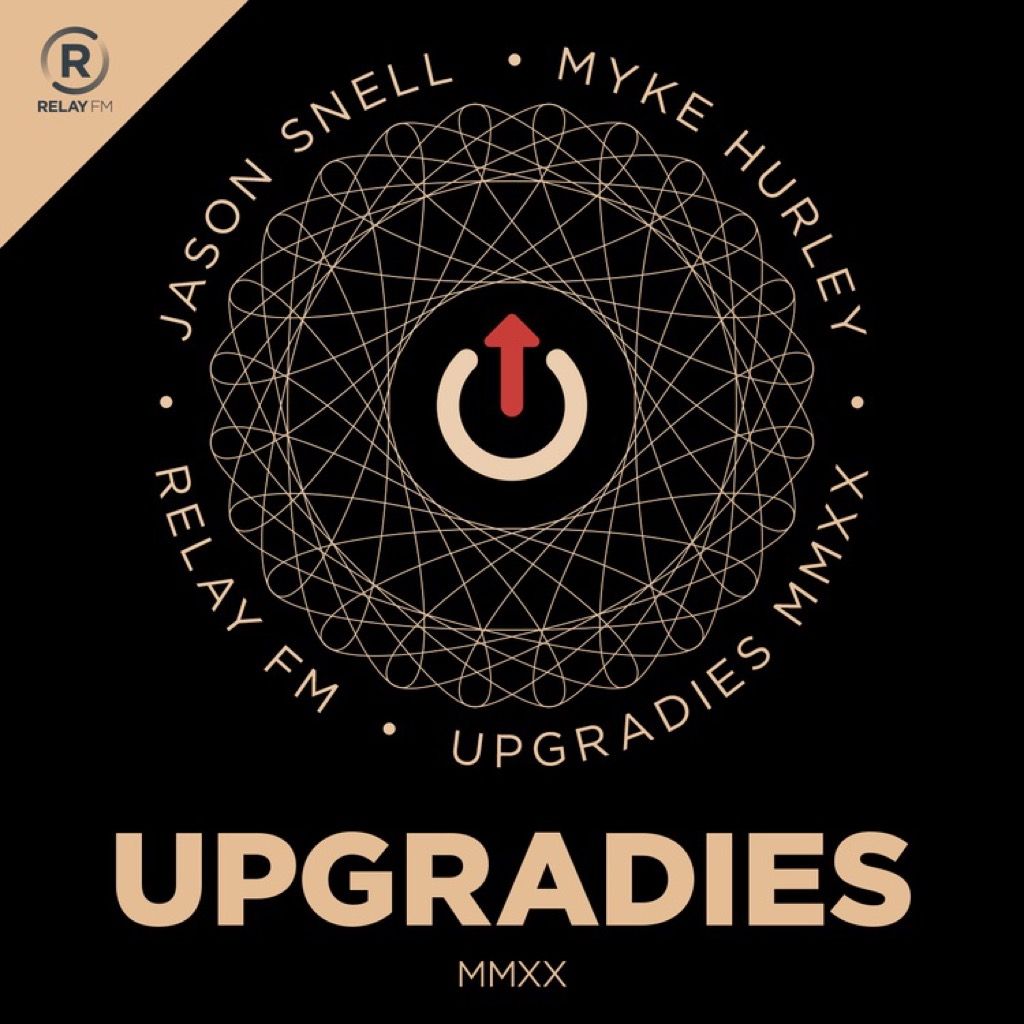 Upgradies be fancy!
The Upgradies episode is a delight to listen to at the end of each year. I can only imagine the monumental effort it takes to collect and organize all the votes. You can see all the winners on the awesome Hall of Fame website, but I recommend listening to the podcast first for the discussion.
Myke and Jason do a great job talking through the votes and their picks, and then kindly and thoughtfully decide together on a winner. I do chuckle when they disregard the Upgradians' votes to pick something unique and specific to one of them, like Myke's keyboard.
Here are my personal winners for each category this year:
Best Overall iOS App - Reeder
Developer Silvio Rizzi has made Reeder amazingly fluid, fast, and a joy to use. I use Reeder every day both as my RSS app to follow dozens of feeds, and as my Read Later service to read thousands of articles. Reeder 5 is out now, but I continue to use Reeder 4 because it's still rock solid.
Best Newcomer iOS App - HEY Email
I don't choose HEY because it's a fantastic native iOS app. It's good — but there's a weirdness that comes from the core service being web-based. HEY is my best newcomer app because it's made people rethink how they do email. I already had a pretty solid email workflow using Spark (which I continue to use for work), but HEY has helped me to reduce stress on processing every message as it comes in. It's okay for some emails to just get filed off automatically. The Screener means I spend less time filtering spam. Snagging a great email address (jarrod@hey.com) in HEY was pretty cool too.
Best Overall Mac App - Things
A truly beautiful app. I use Things as my task manager on Mac, iPad, and iPhone, and it makes the most of each platform while retaining its unique and calm design. My obsessive personality means that I can lose hours down the rabbit hole of reorganizing my tasks instead of completing them, but the genius of Things is that it walks the tight rope of having enough features to be powerful without being overwhelming as an operating system itself to manage. That Cultured Code sweats the details of each platform with features like keyboard navigation, iOS cursor support, global quick entry on Mac, Shortcuts support, deep-linking, and Scribble with Apple Pencil is the icing on the cake.
Best Newcomer Mac App - TextSniper
I had to switch to my Mac to glance through the apps in my Dock and Menu Bar to what I added this year. One of the most useful and no-brainer apps I discovered this year was TextSniper. Using the same mechanic as taking a screenshot, you can grab text from any image on the screen. This is perfect for pictures of receipts with tracking numbers, and for webpages that have unhelpful layouts for text selection. I have to remind myself that it's a tool I have at my disposal, but it solves that niche problem so perfectly.
(Memos on iOS works similarly, but privately scans your photo library to do so.)
Game of the Year - Jackbox Games
I had heard about Jackbox Games for years and had it on my list of things to check out. When the pandemic hit, it was time to finally give it a go. Using Zoom to play Jackbox with friends while enjoying a beer brought some normalcy back to the world, and probably saved my sanity. Quiplash, Drawful, and Murder Trivia Party are a few of the best games.
iOS Game of the Year - Sudokoi
Even though it's not a new game, I have to award Sudokoi because it has finally filled a desire I have had since getting an iPad with Apple Pencil support. Sudoku is the best for me when I can physically write in the numbers and tap my pencil while I think. Sudokoi is the first app that I have found to allow me to do so with the Apple Pencil. It also has a gorgeous design.
(My runner up has to go to Crossy Road Castle, but I play that with a controller on the Apple TV.)
Favorite Movie - Hamilton
Now I know what all the fuss was about when Hamilton debuted on Broadway. History has never been my favorite subject, but, golly, has this made me interested in the birth of our nation. It's truly a masterpiece that I can watch (and listen to) again and again.
Favorite TV Show - Ted Lasso
I'm putting Ted Lasso here as my favorite TV Show of 2020 because I think it was the right show at the right time, and it seems to be universally loved. It's wonderful. But there were so many other fantastic shows that I discovered this year, that to choose any of them feels like cheating on the rest. Stay tuned for my forthcoming Best of 2020 post for TV Shows for more, but I have to mention The Queen's Gambit and Central Park because my wife and I loved them both.
Favorite Book - Red Rising Saga
Hearing about how much Federico Viticci enjoyed this series turned me on to these books. It's a unique cross between roman mythology, space wars, and dystopia while being relevant to the real world as it explores challenging systemic social class inequality. I'm a little embarrassed to say that I only read five books this year, and one of them was very short (and required for work). Red Rising, Golden Son, and Morning Star were three of them.
Favorite Apple Product - Apple Fitness+
Despite the challenges of the pandemic, Apple has had a knockout year for great products. I could say so much about the AirPods Max (great design, great sound, and great features), the iPad Pro with Magic Keyboard (the combo I'm longing for, and which is making me rethink my laptop needs), HomePod mini (hooray, great sound quality and Siri in every room at a more affordable price), and iPhone 12 mini (the small phone I wish I would have purchased). But I won't.
My winner is Fitness+, which I have been using for only a couple of weeks, has already changed the way I exercise. I typically exercise in spurts. I'll run for months or get into a groove with daily morning workouts, but it only lasts until I get bored with doing the same thing each day. I have no interest in attending live workout programs, but I find the Fitness+ instructors to be engaging and the workouts both challenging and effective. The instructors' positive encouragement keeps the workouts feeling short, and their explanations of how to do each exercise are very helpful. The Apple Watch integration, the variety of workout types, and the constant stream of new videos make me believe it will stick for me. It's fantastic.
Favorite Non-Apple Product - LG 4K OLED TV/Sonos Home Theater Combo
Knowing we wouldn't be going to a theater for a very long time, my wife and I decided to finally upgrade our TV to make our home entertainment system more enjoyable. Coincidentally the Insignia speaker system I'd had for over a decade also finally gave out about the same time. We sprung for a 4K OLED TV (we bought the C9, but the CX is now the latest model until the 2021 ones debut) and Sonos soundbar with a couple of surround speakers and couldn't be happier.
Worst Gadget/Most Disappointing Tech - 5G
I'll be honest, my hopes weren't high for 5G being revolutionary. The reality is that it's even less of a big deal right now than I thought. I simply don't notice a speed difference. I think the carriers were about a year too early on all the hype.
Most Life-Changing Hardware - iPad mini
The iPad mini holds a special place in my heart. My first iPad was the 3rd-generation that bought for college. But when the iPad mini 2 debuted in 2013 with a much better processor, retina screen, and impossibly small form factor, I quickly sold the big boy for the little one. It lived in my coat pocket and I did everything on it. It continues to chug along to this day, and I only replaced it in the spring because it couldn't update past iOS 12. But I couldn't say truly say goodbye, so I gave my trusty friend to my dad to replace his original iPad mini stuck on iOS 9.
Why was it life-changing this year? When I picked up the refurbished iPad mini 5, I used the opportunity to change my habits with the device. Given the opportunity, I will forego sleep and work late into the night. I needed to set boundaries about what I could do with this iPad and when. It lives on my nightstand and is purposefully set up only with apps for reading, watching tv and movies, and playing games — no work apps. (Okay, Drafts is on it too so that I can quickly capture an idea that strikes.) That separation of functionality has done wonders for disconnecting from work during the evenings and weekends.
(My runner up would be the espresso machine that I gave my wife for our anniversary. She loves it, and although I don't drink coffee I can use it to make a fancy hot chocolate from home.)
Favorite Tech Story - Apple Silicon Transisition
The Upgradians were spot on for this category. Apple's first in-house silicon for the Mac has blown away all expectations, and handily trounced the competition in battery life and raw power. The M1 was designed for their entry-level products, so it's mind-boggling to consider what they'll achieve with chips for their higher-end computers. I'll be replacing my MacBook with an M1 Mac mini as soon as they're back in stock.
(A feel-good runner up was Apple donating masks and face shields of their own design to health care workers in desperate need early on in the pandemic.)
Favorite Tech Screw Up - Quibi
I'll agree with Myke and Jason on this one. We all knew Quibi was a bad idea from the start, and then watched the slow train wreck happen throughout the year. Goodbye Quibi, we hardly knew ye.
Favorite Tech Podcast - Dithering
Like Jason, I listen to Dithering in the shower — it's a delightful way to start my morning. John and Ben have great chemistry and their friendship is genuine, but they don't shy away from a good debate.
Favorite Non-Tech Podcast - All Consuming
It's so true that people listen to podcasts for the relationships first, and the content second. On their show, Adam (of Sandwich commercials fame) and Noah (of Noah Takes a Picture of Himself Every Day for 20 Years and photography fame) try a new direct-to-consumer product each week and discuss it. The products are crazy and conversations are hilarious.
Favorite Podcast Newcomer - 20 Macs for 2020
Since my history began in about 2006 with lusting after them and skinning Windows XP to look like Mac OS X, I had a lot to learn from Jason's podcast counting down the 20 most notable Macs. The production quality is superb, and the guest contributors featured many familiar voices. The podcasts, accompanying videos, and blog posts were things I looked to forward each week.
---
❮ Previous post
Thoughts on the Rumored Apple Car
January 1, 2021
Next post ❯
A Friend Made Something Cool During COVID
January 1, 2021