⌘ December 27, 2021
A Few Desk Setup Additions: Winter 2021
Today I have a fun update featuring a few items that have recently found their way into my desk setup. If you're interested in the full tour of what I use every day, you can find the summer installment here.
Surprisingly enough, none of these items were Christmas gifts. While I received a few tech gifts, the items below were all things that I bought myself and that finally shipped, I found in my house, or I bought for others but had an extra. Let's dig in.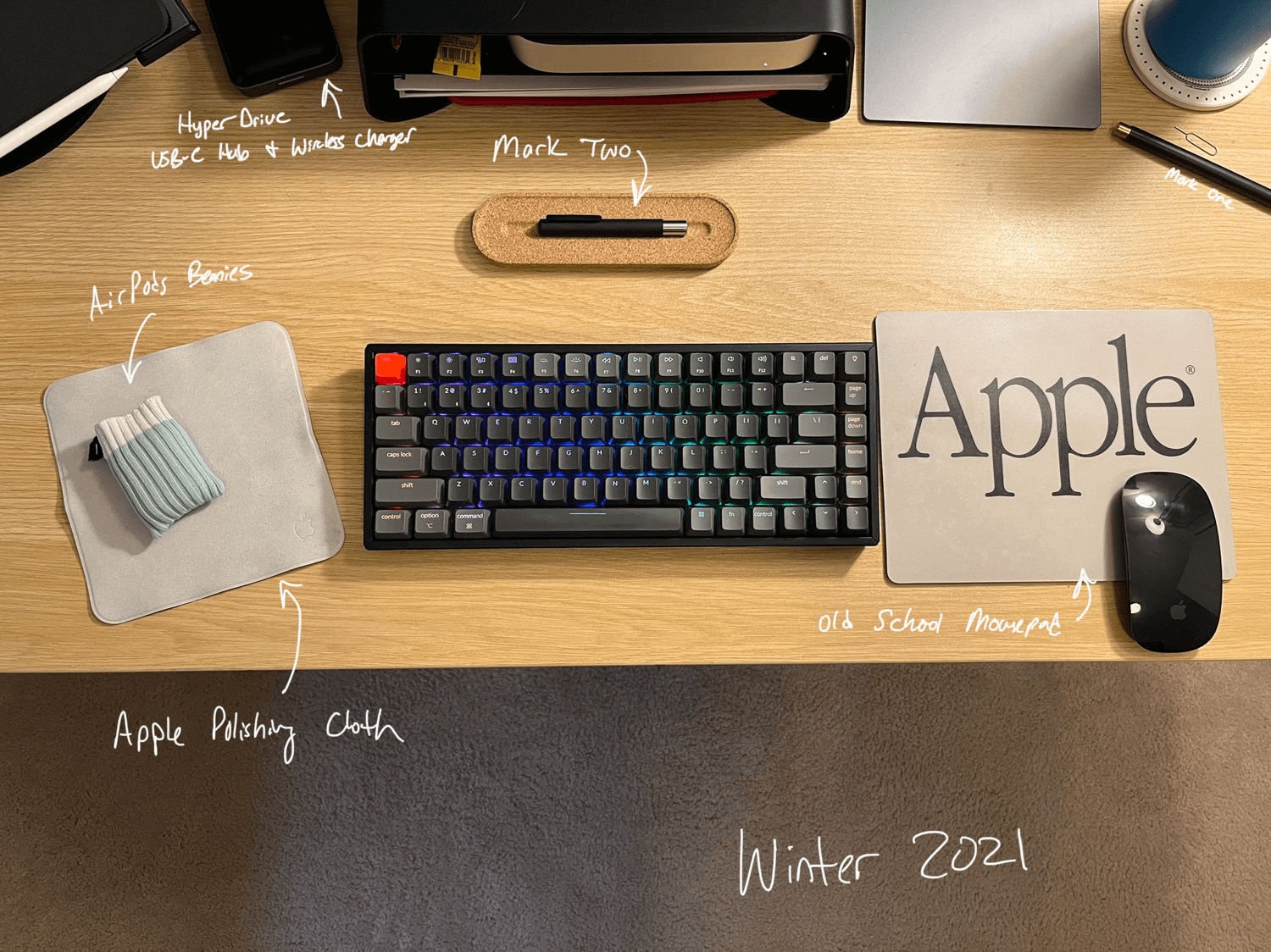 Apple Polishing Cloth — I know, I know, I fell for the hype. But I have my reasons. I usually want my phone on the desktop for easier access than fishing it out of my pocket when sitting at my desk. But I run case-less and have a cat constantly jumping up on the desk. So to give it a safe, soft place to live, I've been laying it on a cleaning cloth, but all my previous cloths were pretty small. The Apple Polishing Cloth has the advantage of being larger than average but not massive, and being thick and grippy on the desktop, which prevents my phone from sliding around. And it has a logo that I don't mind seeing all the time. Was it overpriced? Of course, but it sure is good quality.
AirPods Beanies by Native Union — These were technically a Christmas gift, but from me. When Native Union debuted the AirPod Beanies in celebration of the iPod's 20th anniversary, I just had to buy them. I never had the iPod Socks but thought they looked so fun. And while I'm not convinced that I'll end up keeping my AirPods in them while pocketed, the beanies do bring some coziness to the hard plastic case. The beanies come in a pack of four, so one went to my wife (who did use the old iPod socks and had fond memories of it), and the other two were given to friends (and readers of this site — hey guys! 👋). PSA: AirPods charge wirelessly just fine through the beanie, and you can see the LED light shine through the fabric.
HyperDrive USB-C Hub & Wireless Charger — While getting ready for our move, I've taken the opportunity to clear out some drawers of junk that I don't want to haul across the country just still never use. Hiding in the bottom of my cable drawer was this USB-C hub. It was a Kickstarter project that I backed years ago. In fact, it loyally served as the interface between my one-port MacBook and my desk display and other peripherals for almost the entire time I had the MacBook. And I've been longing for a hub like it for months, only to rediscover it just feet from my desk.
You see, for a while before I got rid of that MacBook, the HyperDrive seemed a bit glitchy. It didn't connect as reliably as it once had. Also, it ran hotter than I felt it should. So, when I set up my M1 Mac mini, I retired it to the drawer. However, I suspect the problem was more with the MacBook than the hub.
One of the very few problems that I've had with the Mac mini is that its ports are basically unaccessible, at least in the way I have it set up in my Twelve South Curve Riser. So I've had my eye on this Satechi hub built specifically for the Mac mini to provide ports out the front. But I'm not convinced it would fit in my stand, and I use the extra ports just infrequently enough that I didn't want to drop the dough on it. (I haven't deleted that bookmark yet, though, because the internal SSD for Time Machine still intrigues me.)
But reinstating the HyperDrive allowed me to remove two items from my desk setup. The old Anker wireless charger, and a Satechi portable hub that I had been getting by with. The HyperDrive gives me easy access to all the occasionally-needed ports and a charger with an adjustable angle. I flatten it for AirPods, and I can raise it to prop up my iPhone 13 mini.
I don't think Hyper sells a hub like this anymore, which is too bad. It's a solid concept!
Mark Two by Studio Neat — I was an early backer for the Mark One Kickstarter and love that pen. So when Studio Neat launched their campaign for their Mark Two pocket pen, I was instantly on board. That was nearly two years ago. The pandemic and other problems delayed the shipping of the Mark Two, but it was worth the wait. This pen feels premium and built to last. It has a durable pocket clip (a must, in my opinion). It's small in pocket, but then long in hand. And its clever magnets keep the pen capped while in my pocket. As someone who has ruined several pairs of jeans from retractable pens in pockets, I carry the Mark Two with the peace of mind knowing that it won't ever fail me in that way.
Apple Mousepad — This Garamond-emblazoned beauty was another find as I was cleaning out some stuff from my childhood home. It was a gift from a fellow nerd (one of those same friends, actually, 👋 again!). While many of those items got tossed or donated, I couldn't get rid of this mousepad. I can't say for how long it will stick around (I'm no longer really a mousepad kind of guy), but it does bring some vintage charm to the setup and a smile to my face.
(Mark One by Studio Neat — I include the Mark One retractable pen again here only because the Mark Two is currently sitting in its place of honor, the cork bed. In all honesty, if I'm at my desk, I'm probably using the Mark One. The Mark Two lives in my pants pocket for other writing throughout the day. I just had to show it here because it's so beautiful and completes the set with Mark One.)
---
❮ Previous post
7 Things This Week [#41]
December 26, 2021
Next post ❯
The HeyDingus 2021 Favorites
December 31, 2021