⌘ March 11, 2022
Apple's Veteran and Military Discount
A good PSA from Jim Eagar on his new Original Mac Guy blog:
Apple offers a 10% discount to current and Veteran members of the US Military, National Guard and Reserve. This includes members of the Air Force, Space Force, Army, Navy, Marines, Coast Guard, U.S. Public Health Service, and NOAA Corps. Immediate family members who reside in the same household are also eligible.
Eagar goes on to explain how to set up and use the ID.me account necessary to verify your service status:
Apple uses a third-party military verification service used by many other major retailers (Lowe's, etc.). To access the Apple military discounts, you will need to have a verified account with ID.me.
It's also worth noting that the online store is the way to use this discount from Apple since they can't usually honor it for regular purchases at their retail stores due to the verification process. If you want to use the military discount there, a Specialist will walk you through making the purchase on their website using this same ID.me verification process. You can complete the order and choose to pick it up in-store the same day, if available, but it's better to make the order at home since you'll have to wait for it to go through their system and be packaged for pickup.
Eagar explains a couple of ways to find the Veteran and Military Purchase Program, but I'll also point out that you can also scroll to the bottom of any page on apple.com and click the 'Shop for Veterans and Military' link in the 'For Government' section. Down in that footer, you'll also find the link for students and educators to access their special education pricing (not currently behind any verification process).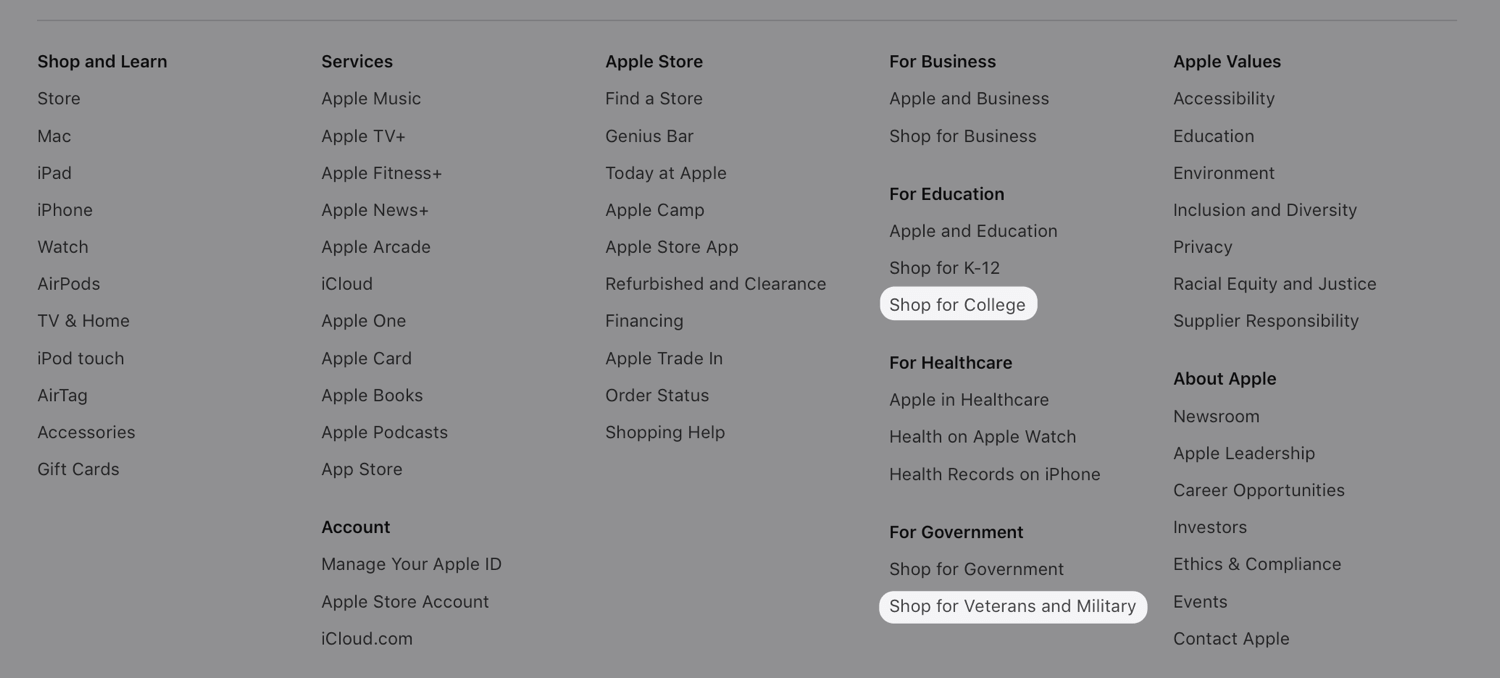 Go to the linked site (Jim Eagar // originalmacguy.com) →
---
❮ Previous post
Some Thoughts on Today's 'Peek Performance' Apple Event
March 8, 2022
Next post ❯
Details Matter with AirTags
March 12, 2022