⌘ October 31, 2023
Thoughts On (And Reactions To) Apple's
'

Scary Fast' Event

Honestly, I should just link to Devon Dundee's post and be done with it, but that would be too easy. My feelings about the event echo his in many ways. I'll try to be a copycat. Let's dig into Apple's spookiest event since Steve Jobs literally put Mac OS 9 in a coffin.
M3

Family

I had forgotten that the M2 Pro/Max chips came out later than expected, so a second revision within a year shouldn't be that much of a surprise. But for the majority of the M3 family to debut all at once is quite the achievement from Apple's chip team. You would think, or at least I would, that the better the chip, the longer it would take to "evolve" from the base M3. The reality, though, is that these chips take many months to develop. They don't start on the M3 Pro once they get M3 out the door.

Apple's modus operandi with their chip design is to observe what real people and real pros expect out of their computer, and then build in hardware acceleration for those workflows. We've seen this with hardware accelerators for video codec decoding, unified memory, neural engines, and now ray tracing, mesh shading, dynamic caching, and more. It's a smart strategy and allows them to optimize for real, specific features.

The distribution of performance (P) and efficiency (E) CPU cores between the M3 (4P, 4E), M3 (6P, 6E), and M3 Max (10P, 4E) is curious. But every core, across the line, is faster, so I can't imagine we'd see any speed drops from the M2. I suspect they're just tuned for what Apple expects from the workload of each chip's typical user.
MacBooks Pro
The MacBook Pro is dead! Long live the MacBook Pro! I'll get this out of the way: I'm a little sad that the TouchBar has been killed along with the 13-inch MacBook Pro. Here's what I posited earlier today about an alternate path for the TouchBar:
I only played with the TouchBar in stores. I thought it was a neat concept, but imperfectly implemented and then left without iteration for years. Honestly, I think there's still a spot for it today. Half-height function row keys PLUS the TouchBar above it could have been a winning combination.
On the other hand, I'm thrilled that anyone purchasing a MacBook Pro will now get all the fantastic improvements that the 14-inch form factor brought along. Liquid Retina XDR Display. MagSafe. HDMI. Better cooling. Sick-ass black keyboard well. Improved speakers, mics, and FaceTime camera. Sure, it starts at $300 more than yesterday, but as Stephen Hackett said on AppStories, it's probably the best $300 you can spend at the Apple Store right now. If only it had a little bit better internals for that $1600 starting point, but, then again, Apple still wants to entice folks up the line. I'm satisfied.
I didn't think the industrial design needed any particular improvements, so I'm good with the rest of it. These will continue to be the industry leaders in the overall laptop package for another year.
iMac
Apple did the absolute minimum here by swapping out the M1 for an M3 chip, and that's okay. Sure, I was hoping for an M3 Pro option to bring its share of the chip family in line with the Mac mini, but alas. The iMac, like the MacBook Pro, is in great shape hardware-wise as it is today. Bumping the internals and keeping the price the same keeps it being a good value.
The best part? Apple kept it available in all the same gorgeous colors. I'm so glad they didn't axe any. I mean, come on, show me another desktop lineup that looks this good:
😍 Those iMac colors still look drop-dead gorgeous. Especially in this lighting. (Video by The Verge)
Lightning Lives On
The biggest disappointment of the event, by far. I mean, I don't really care that Lightning charges the keyboard and mouse because I'll still have Lightning cables around for years to charge various accessories. But by not continuing to ship them with brand-new iMacs, it surely means that Lightning will stick around for many more years. I'd have preferred to see some interesting new features (external TouchBar?), but the least Apple could have done is swap out the port on the Magic Mouse, Magic Trackpad, and Magic Keyboard.
Oh, and I'm obligated to complain that the best keyboard color combo continues to only be available on the extended version. I can't be the only one that doesn't want the numeric keypad, does want Touch ID, and can't stand white keys. My longing will go on…
Shot on iPhone
I'm not a professional videographer. My camera operating capabilities barely include point-and-shoot. But even I know that to get a quality production, it requires a ton of expensive, technical gear like lighting rigs, steady cams, and the like. Every Apple Event used these things in the past. Still, I was floored to see that "Shot on iPhone" tagline. They swapped out a "real" camera for an iPhone and it seems to have fit right into the production. It's quite the achievement for their team and and it proves that they are internally testing the very workflows that they espouse that their products are good for. I'm glad to know that they'll experience the good stuff and pain points alike.
But John Gruber said it best:
Why be so cynical? What Apple has accomplished here is extraordinary. They shot a 30-minute film using the same phone cameras they sell to hundreds of millions of people around the world, and the footage looked so good that no one could tell it was shot using iPhones until they told us so.
I offer the team a round of applause. 👏
---
And From the Peanut Gallery
To wrap things up on this event, I've taken a liking to saving some of my favorite reactions to Apple Events. These are the comments from my networks that made me laugh, or that pointed out intriguing details in the presentation. You'll find a few of my observations included too because, well, it's my blog and I thought they were pretty good posts! 😉
Love the Mac pirate flag appearance 🏴‍☠️ #AppleEvent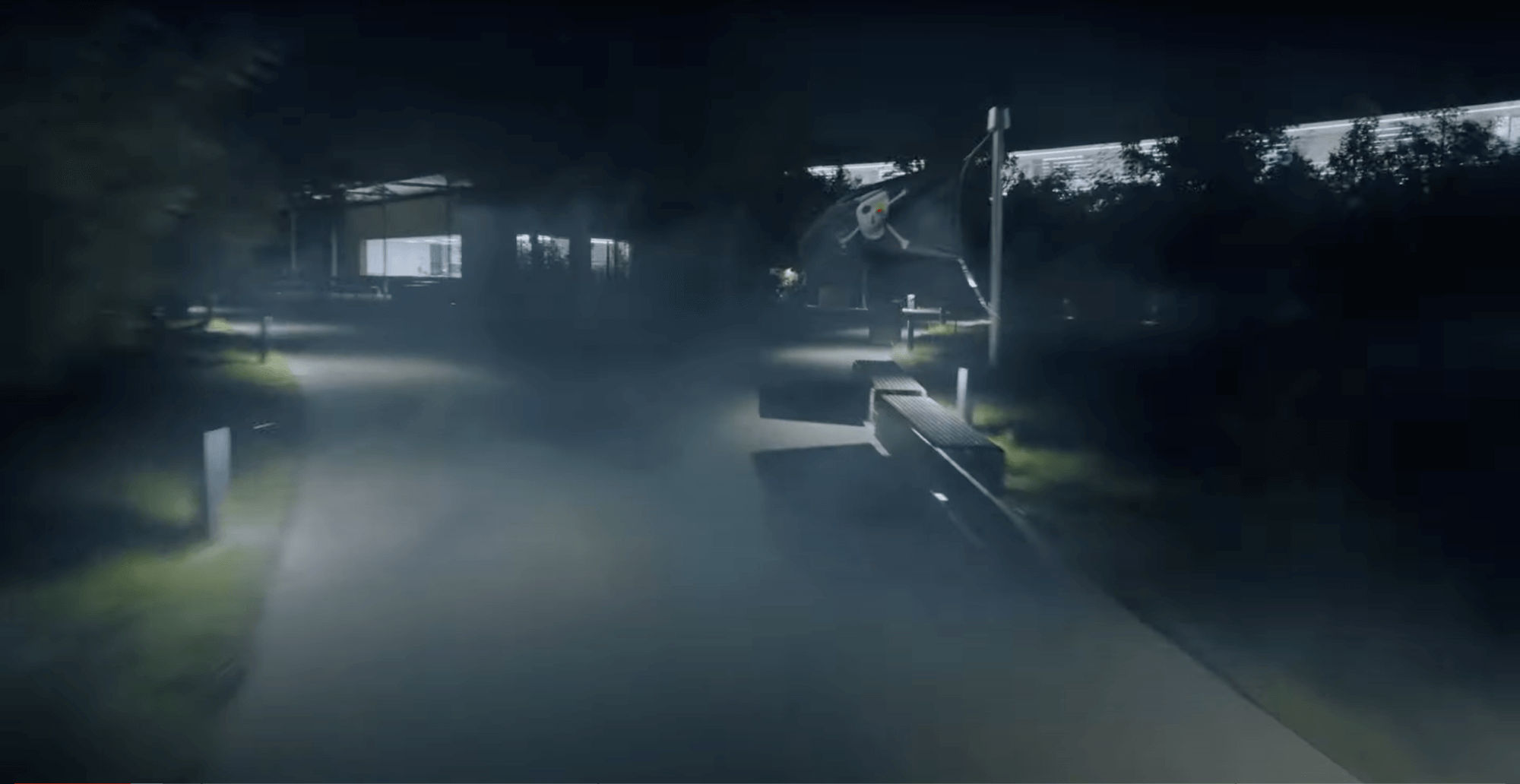 In case you missed it. ⌘
Why do I look at all new GPU features in terms of how many bananas I could render?
SPACE BLACK TAKE MY FUCKING MONEY
audibly heard all my nerd friends moan for space black
She just walked into that apartment like it was Monsters Inc.
The Apple Event is coming from INSIDE THE HOUSE.
Show us the underside of the mouse, you cowards!
the "Space Black", which is only available on the M3 Pro and M3 Max models, sorry cheapskates!, is kind of black in person, but not as dark as the old plastic BlackBook.

the new anodization is supposed to reduce fingerprints, and in the 30 seconds I got to touch one earlier today, it seemed like there were fewer visible ones left on it. but we'll see what it's like in the real world.
Holy smokes, they actually did it. They finally killed the TouchBar. No more 13-inch MacBook Pro.
Come on Apple, I had but one wish. A black version of this keyboard. I wouldn't even care that it still charges with Lightning. The count continues.
How come they didn't edit the event on iPad with FCP just kidding we all know why
Would you look at that? Space Black didn't completely replace Space Gray in the MacBook Pro lineup. The plain M3 14-inch model comes in Silver/Space Gray. Space Black is only for the true professional chip Macs.
@matt Helluva upgrade for all those people getting the base-level MacBook Pro because it has "Pro" in the name. Base-level now has modern industrial design, that gorgeous screen, MagSafe, and all the other benefits of the new chassis. (Albeit at a couple hundred dollars more.)
Post by @stevemoser

View on Threads
Post by @chancehmiller

View on Threads
Post by @wongmjane

View on Threads
Post by @hellojoshwithers

View on Threads
Post by @reckless1280

View on Threads
Post by @chancehmiller

View on Threads
---
❮ Previous post
October 2023 'Scary Fast' Event: The HeyDingus Live Blog
October 30, 2023
Next post ❯
Duel of the Defaults! Jarrod Enters the Ring
November 4, 2023