⌘ November 4, 2023
Duel of the Defaults! Jarrod Enters the Ring
In the fantastic podcast-turned-game-show episode (#097) of Hemispheric Views, Andrew Canion hosted a 'Duel of the Defaults' with Jason Burk challenging Martin "Mr. Default" Feld on which of them was the most default Mac user. That is, who uses the most default Apple apps and services on their Mac.
The episode is a true gem made all the better by it coming completely out of the blue, and Andrew's arcane and arbitrary scoring system (lower is better??).
Not wanting to miss out on the fun, I've performed an audit of my own system, scored it (uhh…as best I could…), and now present it as a challenge to the reigning Mr. Default.
I've tested my buzzer (🛎️), now let's dig in…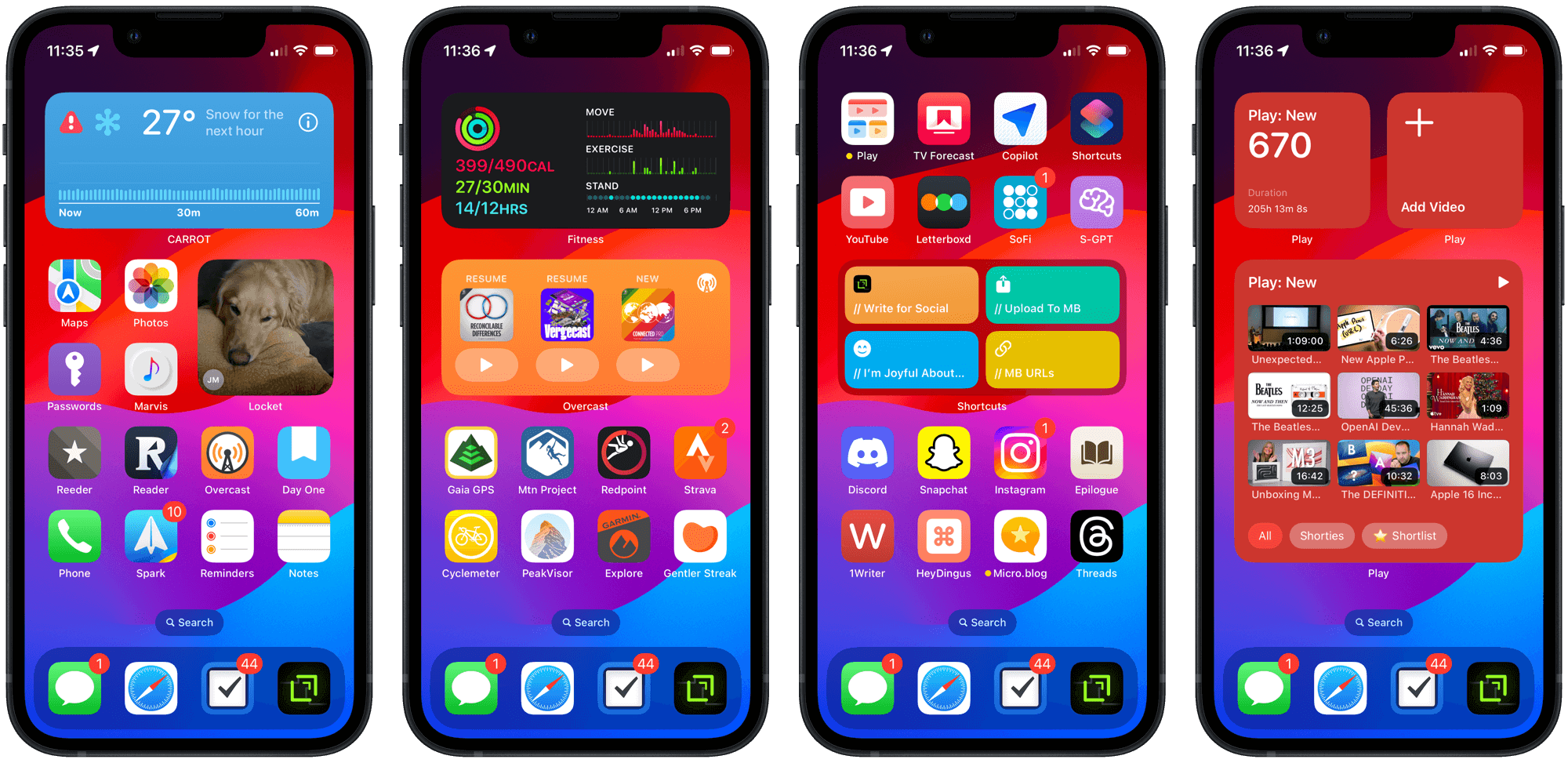 My Home Screens here at the end of 2023, belatedly added after seeing Josh Ginter's shared screens in his Defaults post. I know it's not my Mac, but I use all the same stuff on my phone anyway. ⌘
For Your Consideration
📮 Mail Server
📨 Mail Client
Spark Mail (the classic version, not the weird new one)
Score: 3
📝 Notes
Drafts for day-to-day notepad
Apple Notes for long-term storage
Score: 2
✅ To-Do
Things for personal projects and tasks
Apple Reminders for anything shared or that I really need to not forget
Score: 3
📷 iPhone Photo Shooting
Lock Screen swipe left & Control Center
Score: 1
🟦 Photo Management
📆 Calendar
📅 Calendar Backend
📁 Cloud File Storage
iCloud Drive for almost everything
Dropbox for my Blot site
Score: 2
🤓Hard Quiz Special Topic Interlude (Something for Which I'd Be the Subject Matter Expert in the Room)
Rock Climbing & Anchor Building
📖 RSS
🙍🏻‍♂️ Contacts Management
Apple Contacts (backed by iCloud)
Cardhop when I remember I have it installed
Score: 2
🔎 Browser
💬 Chat
Apple Messages (iMessage,

MMS

) for 90% of all conversations
Instagram DMs for sending funny Reels to my wife, and a few random group chats
Snapchat when people message me there
Discord occasionally, but I find it overwhelming most of the time
Score: 5
🔖 Bookmarks
Safari Bookmarks for frequently-visited sites
Raindrop.io for anything I want to save long-term or revisit by category (like

'

maybe purchase')
GoodLinks for 7 Things This Week

'

Take a Chance' links
Drafts for linked post ideas
Micro.blog for posts I may want to revisit there
(Yes, I know this is chaotic

😳

)
Score: 6
📑 Read It Later
Kobo E-Reader (backed by Pocket)
Readwise Reader for a backlog of articles saved there when I was using it)
Omnivore for the odd one-off article that I want to listen to using their best-in-class Ultra Realistic Voices
Score: 4
📜 Word Processing
🧮 Spreadsheets
📊 Presentations
🛒 Shopping List
🍴 Meal Planning (as Recipe Management)
💰 Budgeting and Personal Finance
📰 News
RSS

& Podcasts
Safari
Score: 1
🎵 Music
🎤 Podcasts
🔐 Password Management
iCloud Keychain (been trying since July)
1Password (been exiting since July)
Score: 2
Final Score: 50
Woof. I don't hold a candle to Mr. Default.
🗣️ A Succinct Justification of my Default Lifestyle
I always try the default app first, but inevitably run up against friction points that a third-party app could solve. Once I've found a more bespoke solution, it's hard to go back.
---
Thanks to Gabz for the format.
Check out more Defaults presented by Hemispheric Views listeners (and submit your own) here. (Curated and hosted by Robb.)
---
❮ Previous post
Thoughts On (And Reactions To) Apple's 'Scary Fast' Event
October 31, 2023
Next post ❯
The iMac Pro will not rise phoenix-like from the ashes after all. Maybe.
November 6, 2023