⌘ November 11, 2021
A Week with Beats Fit Pro
Following my habit of purchasing at least one pair of headphones per year, I've spent a few days with the newly-released Beats Fit Pro. Here are my brief first impressions of what I think are (spoilers) Beats' bests buds to date.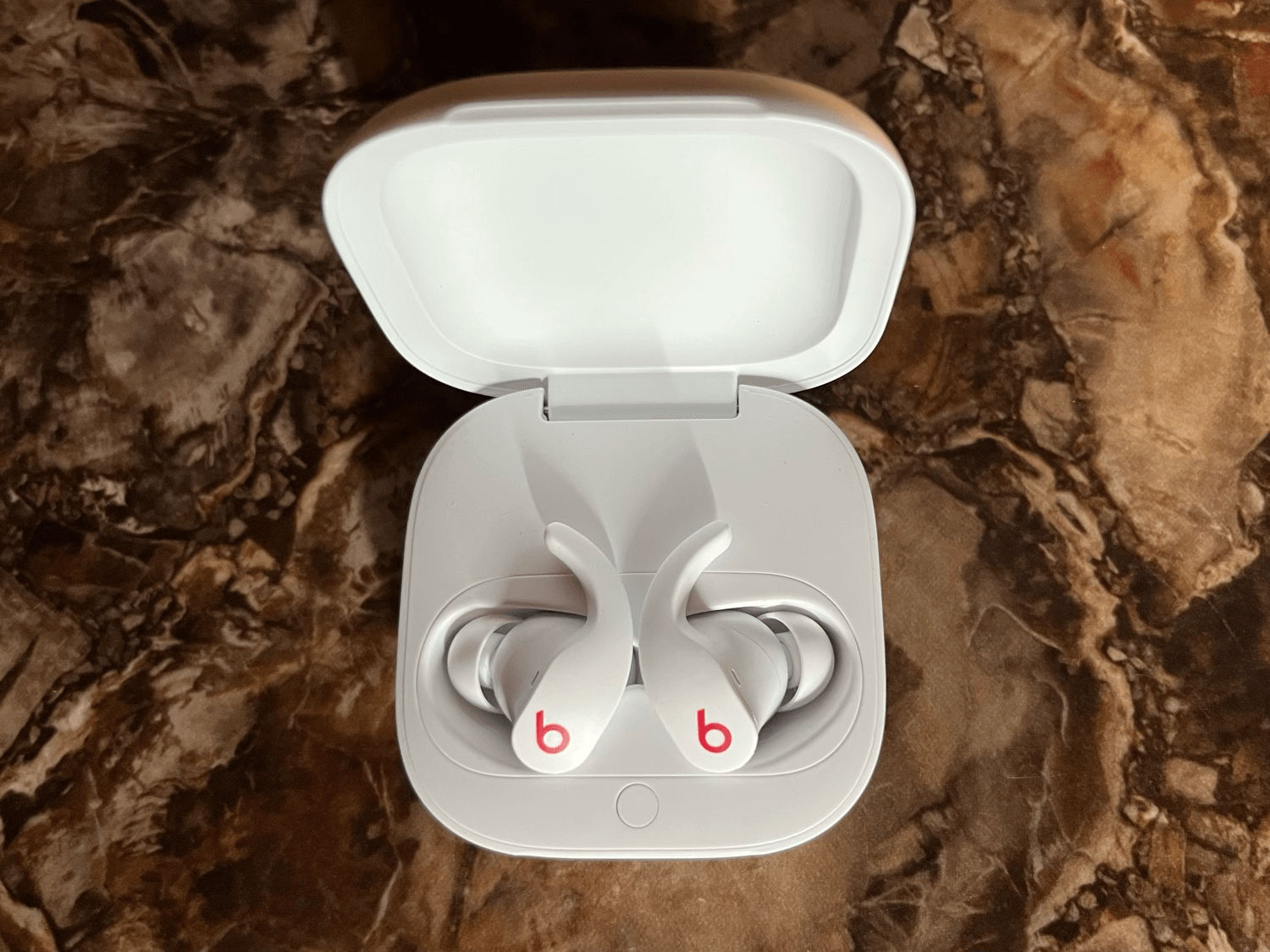 Comfort
Pretty comfortable upon first putting them in. More comfy than I expected.
I think I found the

"

right" place for the wing tip, but I keep wanting to adjust. Need to try to place and leave it.

There's a surprising amount of forgiveness in where you place the wing tip in your ear. You can twist the buds forward and back to wherever is most comfortable. Personally I put the bud in, tuck the wing tip under one of the ear ridges, and then rotate the bud back slight to

"

lock" it into place.

They come with standard in-ear tips. My ears are weird and I've never quite found the right size tips before. I'm going to have to try them all out to determine what's most comfortable and doesn't easily break the seal. So far the mediums are pretty good, but the larges make my ear feel too full.
Very secure. I'm confident they won't fall out even when eating or running.

They indeed do not fall out when eating or running. In fact, they were great on a run! Did not slip out, or work their way out of my ear canal. That's more than I can say for the Powerbeats Pro, which I've been using for about a year. The right Powerbeats consistently slip far enough out of my ear canal while running that it affects sound quality and is super distracting. Different ear tip sizes didn't help, so I resorted to basically only ever using the left one. With Beats Fit Pro, I can finally use both buds again!

I'm pretty used to sleeping with AirPods in, but that's probably not feasible with the Beats since rolling over onto them engages the button which pauses or changes noise setting. Also it pushes more uncomfortably into the ear.
Sound
Sound is good! Bass is predictably more noticeable than in regular AirPods. I think I prefer AirPods for podcasts, but music is really enjoyable in the Beats Fit Pro.
Noise cancelation is impressive. Doesn't make my head feel as funny as with AirPods Pro, but also not not there.
Transparency mode is kind of funny. You can hear the world around you as if there's nothing in your ears, but my ears still feel full. It's not a bad feeling, just a little weird.
While running, transparency worked well with music playing. With the Powerbeats Pro, which do not have transparency mode (or active noise cancellation, btw), I didn't really feel comfortable with both buds in while on a run. They blocked too much noise.
The Rest
Having the earbud surface as physical button is best. It uses all the standard click controls from back in the wired earpods days. I'll miss volume control from the Powerbeats (which are certainly going up for sale). It's possible to change a setting so that a press-and-hold on the button of the left or right earbud will adjust the volume up or down, but then there's no easy access to noise cancelation/transparency modes.
The case is the only real drawback.

It uses USB-C rather than lightning (which I understand, but don't like).
I could overlook USB-C if it had Qi charging. The lack of wireless charging is this product's biggest miss.
It's quite large for the size of the buds, and isn't as pocketable as AirPods or AirPods Pro. I'd prefer smaller case at the expense of battery life.
The case has a cheap plastic feel compared to AirPods. Harder to open.

The Apple marketing machine got to me. In my mind, earbuds are supposed to be white. So I opted for the white pair, also thinking they'd to be easier to spot if I dropped them. After a few days, I slightly regret that color choice as they'll probably get dirty faster. I may exchange them for the black pair, we'll see.
Conclusion So Far
After a few days, I've decided that Beats Fit Pro are, for me, like a better AirPods Pro at a lower cost. They stay in my ears, sound great, and come with all the bells and whistles like spatial sudio and noise cancelation features. I wish they were more pocketable and had wireless charging, but otherwise are wonder-buds. They're the real deal.
Ultimately, I foresee keeping AirPods 2 in my pocket for daily drivers, and keep the Beats Fit Pro in my bag for fitness and anytime I want noise cancelation. They're so much more travel-friendly than AirPods Max, and worked great for blocking out airplane noise on a recent trip.
Bonus: AirPods (3rd generation) Impressions
When the latest non-pro AirPods were announced, they were an insta-buy for me. I received them on launch day and was super excited for them. Unfortunately, as soon as I popped them into my ears, I knew I wouldn't be able to keep them.
The good stuff:
Sound quality was amazing.

For spoken word audio (like podcasts), the sound was crisp in a way that the first two generations of AirPods never has been.
For music, the bass was instantly more noticeable than earlier AirPods. I've never been unhappy with the sound quality from AirPods, but the latest generation is a big step up.

Spatial Audio support is a treat. I really enjoy it for both videos (with dynamic head tracking) and music (with static head tracking).
MagSafe case is cool, but actually made it harder to grab and go. Unless your charger is heavy or stuck down, it likes to come up with the case. But it's not a bad addition.
The button on the stem is both more versatile for controls, and feels less silly than tapping on earbuds.
The bad stuff:
The shape change made it incompatible with the right ear. Yup, just one of them. It's bigger and fit snuggly in my left, but my right ear has always had issues with earbuds (except for the previous generation AirPods, and now the Beats Fit Pro).
It never felt secure in my right ear, and even moderate activity made it tumble out.
I wanted so badly to love the 3rd-gen AirPods. And if my ears were both shaped like my left one is, then I'd happily use them for years to come. But t'was not to be, which makes me doubly thankful that the Beats Fit Pro were introduced at almost the same time, and will work for even more use cases.
---
❮ Previous post
7 Things (Which Are My All-Time Most Played Songs) This Week [#34]
November 7, 2021
Next post ❯
7 Things This Week [#35]
November 14, 2021