⌘ March 11, 2021
Tackling Barriers with Top3 Tasks
For the last few weeks, I've felt bogged down by my ever-growing task list. Each day I add more to-dos than I can complete, and it's been getting to me. Rather than lighting a fire under my ass to pare down the list, I find myself either paralyzed by choice or flitting between projects without accomplishing anything of substance.
Typically I scan through my project list at the beginning of the week and judge how much I can get done each day. Inevitably I bite off more than I can chew, and the previous day's tasks pile up alongside the new items that get added. It's become untenable.
I've tried approaches like tagging things as #radar that should be on deck and then choosing from those tasks for each day. In time, everything could be classified as needing to be on my radar, so that's become less useful. Time-blocking has helped, but I'm not in the habit of sticking to it yet. Plus, I try to fit too much into each day.
So I'm trying a different approach, and it's roughly equivalent to putting blinders on a horse: reduce my task list to only three things at a time. Before I can get overwhelmed by what needs to be done, I quickly scan my task manager for the day and choose three that are both relevant and attainable and tag them as #top3.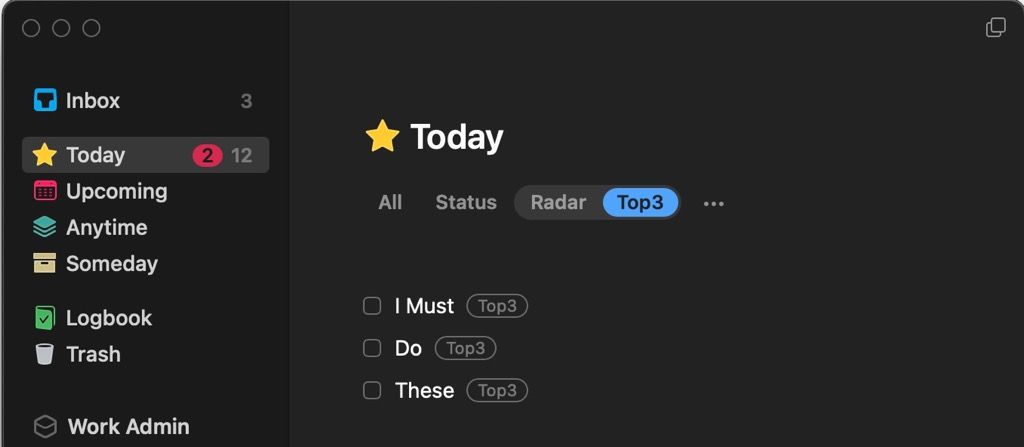 I've not changed any other variable yet, so I still schedule tasks for the particular day I'd like to get them done, but now I filter my Today view to only see the things tagged as #top3. Nothing else can get that tag until all three are checked off. I'm trying to trick myself into sprinting to clear the list. Clear, add three more, clear, add three more.
Ultimately, I know this won't fix my underlying issues in project management, like making the most effective use of my time. But it has helped me to feel less overwhelmed and get some stuff done.
---
❮ Previous post
Apple TV+ Previews New 'Calls' Series
March 10, 2021
Next post ❯
'My watchOS 7.3 adventure'
March 12, 2021