⌘ July 17, 2021
Desk Setup, Summer 2021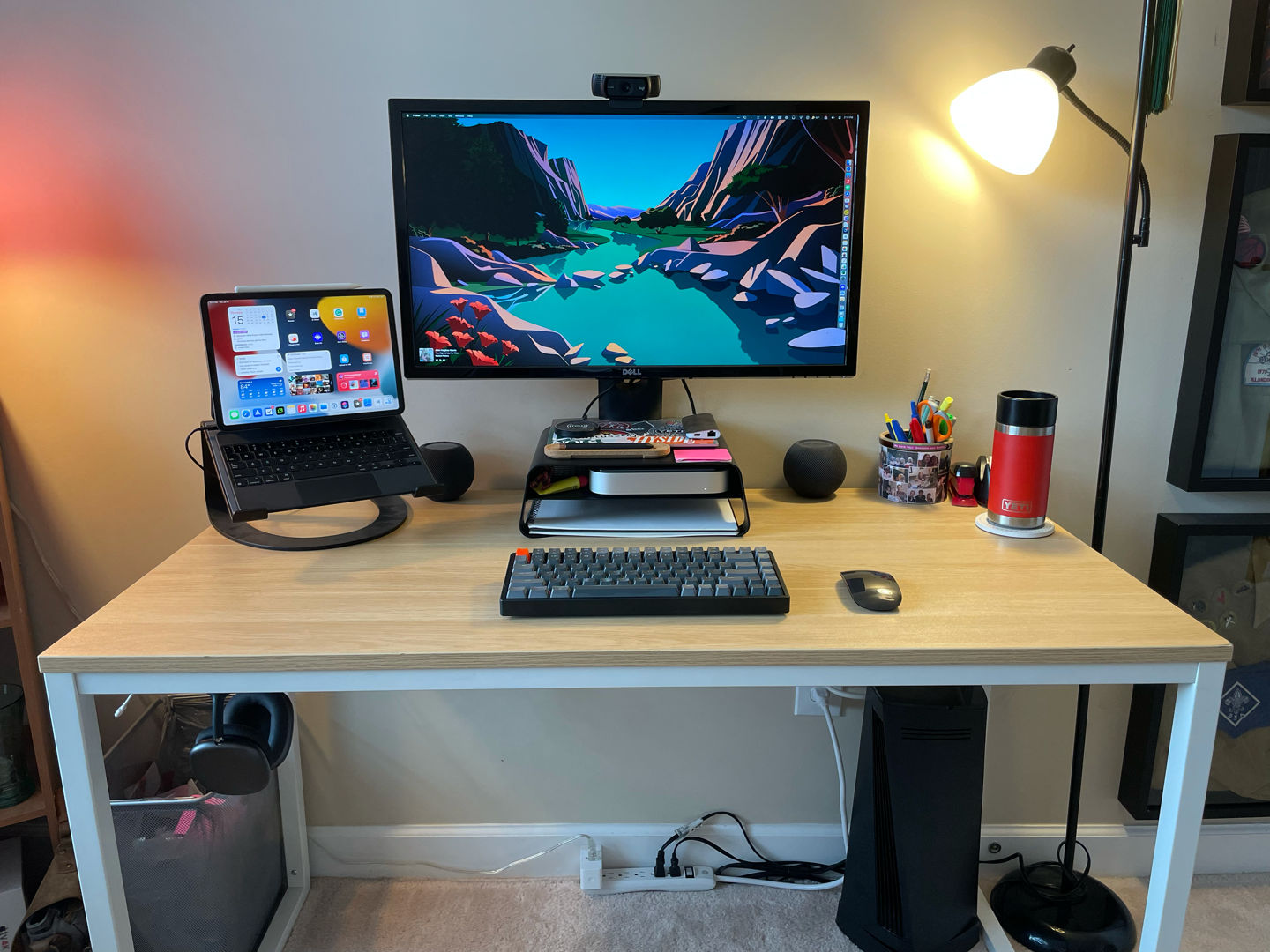 ---
Heads up, I sometimes use affiliate links for the stuff I like. If you shop using them, I'll get a small commission at no cost to you.
---
For the past 18 months, I've worked primarily from home. I've spent that time honing in on my ideal desk setup. Here's what it looks like these days for writing, coding, creative design, and other internet indulgences.
The Office
I'm fortunate that my wife and I live in a townhouse with an extra room that previously went mostly unused. So when the pandemic hit and my job went fully remote, it became my hub for planning, live-streaming, and other content creation.
The room is located at the front of our house, with windows that look out into our neighborhood. It's pleasant to see families walking dogs or kids playing in the street.
These days, I'm doing less streaming and fewer video calls, but it's still beneficial for my wife and me to have separate spaces. I retreat here to listen to music, to read, and to write. Unfortunately, the office gets chilly in the winter, so I invested in a Vornado OSCTH1 Oscillating Space Heater under the desk. It's small, looks nifty, and works well, but sadly, I can't automate it with HomeKit.
What I'd Like to Improve in the Office
A comfy chair for putting my legs up and reading. There's no room for it now, so that will stay on the wish list until we move somewhere bigger.
The Desk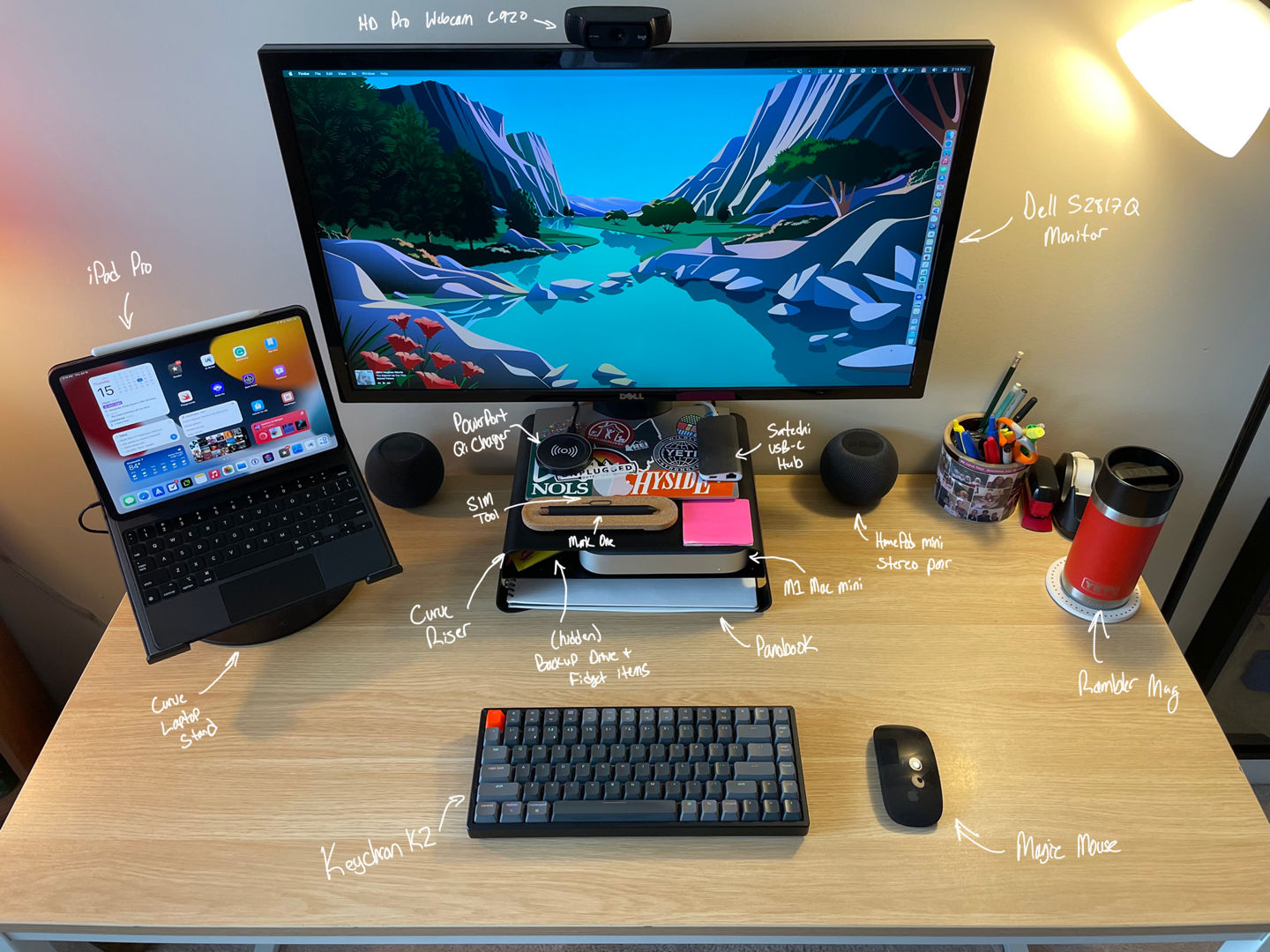 Desk: The desk itself is sizable with a white metal frame and light wood-veneer desktop. I got it from a friend after he moved, which was welcome since my old college dorm desk felt cramped. Although I didn't pick it out, I've been pleased with its expansive flat surface and understated design.
Computer: The main feature of my desk is, of course, my desktop computer: an M1 Mac mini. 2020 confirmed that my 1-port, fan-less MacBook was no longer up to the task of everything I wanted to throw at it. Live-streaming, video production, Zoom calls, and too many open apps brought it to its knees. Luckily, Apple released the M1 Macs near the end of 2020, and I'd already been eyeing a desktop instead of a laptop considering my new far-less-mobile computing needs.
I maxed out the Mac mini with 16GB of Unified Memory (RAM) and 1TB SSD, with the intention that it should last me a good long while. Seeing as my severely limited MacBook lasted me five years, I'm confident in the mini's longevity. Also, something is satisfying about purchasing what some people consider Apple's most powerful prosumer machine for less than $1,400. My first-hand experience is that in the past six months the Mac mini has rarely broken a sweat no matter how hard I push it.
Display: One reason I could seamlessly move to a desktop computer is that I already had a decent monitor. I scored a killer deal on a Dell 4K S2817Q monitor a few years back, and while it's nothing to write home about, it works well enough for now. The size is excellent, and it's got a sharp screen. Occasional flickering and color weirdness, plus being slow to wake, are all that keep it from being great. Regardless, its large, flat base is perfect for plastering stickers.
Accessories: The extra ports on the back of the monitor are helpful since my options are somewhat limited on the Mac mini. Passed through the monitor and into the Mac are my webcam and external hard drive. Moving away from a laptop meant I lost my webcam. Options were scarce, and prices still inflated from the pandemic shortage, but I scored a Logitech C920x, which as served me well thus far. It features 1080p resolution and a decent microphone. No complaints here.
My external hard drive is exclusively for Time Machine backups, and I've been using this Seagate Expansion 2TB portable drive for five years now with zero issues. The last couple of macOS updates have significantly sped up Time Machine backups when formatted with APFS, so my desire for an external SSD has waned. Between iCloud Drive and Time Machine, I feel good about my backup solution.
The way my Mac sits on its shelf in the Twelve South Curve Riser stand makes getting to the ports on the back a challenge. My solution is to attach the Satechi USB-C Multi-Port Adapter which used to live in my laptop bag. It lets me plug in the occasional temporary USB device or SD card without fumbling around behind the computer.
The Riser stand raises my monitor to a more comfortable height and gives me cubby space for stowing away the backup drive and a Studio Neat Panobook, which I use for sketching ideas out on paper. It also provides a place for an Anker Qi charger for my phone, a sticky-note stack, my favorite pen, and a SIM card tool. The pen, also from Studio Neat, is the Mark One, which features a satisfying click, is a pleasure to hold, and writes like a dream. The SIM card remover is the best tool I've found for digging earwax out of my AirPods. Gross, but effective.
You'll find your typical collection of pens, pencils, and paperclips on the top right corner of my desk, plus a stapler and tape dispenser; both get used with surprising frequency, so I like having them accessible. My favorite non-tech item on the desk, however, is my mug. The Yeti Rambler 12oz Bottle with HotShot Cap is magic at keeping drinks hot or cold all day. I love the lid — you can drink from anywhere around it then seal it closed with a quick twist. For more color options, you can purchase the Jr. version (it's identical in every way, but comes with a different lid), but I do not see the striking orange color that I have anymore.
Mouse & Keyboard: The mechanical keyboard hype finally got to me, and I was gifted a Keychron K2 with brown switches. I adore the RGB backlighting effects and the overall aesthetic of this keyboard. I'm not picky when it comes to typing feel, but I have to say the clickiness is pleasing. It's a pretty tall keyboard, so I'm eying a slimmer version to keep my wrists happy, but, honestly, I'm delighted with the K2. I keep a quieter Magic Keyboard around for video calls so that my clickity-clacks don't disrupt others.
My mouse is the Magic Mouse 2. It seems like an ergonomic nightmare, but my hands prefer its low profile even more than using a trackpad. Multi-Touch scrolling and gestures with the Magic Mouse are perfect, and it's hard to imagine giving them up for any other mouse.
iPad Pro: I chronicled my recent iPad Pro purchase not long ago, so I'll give only a brief summary here. The iPad Pro (2020, Wi-fi, 128GB, Space Gray), when paired with the Magic Keyboard, is a complete laptop replacement for me, and it did indeed replace both my old iPad Pro and MacBook. It's what I'm using to write and edit this very piece. I got the Apple Pencil to go with it because of course I did. A Paperlike screen protector is currently installed on the screen, but I'm not sure that will last. I'm so excited to use Universal Control later this year because I very often flow between devices depending on the task at hand. The iPad rests on the companion to my monitor stand: the Twelve South Curve laptop stand.
What I'd Like to Improve on the Desk
I'm intrigued by a sit-stand desk. I'm convinced that I would frequently use it in standing mode, but it's not in the cards anytime soon.
A more ergonomic and comfortable desk chair. The Target Essentials one I've got now came with the desk, and it isn't very good. Quality office chairs are just so costly!
An Apple monitor. It's too bad that Apple got out of the consumer monitor game. I've got my hopes up for a grand reintroduction, which I wish-casted in this Home Screen feature for MacSparky.
While my USB-C adapter works fine, I'm curious about the Thunderbolt docks that have been out for a couple of years. But they're expensive, and I haven't seen one that appeals to me aesthetically, and, most importantly, I rarely need to plug accessories into my Mac anyways.
Audio
One place where macOS completely falls down is when you try to route audio to speakers that are built into a connected monitor. It doesn't "just work" as it should. I've had to purchase software that taps into the kernel to merely adjust audio using keyboard media keys. It's nuts!
Rather than mess with that weirdness, I purchased two HomePods mini and set them up as a stereo pair. I use AirPlay to send most of my audio (music, podcasts, and videos) to the HomePods and keep alert sounds set to play through the tiny speaker within the Mac mini's enclosure. Though small, the stereo paired HomePods sound really good! Having a HomePod in the office is also nice for Siri requests, for sending audio from my phone, and for getting the whole house rocking by playing music on all the AirPlay 2-enabled speakers we own.
For personal audio, I'm spoiled by the AirPods Max. I used the Beats Solo 3 Wireless headphones for years, but they were always uncomfortable for even moderate-length usage. The AirPods Max look great in all colors (I've got Space Gray), sound incredible, and feature fantastic noise-canceling, which I use to focus in on a task. I can wear them for hours and hours with no discomfort. In fact, I've been wearing them for the past — checks watch — four hours straight. So comfy! While expensive, I intend to get many years of use from these headphones and have no regrets about their purchase.
To keep them accessible, I've stuck a Brainwavz UltraJ Headphone Mount under my desk for hanging the AirPods Max. It's got a convenient place to hold a charger cable, too.
Cable Management
When I set up the Mac mini, I told myself it was time to get the cables trailing behind my desk under control. On more than one occasion, my office pals (see below) tangled themselves in those cords, and my desk devices only narrowly avoided disaster. So I spent a couple of hours with Command strips, cable clips, and twist ties to route everything neatly under the desk. I'm very satisfied with the result.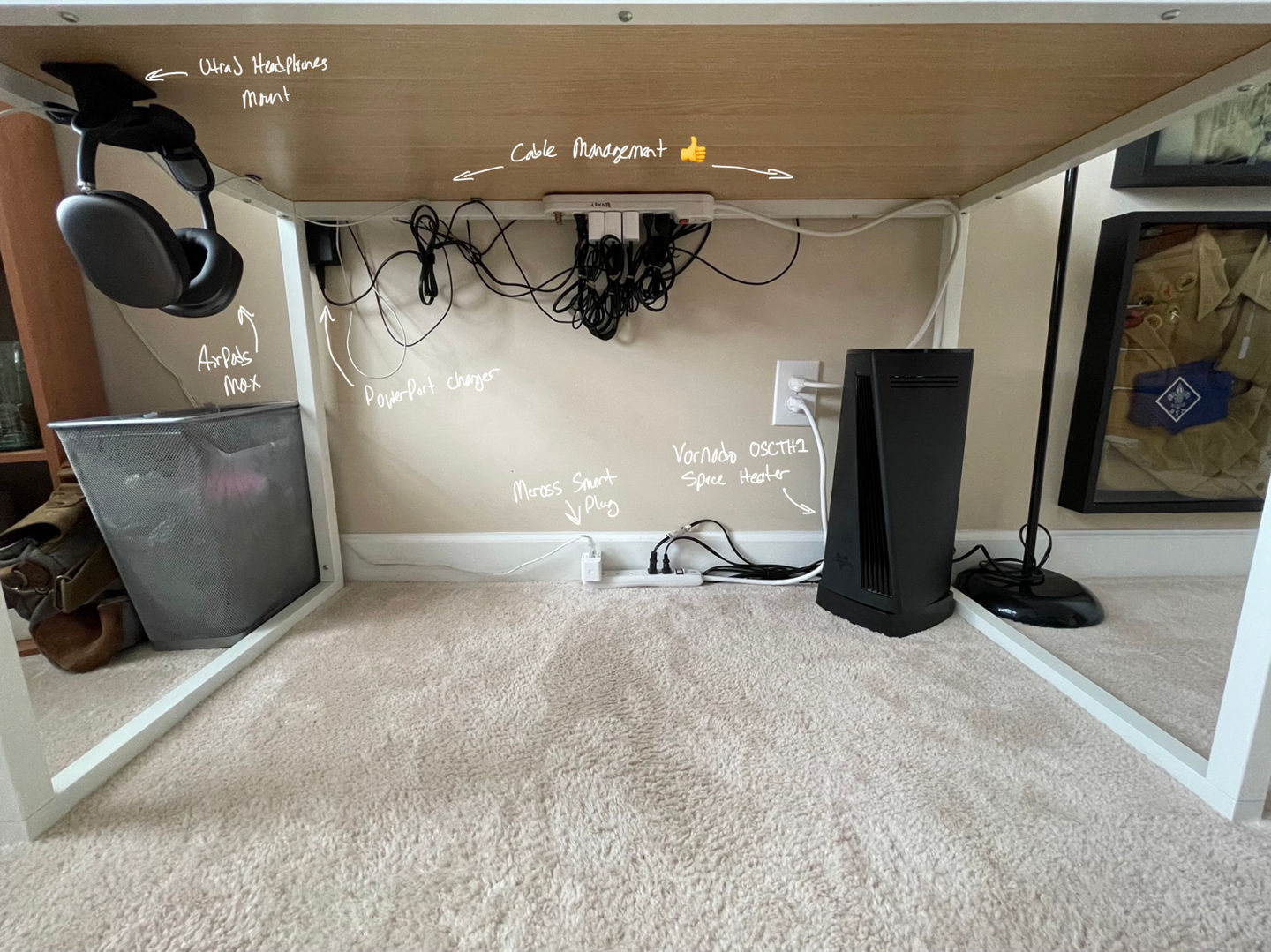 For the devices that are always plugged in, I stuck a surge protector power strip directly to the underside of my desk and filled it with charging bricks and cables. An Anker PowerPort 5-Port 60W USB Wall Charger does the trick to charge other devices easily. It, too, is stuck to the desk, and I keep all the usual suspects plugged in and ready: Micro-USB, Lightning, USB-C, and an Apple Watch charging puck. They're kept ready for action using a cable organizer similar to the OHill Cable Clips.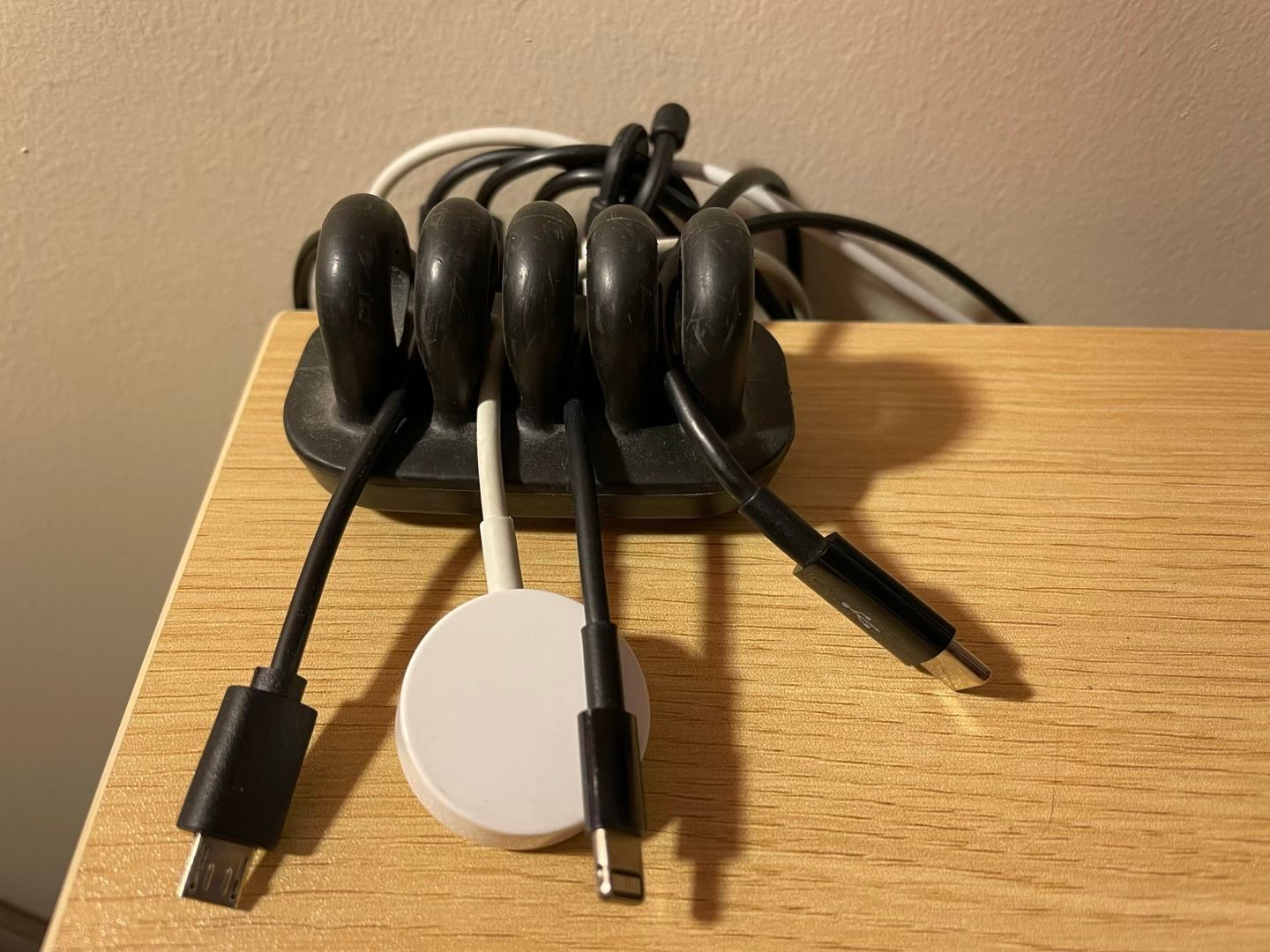 I'll note that my PowerPort developed an issue after the warranty period. It now emits a high-pitched whine when charging anything of even mediocre wattage off the USB-C Power Delivery port. Otherwise, it's great.
Lighting
I don't have much to say here except that I've got two lamps connected to HomeKit that I can control via Siri and automation. One has Philips Hue bulbs (although today I would go with Nanoleaf bulbs instead to ditch the hub), and the other is connected to a simple Meross Smart Outlet. I enjoy adjusting them with my phone and voice, but the most useful automation I use is one I call by saying, "Hey Siri, video call." That brings the bulb I have pointed toward my face to full brightness, which greatly helps to make my video look professional.
What I'd Like to Improve in Lighting
Multi-color lighting strips and light panels call to me. I think they'd look sick with my

RGB

keyboard lights and would help set the mood for focusing, relaxing, etc.
Printing & Scanning
It may sound old-school, but I still have a need to print and scan physical documents. My last printer finally died after nearly a decade of hard use at home and each summer in the camp office. I replaced it with an HP Color LaserJet Pro M255dw Wireless Printer. The laser toner should keep me from needing to purchase ink so frequently, and it makes the device a speedily little devil. Furthermore, after years of never quite remembering the correct way to insert paper to print double-sided on my last printer, I sprung for a duplex model.
While I accomplish a good portion of my scanning needs with Scan Thing on my iPhone, some larger projects led me to purchase an EPSON FastFoto FF-680W Wireless Scanner. With it, I've been able to digitize thousands of old family photos and get them into our iCloud Photo Library. As the name suggests, it's fast and can power through stacks of images or documents with ease. The included software also adds OCR to PDFs, which makes searching their contents a breeze.
Office Buddies
While I call it my office, in truth, I borrow the space from our Box Turtle, Remus. He gets the prime real estate directly in front of the window.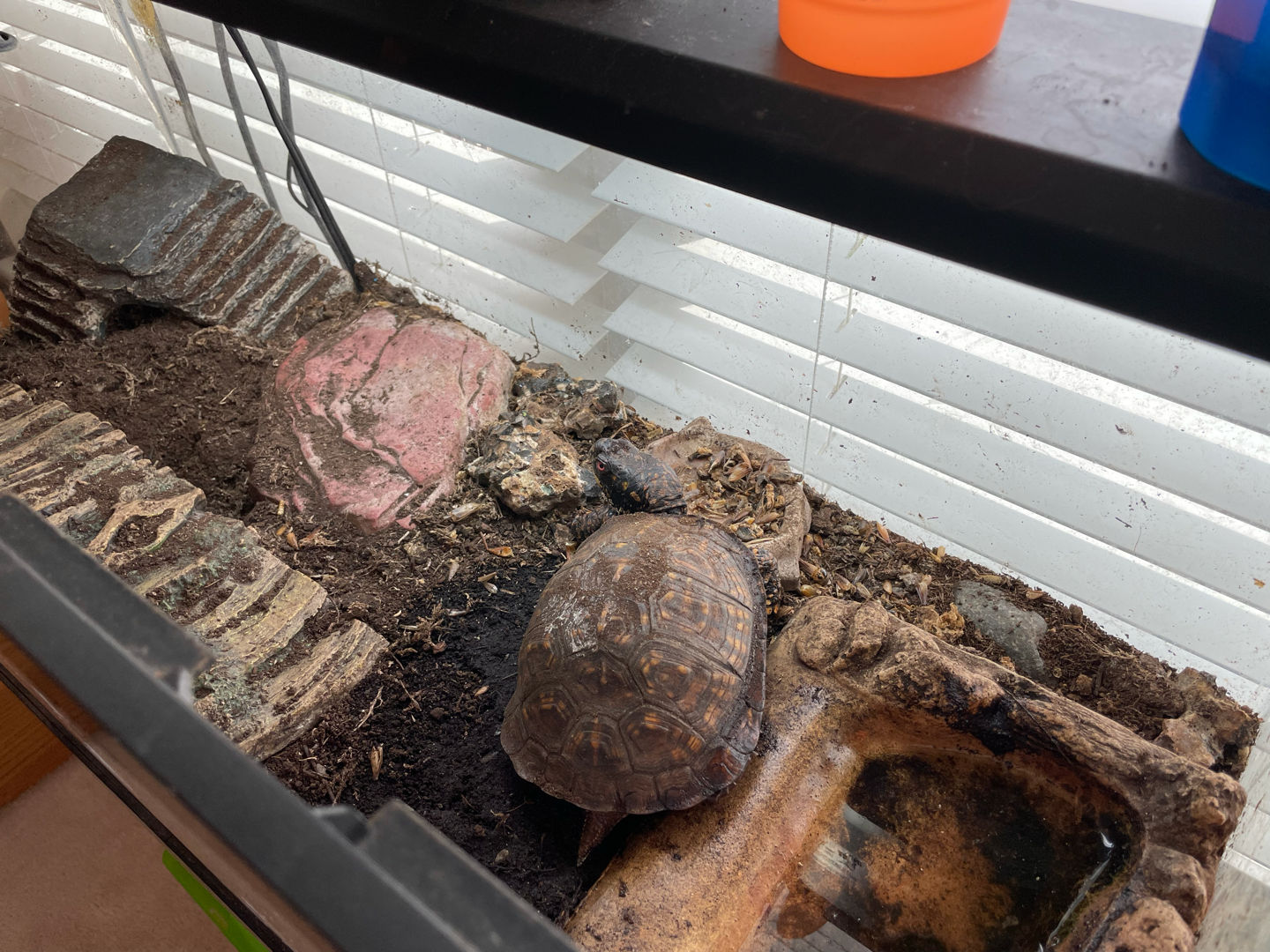 Most days, I'm also joined by our Golden Retriever, Phin, who alternates between laying on my feet and in the most uncomfortable-looking spots he can find. That is when he's not gnawing on a bone or playing with one of his many toys.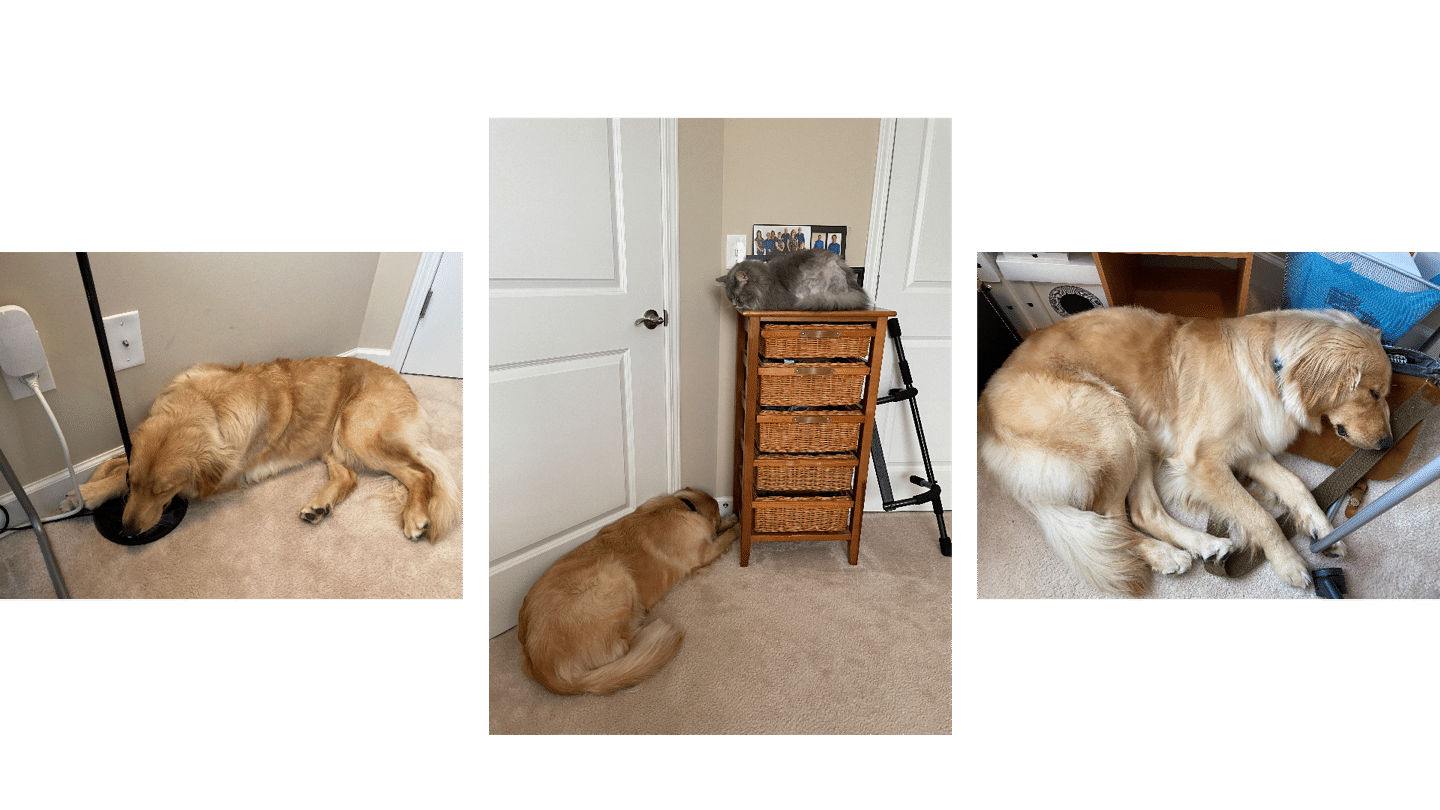 Occasionally, our Maine Coon cat, Ollivander, deigns us with his presence. But it's usually only to jump onto the desk as a reminder to feed him that can't be ignored. I kid; he's quite snuggly and enjoys napping in my lap while I work.
Bonus: Daily Carry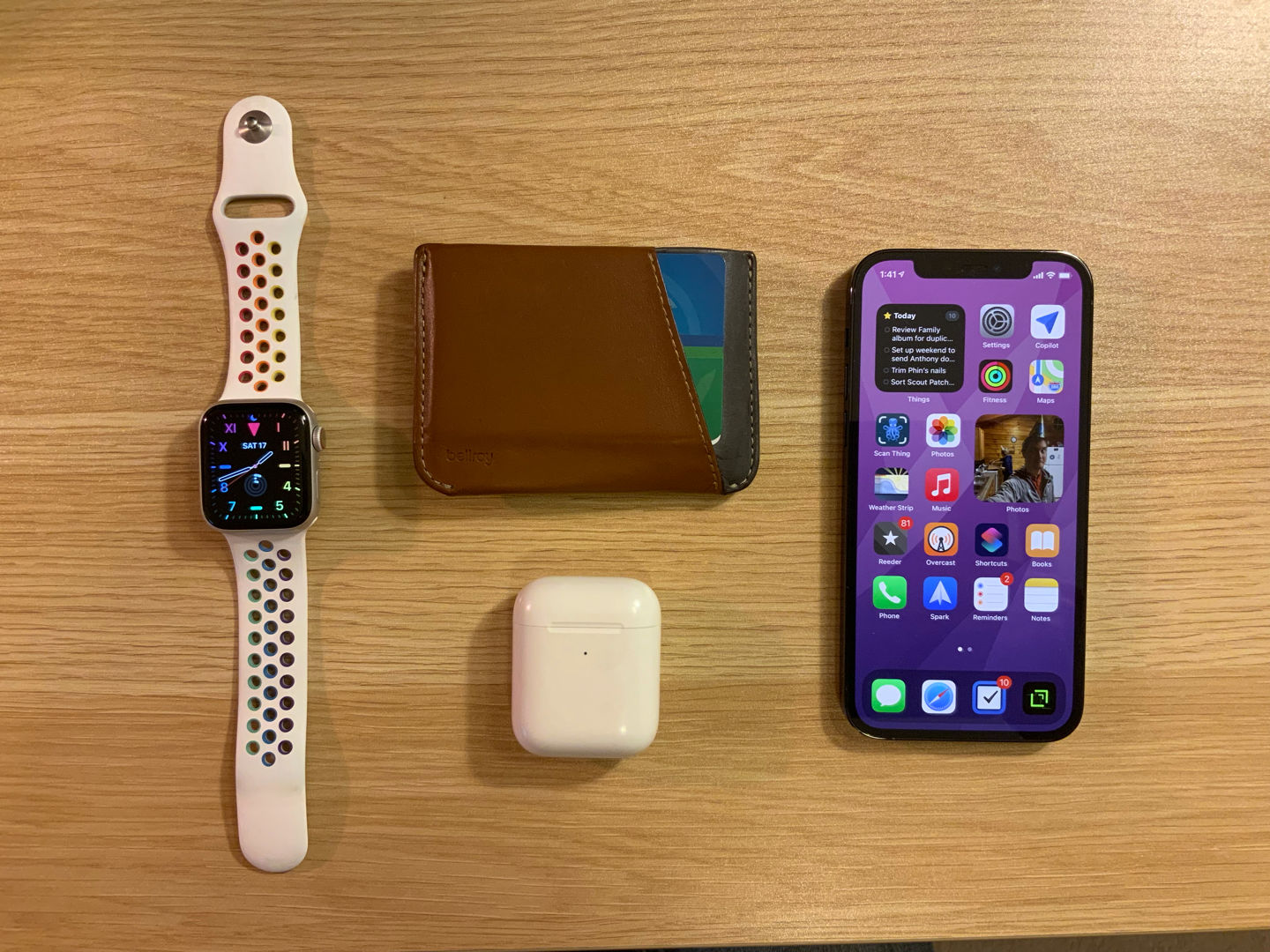 These devices don't live in the office, but they get a lot of use even while at my desk. Here's my everyday carry, as they say.
iPhone: A few years ago, I got on the iPhone Upgrade Program from Apple. I haven't taken advantage of the annual upgrade every time, but I couldn't resist the return to a flat-edged design this past year. So I'm rocking an iPhone 12 Pro in Pacific Blue with 128GB of storage. It's an incredible device, but I regret not going for an iPhone 12 mini. I no longer have to do significant parts of my job from a phone while on the go, and when I tried one in hand, the mini's size felt ideal. Losing the LiDAR scanner would be a bummer, but that's about the only thing I think I'd miss. Not that you asked, but I'm a left-hand front pocket, screen in, and top down kind of guy.
Apple Watch: I've been wearing an Apple Watch ever since getting a Series 2 back in 2016. I've got a Series 5 Nike (40mm, Cellular, Silver) strapped on my left wrist these days. The always-on display was the selling point for me, but I'll admit that battery life has taken a hit. I'm crossing my fingers for significant improvements in that area for the Series 7. Like many Apple Watch users, what I value most about having a computer on my wrist is fitness tracking, glanceable notifications, and swift actions on the small device. In addition, having a cellular model allows me to treat the Apple Watch like a connected iPod for listening to music and podcasts while on the go without my phone.
AirPods: Perhaps my all-time favorite Apple device, my AirPods (2nd generation) are always in my right-hand front pocket. Fours years on, I still appreciate never needing to untangle a wire when removing the buds from my pocket. Apple nailed the magic with the original AirPods, and they just keep getting better.
Wallet: I'm notorious for misplacing my wallet. It's happened more times than I'm proud of, but I can't remember a time that I've ever actually lost it for good. It's usually gone long enough to finally purchase a new one right before finding the old one in a totally-obvious-yet-overlooked spot. That's what happened for me to buy the caramel-colored Bellroy Micro Sleeve Wallet. On the bright side, I now have two wallets that I love. My older one was a gift from my wife, the Daily Carry Wallet crafted by an old camp friend who has an excellent shop on Etsy (it could be my wallet pictured on the item's page seeing as my initials are embossed within it). Both are well-made, minimalist wallets. I've been using the Bellroy lately because its pouch design can keep smaller cards and coins from falling out. It lives in my right-hand front pocket alongside the AirPods.
---
I've got a running list of all my gear going here.
---
❮ Previous post
Elsewhere: Home Screen Feature on MacSparky
July 16, 2021
Next post ❯
Kindle Vella
July 18, 2021