⌘ August 10, 2021
Expanding the Ted Lasso Universe
From the very first episode, Ted Lasso has included a nod toward Twitter. At the time, Ted professed to not being on Twitter, but his stance against social media has taken a 180-degree turn since the show sprung into the mainstream. A new reference to Twitter was made in season two when Ted advised Sam not to believe everything he reads on the internet, citing the existence of a Twitter account for his own mustache as proof that it can be a bananas place.
If you use Twitter and have any sort of interest in Ted Lasso, you may have seen that the show's characters are breaking free from the confines of streaming television to make a debut on the social network. It started with tweets from an official (and verified) account for Ted's persona. It's a delight. Ted tweets with his lovable voice, commenting on football news and making references toward things happening in the show. I particularly enjoyed a recent prank tweet from the account, which coincided with a "Led Tasso" takeover of the account for the day:
I love tea.
But Ted isn't the only character with a persona that has extended from the TV show into "real" internet-verse. Two other main characters have accounts started, as well as another dedicated to the fictional football team itself. Here's a list of all the official Ted Lasso Twitter accounts that I was able to find:
Coach Beard plays off Ted as well online as he does in the show. As the marketing guru for AFC Richmond, as well as an in-show influencer, it makes sense that Keeley has also bridged the gap to real-world Twitter.
I am in the market for a new chess partner. My former partner is…no longer available. So, if you live in the Richmond area and have a Class A chess rating or higher, give me a shout.
new season, new job, new twitter account for urs truly. cant have my bum all over my professional account n e more!! 😜 follow for branding tips and fit footballers xxx
What I've found most interesting about these Twitter accounts is that they post not only about content from the show but also about related things happening in real life. Notably, when Lionel Messi left the Barcelona team earlier this week, the Ted account played off the many suggestions that he was headed to play for AFC Richmond as a third ace. (The tweet has since been deleted, unfortunately.)
There are plenty of unofficial accounts dedicated to the show's characters, but I'll draw your attention to one that I've found fun to follow. AFC Richmond News (@afcrichmondnews) provides commentary on what's happening with the team, in and out of their games, as if from a news outlet within the world of Ted Lasso.
UNBELIEVABLE PHOTO of "Lust Conquers All" star Jamie Tartt and former coach @TedLasso reunited. pic.twitter.com/KRtqumJuHx
The Ted Lasso characters are lovable agents for good, and it's wonderful to "interact" with them outside of watching each week's new episode. I wouldn't be surprised to see other characters appear on Twitter as season two progresses and grows in popularity. I'd love to see Sam advocating for corporate policy change, Roy gruffly remarking on football games, and Rebecca and Flo "Sassy" Collins bantering back and forth. I say keep the Ted Lasso universe expanding!
In the meantime, I recommend giving those existing accounts a follow. And because I couldn't help myself, I'm happy to introduce a new shirt in my Ted Lasso collection. This one, AFC Richmond Squad, is available on Cotton Bureau and lets you show off your love for your favorite characters from the show. It was inspired by the shirt that Jason Sudeikis wore in support of British football players who were recently grossly harassed online.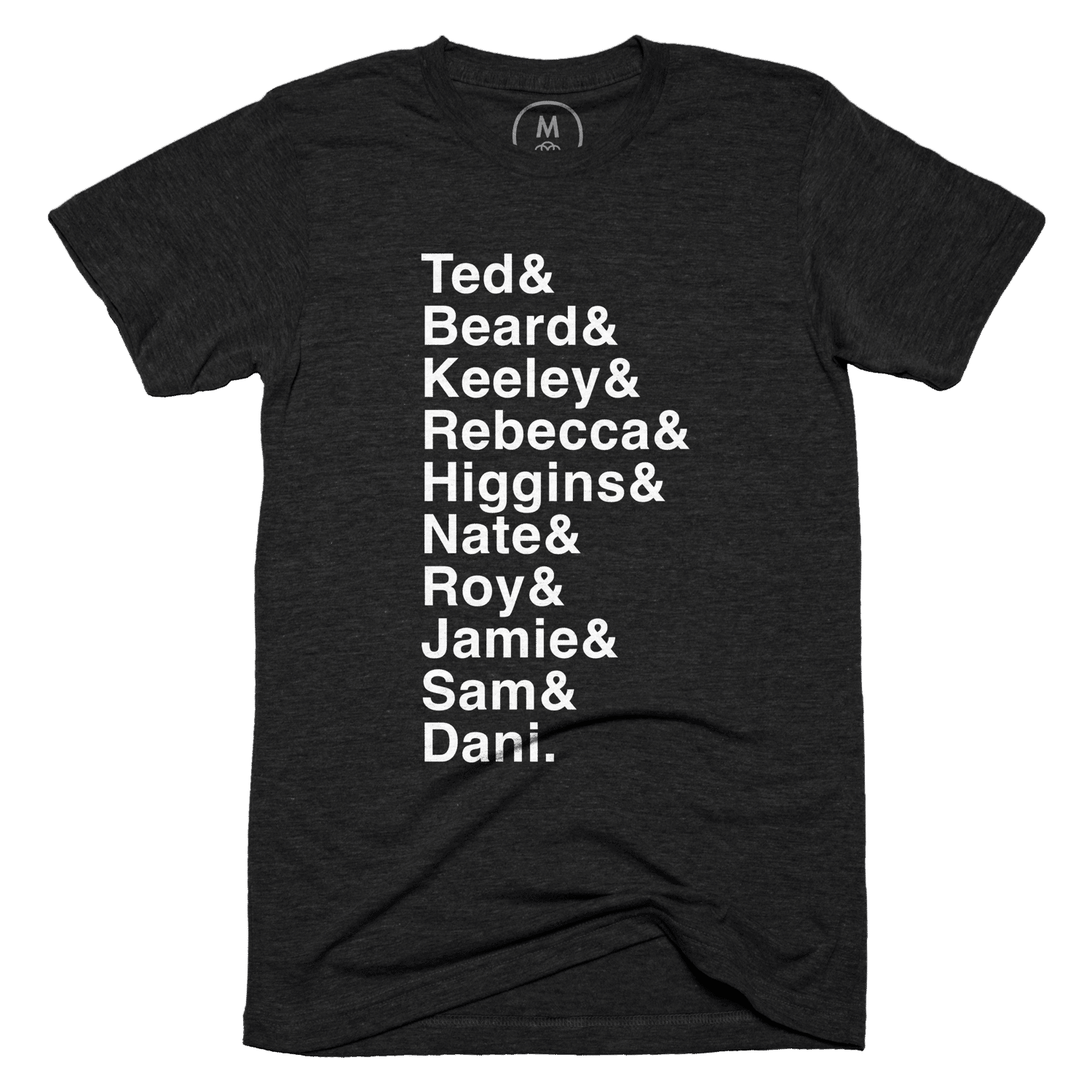 Black shirt with Ted Lasso character names in white text. ⌘
Written from Brunswick, OH 🗺
On a 2020 11-inch iPad Pro and Magic Keyboard ⌨️
While enjoying a Southern Comfort and Coke 🥃
---
❮ Previous post
7 Things This Week [#21]
August 8, 2021
Next post ❯
Now, August 2021
August 10, 2021