⌘ August 10, 2021
Now, August 2021
What's New
Over the past few weeks, I've been settling into my new job, which does, unfortunately, prevent me from commenting as freely about the world of tech as I usually would. It's a good job, though, and I've been enjoying it, so it's worth it. I'm also excited to stretch my comfort zone to write more about my other interests here on this blog. So more of that is in the pipeline!
I made another trip back home to Michigan to celebrate my grandmother's 85th(!) birthday. It was a whirlwind weekend, but it was so good to celebrate with family I haven't seen in over a year. The timing worked in our favor too. A few weeks later, places are shelling back up against the COVID delta variant, and it may not be as safe for us to be all together.
Last month, I wrote about the massive spike in readers due to links from MacSparky, Matthew Cassinelli, and iPhoneBlog.de. Little did I know that a new piece was about to blow that traffic out of the water. I use the Drafts app daily and wrote about how it helps me to keep track of things. That setup post was shared by Drafts developer Greg Pierce and quickly made its internet rounds the next few days. I was blown away by the response and enjoyed interacting with a few readers who enjoyed the story.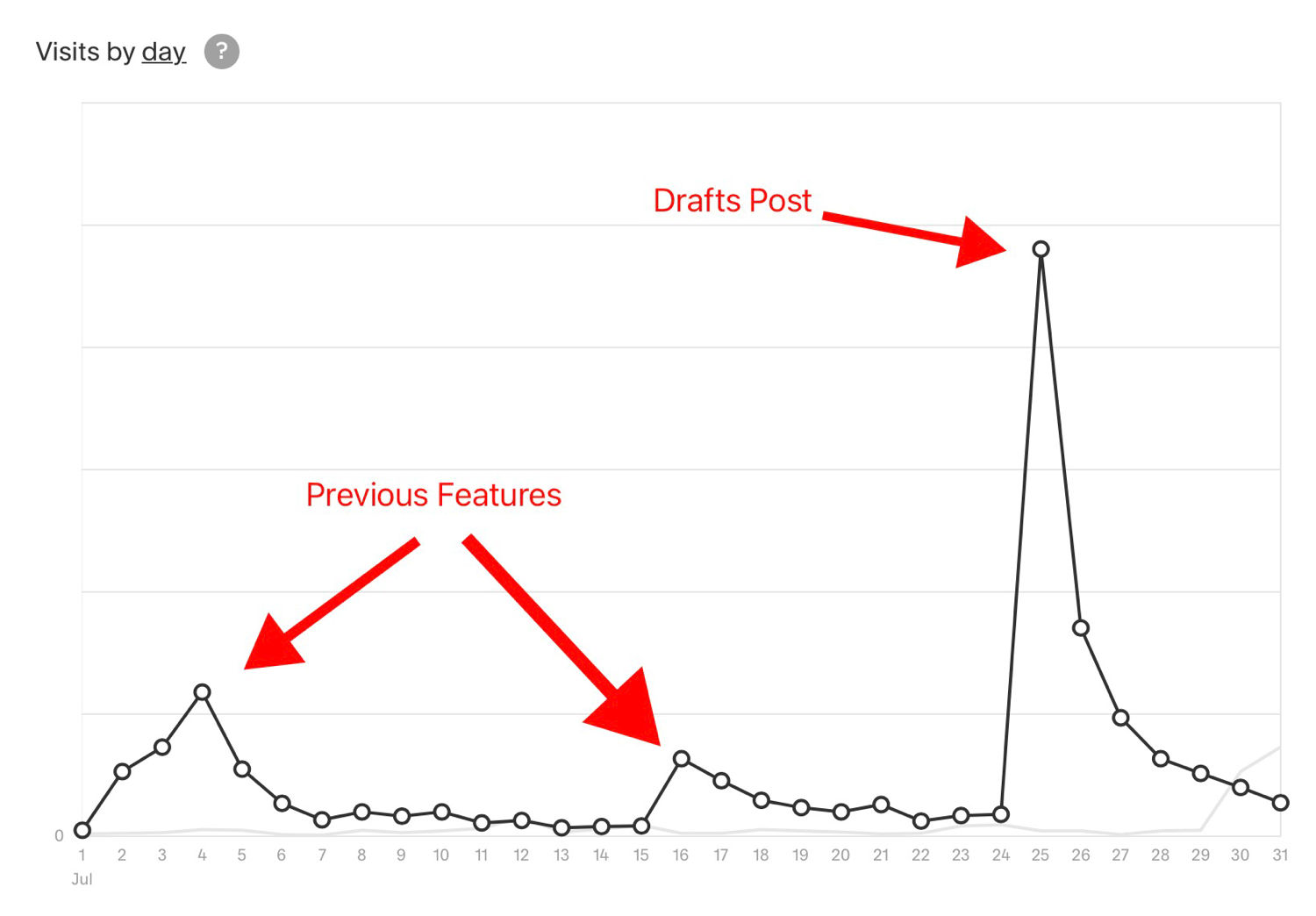 Speaking of Drafts, I've also had a bunch of fun writing, sharing, and iterating on a Drafts action that helps you to insert the current date into a draft in a variety of formats. It was my first attempt at writing something in JavaScript. I got some helpful suggestions from knowledgeable folks in the community and am very happy with how the action turned out. Here's a bit from a post I made about it to the Draft forum:
I created my first scripting action today! It was also the first time I've ever tried to learn/use javascript, and I'm far more proud of it than is warranted.

My goal was to create a prompt that would allow me to choose from several formats to insert the current date into my current draft. I started with the Prompt action but couldn't understand how to take the output of the prompt and change it into anything useful. All I could get out of the prompt was the text that made up the button I pressed.

So…I went down the (admittedly) much harder route and tried to figure out how to use a script to display a prompt and do what I wanted. It took a while, and with much referencing the example actions in the Directory, the Draft Script Reference, and this very forum.

Here's the result: Insert Date (Prompt). And here's a screencast of it working using a keyboard command.
I was delighted to be awarded 'New User of the Month' in the forum. It inspired me to keep sharing what I create with the community there.
Apps I'm Trying
Just today, I've converted my phone, watch, and iPads over to the iOS and iPadOS 15 betas. I resisted putting my daily drivers on the beta thus far, but the software seems stable, and I like to keep my things in sync.
It's been a quiet month for new apps, probably since most developers are busy getting their software ready for the big OS releases this fall. However, I am forcibly trying the HBO Max app since they recently ended the HBO Apple TV Channel. I was a proponent for the channel, which incorporated all of HBO's content into the Apple TV app, with perks like using the standard video player and downloading video in one place for offline viewing. So now I'm back to a separate app for every service. Luckily I can still use the Apple TV app for finding content, even if it boots me out to the HBO Max for actually watching it.
Stuff I'm Reading
After the backlog of articles I had saved last month, I'm happy to report that I'm back down to under 40 things saved for later. I plan to clear the rest out over the next day and get back to a more diverse and regular reading schedule.
I do want to call attention to the Switch to iPad newsletter that I discovered via 512 Pixels this month. Author Thord Hendengren has been chronicling using the iPad as his primary computing device over the past year, and I've been getting a lot of value out of his stories. By using the 512 Pixels link, you can get a couple of weeks of free access to all the paid articles before committing to either the paid or free feed.
On Heavy Rotation
Take the Sadness Out of Saturday Night by Bleachers — I've shared about Bleachers before. Frontman Jack Antonoff has connections to both Fun. and Taylor Swift, but Bleachers is all his own. Their latest album is tons of fun.
Happier Than Ever by Billie Eilish — Like the rest of the world, I hurried to listen to Billie Eilish's latest. But this album, more so than any of her others, benefits from a slow, careful listen. Billie (and Finneas, of course) have produced something mature beyond their years.
Happy For You (Acoustic) - Single by Lukas Graham — This song isn't entirely new, but the Acoustic version is. I'm actually a huge fan of all the many different versions of this song, which doesn't always happen. I eagerly await the next Lucas Graham song.
Things I'm Watching
My wife and I are still trucking through Modern Family with just about one season left to go in the series. We're also still loving Central Park, and are planning a rewatch after the second season finishes up. I finally finished the first season of Veep and started the second. I like the show, but I need to be in the right mood for its humor.
Physical — I mentioned this show last month but didn't pick it back up until recently. Goodness, Rose Byrne is incredible in it. I ended up binging the rest of the season in just a few days and am glad it recently got renewed for a second season. The characters, particularly Shelia, Bunny, and Tyler, are surprisingly lovable.
Ted Lasso — Possibly my most anticipated second season ever. The first two episodes left my wife and me feeling a little uncomfortable since it felt like somewhat of a departure from the consistently great episodes of season one. But a tweet from Brendan Hunt (Coach Beard) calmed some fears when he revealed that they wrote the first three episodes anticipating that viewers would be able to watch all three back-to-back, as they could when season one dropped. I can confirm that episode three sets the show back on course.
Schmigadoon! — This dramedy/musical combo took me by surprise. Both in how funny and entertaining it was and how quickly it's going to be over. Just six episodes to the season mean the finale comes out this Friday, and they have a lot of loose ends to tie up. It's a fun watch, though!
Hobbies I'm Hobbying
Starting a new job has taken up a lot of my time and mental energy. So besides getting back into a consistent weekly running schedule, I haven't been hobbying much this month. Well, I guess I've also been making some wallpapers and shirts and taking Phin to the local dog park. Once I'm out of training and my hours at work settle out, I'm looking forward to building trips to the rock gym into my week, too.
Written from Brunswick, OH 🗺
On a 2020 11-inch iPad Pro and Magic Keyboard ⌨️
While enjoying a Gin and Coke 🥃
---
❮ Previous post
Expanding the Ted Lasso Universe
August 10, 2021
Next post ❯
Iceland's Reduced Work Hours Meant More Happiness And The Gears Kept Turning
August 11, 2021