⌘ January 23, 2022
7 Things This Week [#45]
A weekly list of things I found interesting, posted on Sundays. Sometimes themed, often not.
---
1️⃣ Introducing Quick Reviews, a Website for Making Beautiful Micro-Reviews for Books, Movies, or Whatever | Birchtree
Matt Birchler:
Quick Reviews is a very basic website that replicates the look of my reviews but does it entirely in HTML, CSS, and a hit of JavaScript. This is aggressively simple, and it's far from a premium site at this point, but I wanted to get something out there and see if people are interested.
I've enjoyed and coveted Matt's micro-reviews for a while. It's super cool that he's put this together for anyone to use. If I had one piece of advice, it would be to put a Carbon ad on the page to augment his side hustle income. I think it will be a popular little tool, and I've started using it for my TV series reviews.
2️⃣ Close Your Rings Differently | Nahumck.me
Tim Nahumck:
The better way to handle this would be to create a new type of streak for weekly goals and provide associated badges which are separate from the daily goals. This preserves everything from users who are currently happy with how everything is implemented, while creating a new paradigm for those who aren't as emphatic about fitness but want to remain healthy. For example, I could see where a user might set weekly goals — say 10,000 kCals active calories burned, 180 exercise minutes, and 45 standing hours — which sets up their week with more flexibility to adjust their routines based on how they are feeling.
I hadn't considered a weekly goal before, but I like this idea!
3️⃣ Making Sense of New TV Features in 2022 | The Verge
Chris Welch:
So with all the latest TVs from Samsung, LG, Sony, TCL, Hisense, and others now announced and due to ship over the next few months, it seems an opportune moment to review the features you should be looking for when TV shopping.
A helpful roundup if you haven't been staying on top of the latest in TV tech.
4️⃣ A Vision of the Future With 1Password | 1Password
1Password:
Say hello to Universal Sign On. 1Password will remember how you log in to each account so you can get where you're going with a single click
The only thing of any real interest to me on this forward-looking site from 1Password is for it to save what sign-in service I used for each site. I typically use only email or 'Sign in With Apple' but there are a few exceptions. The rest of this mini-site is too corporate to get excited about. This makes sense when looking at their funding model lately.
Honestly, I'm starting to consider an exit from 1Password back to iCloud Keychain. Better family sharing features would make the exit cleaner, but waiting for that isn't absolutely necessary. iCloud Keychain's substantive improvements over the last couple of years have been impressive, and there's no sign of that team slowing down.
5️⃣ Google is wrong. Apple's iMessage is actually a failure | Macworld
Jason Snell (emphasis mine):
The problem isn't the failure of users to embrace buying pizza inside iMessage chats and turning sticker apps into the next big thing. The problem is that when it flopped, Apple seemed to react with what I'll charitably call indifference, though it might be more accurate to call it denial combined with inflexibility. Instead of diagnosing the failure and seeing what was next, Apple did what it often does with its failures, which is to leave them to rust away and then make them quietly disappear.
Snell lays out how iMessage had had significant misses over the past decade, rather than being the resounding success that locks people to the iPhone. His point here cuts deeply because we see it happen far too often with Apple products. If a feature doesn't take off, nary a word is spoken about them, no improvements come, and then they just disappear.
Without even digging too deeply, here's a brief list of example:
iTunes Ping
Apple Music Connect
Music Memos
Mail features
Third-Party Keyboards
iMessage Apps
6️⃣ This Call is About… | Dan Mall — Twitter
Dan Mall: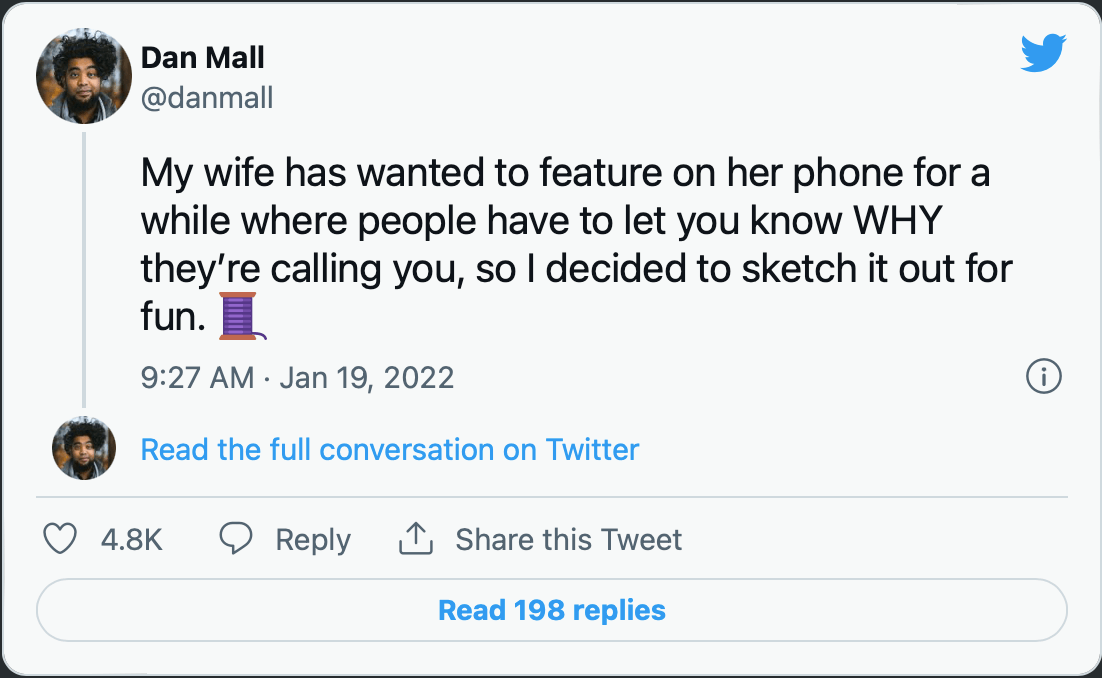 I would love it if phone calls came with a subject line. Sure, there'd be kinks to work out, like if someone called from a landline or other unsupported phone. And it would bifurcate smartphone operating systems even further if it wasn't a standard across multiple ecosystems. But just imagine if it were!
7️⃣ Hangman is a weird game | jan Misali — YouTube
Jan Misali:
an analysis of the two player asymmetric adversarial pencil and paper word guessing game hangman
Fell down a rabbit hole and learned more about hangman than I ever needed to know. But be wary if I ever challenge you to this weird game. I have a strong strategy now!
---
Thanks for reading 7 Things! If you enjoyed these links, or have something else neat to share, please hit me up on Twitter or send me an email!
---
❮ Previous post
Quick Tip: Take a Precisely-Timed Screenshot on iPadOS
January 22, 2022
Next post ❯
My Watch Now Scores Me on My Readiness for the Day
January 24, 2022