⌘ February 14, 2022
Review: Logitech Keys-To-Go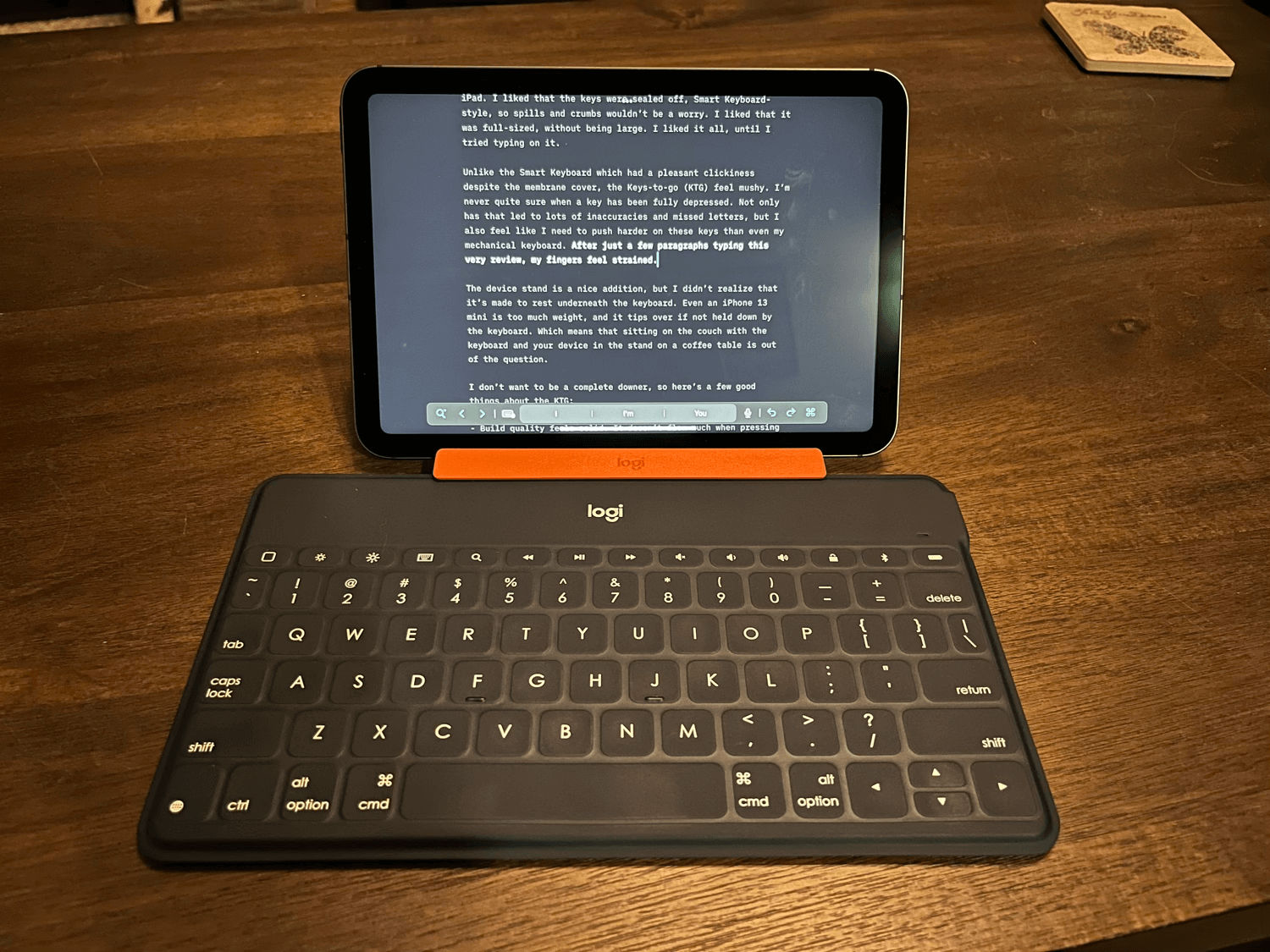 TL;DR: Don't buy this keyboard. It's a squishy, inaccurate mess.
---
I doubt you'll find a thinner or lighter keyboard anywhere, but that still doesn't mean you should buy the Logitech Keys-To-Go. I added one to the cart when I ordered my iPad mini (impressions coming soon), thinking it'd be nice to have a lightweight keyboard to keep in my bag in case I grab the Mini and want to do some prolonged typing while out.
The design appealed to me. I liked the muted color (I got a blue one) and that it came with a stand for a phone or iPad. I liked that the keys were sealed off, Smart Keyboard-style, so spills and crumbs wouldn't be a worry. I liked that it was full-sized, without being oversized. I liked it all until I tried typing on it.
Unlike the Smart Keyboard, which had a pleasant clickiness despite the membrane cover, the Keys-To-Go (KTG) feels mushy. I'm never quite sure when a key has been fully depressed. Not only has that led to lots of inaccuracies and missed letters, but I also feel like I need to push harder on these keys than even my mechanical keyboard. After just a few paragraphs typing this very review, my fingers feel strained.
The device stand is a nice addition, but I didn't realize that it's made to rest underneath the keyboard. Even an iPhone 13 mini is too much weight, and it tips over if not held down by the keyboard. This means that sitting on the couch with the keyboard and your device in the stand on a coffee table is out of the question.
To add insult to injury, this keyboard ships with a charging cable that's micro-USB on one end and USB-A on the other. For a device that's specifically marketed for Apple products? Yuck!
I don't want to be a complete downer, so here are a few good things about the KTG:
Build quality feels solid. It doesn't flex much when pressing down, and I think it would be difficult to bend or break, despite being so slim. Which is a plus for something that'd often get jostled around during travel.
The lightness will be hard to beat. I don't notice it in a bag whatsoever.
Typing is very quiet. You won't be disturbing anyone while cranking out a long email or blog post on this thing.
Having iOS-specific function keys is pretty convenient but not a must-have now that more system functions can be accessed with Globe Key-enabled shortcuts.
While those qualities are nice, honestly, I expected a better typing experience for $70. I didn't expect that it would be physically challenging to type on and missing features. Even pretty cheap keyboards these days let you easily switch between a few paired devices. With the KTG, it's one and done.
Who should buy this? I guess someone who needs a whisper-quiet keyboard. Or who's often in wet or dirty environments where having a sealed keyboard is a necessity. But that's about it, and even then, you'd better work on your finger strength while waiting for the KTG to ship.
As for me, I'll be boxing the KTG back up and attempting to return it. I'll probably give this keyboard, which I heard David Sparks mention on MPU recently, a try to see if it any better. It, at least, looks like it has clicky keys, features multiple device support, a more flexible device stand, and folds up nicely. All for less than half the price of the KTG.
---
❮ Previous post
7 Things (Which Are Apple Software Wishes) This Week [#48]
February 13, 2022
Next post ❯
7 Things (Which Are Mostly Videos) This Week [#49]
February 20, 2022