⌘ March 12, 2022
Details Matter with AirTags
Apple's trouble with AirTags reached a new level a few weeks ago, culminating in two investigative pieces by The New York Times and The Verge, plus a statement by Apple itself. The journalistic pieces compared AirTags to competitive item tracking products for their usefulness and safety features. Apple's announcement promised improved safety features and assurance that they are working with law enforcement, as they are able, to identify people who misuse AirTags to stalk people.
All of these are well worth reading if you haven't considered the secondary effects of a popular technology company releasing small, cheap, and extraordinarily precise trackers into the world.
I use and enjoy my AirTags for their intended purpose: finding lost and misplaced personal items. But it's not lost on me that people will use them for nefarious purposes. I don't think it was lost on Apple during the development period either, and I'm glad they're continuing to make improvements. They should not stop.
And I have one suggestion regarding AirTag's unwanted tracking notifications — arguably the most important part of their safety feature set — that should be fixed right away. It jumped out at me when I came across this screenshot in The Verge's piece: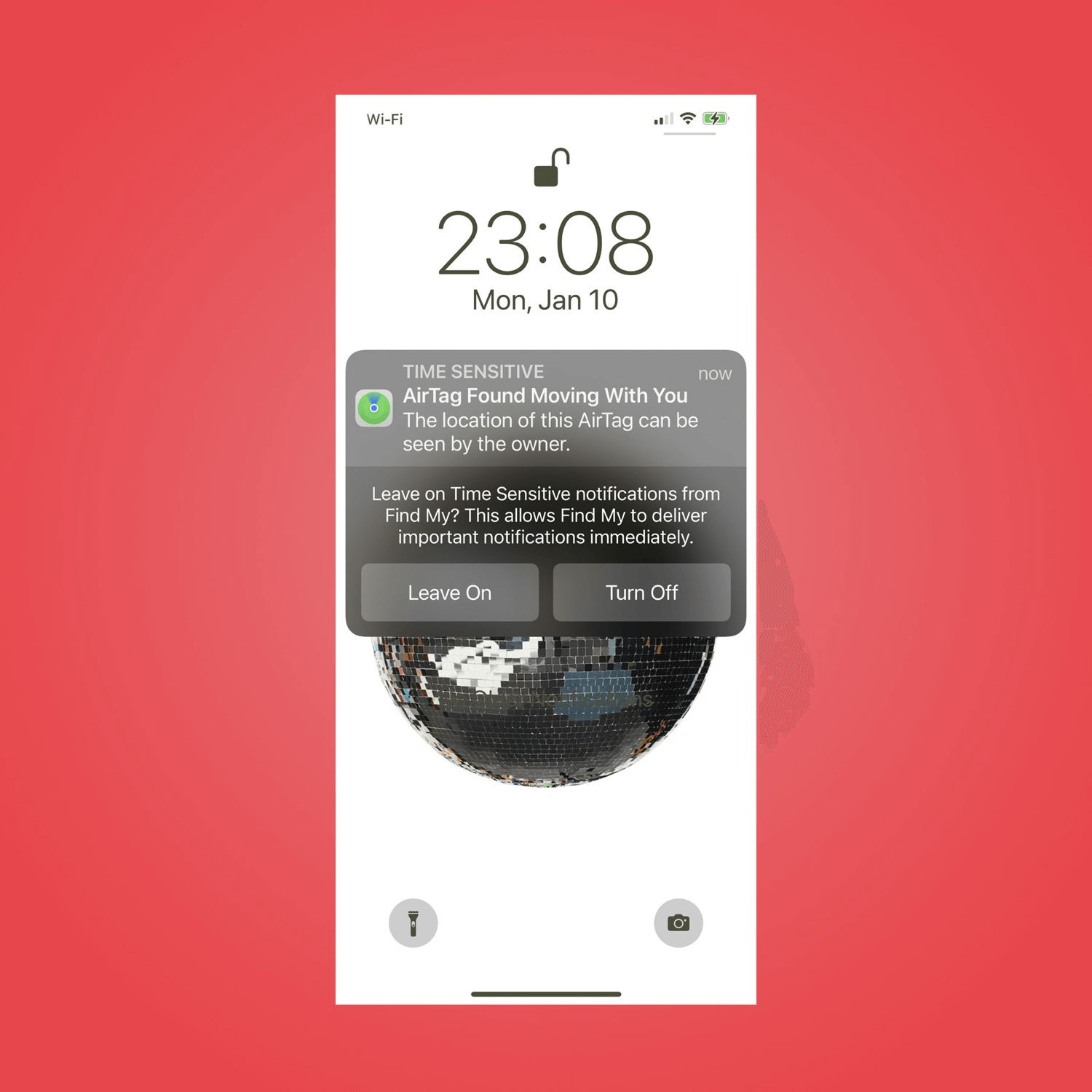 What would an everyday person, someone not plugged into the tech news scene, think the 'Leave On' and 'Turn Off' buttons do at first glance?
I wager that most people would assume that this notification is alerting them to the presence of an unwanted tracker. It's the kind of notification that gets your heart rate up in a hurry. I know that I'd want to turn that tracker off as fast as possible. So, I imagine many people would quickly tap 'Turn Off' without giving it a second glance.
But what does that second glance reveal? That the user didn't turn off the AirTag at all. Indeed, they turned off the notification that immediately alerts them to the presence of unknown AirTags. Without those Time Sensitive notifications left on, someone could be tracked for much longer before seeing any alert.
This screenshot highlights a problem with Apple's overall notification system. Notifications have meta settings regarding the manner and frequency that they are received. That's in addition to the in-app settings for what kind of notifications can interrupt your day. And in-line actions — like replying to a message or marking a task as complete — that can be taken by swiping or long-pressing on a notification. The layers added on top of the Notification system were well-intentioned and, indeed, have provided the kind of granular control that power users begged for. Still, this implementation is unclear and can lead to disaster when tied to something like AirTags.
We all know that first impressions are the lasting ones. And the first impression left by this crucial notification can lead to the exact opposite effect that it is there to provide. For a company that prides itself on getting the details right, I'm astounded that Apple let this one slip by.
---
❮ Previous post
Apple's Veteran and Military Discount
March 11, 2022
Next post ❯
7 Things This Week [#52]
March 13, 2022