⌘ March 16, 2022
Now, March 2022
🆕

What's New?

To be honest, I'm having a bit of trouble writing this Now update. It's not that I haven't done much; it's just that the words aren't flowing. So I'll keep it short.

Jo and I have settled into living in the Adirondacks. We love our quirky rental home. We love the homey, welcoming community. We love the easy access to the outdoors. It's hard not to be inspired to get outside when surrounded by such gorgeous scenery and accessible trails. We've gone on more walks and hikes in the last month than probably all of last year. Our dog approves (and super enjoys getting to go off-leash).

Our parents came to visit, which was nice. Heading to a new town — one that takes COVID seriously — meant we hadn't had a lot of opportunities to make new friends. It's a good thing my wife and I like each other because we were the only people we saw for about a month there. Our parents got us out into some touristy things, and we got to show off our spectacular new hometown. And we drank plenty of booze together.

With the house in order and guests gone home, I've been able to better turn my attention to finding a job. After applying to all the local guiding and outdoor rec centers and then waiting and waiting, I finally got some leads. And I'm pleased to say that, as of today, I've accepted a position with one of the longest-running gear shops and guiding services in the area! I need plenty of acclimation before I'm out on the trail with any groups, but I've hit it off with the owner and am excited to be part of the team. I'll get to combine all my interests since I'll be taking on their web and social media presence in addition to selling in the gear shop and working towards being a full-on Guide. So stoked!

Finally, as I hope you've noticed, I've been able to put more time into writing here. I've put out some posts that I'm proud of, and dusted off Pixelmator to put up new shirts for sale. Hiking, skiing, exploring, writing, and landing what could be a dream job — I feel I'm on the cusp of something great here.

I guess that wasn't as short as I thought it'd be. 😅
📱

Apps I'm Trying

Logger - A debugging app for Shortcuts. I haven't had much opportunity to test this out since I haven't been building any complicated shortcuts in the past few weeks. But it looks fantastic and fills a real need in shortcut development by letting you log inputs and data as it passes from action to action — all inline.

Goodlinks - I tried Goodlinks years ago as a read-later app, and while I found it to be competent, it was a little too bare-bones to use full-time in that regard. But in searching out a place to house my 'Trust Clicks' for 7 Things, I immediately thought back to this app. Goodlinks's superb Shortcuts support and lack of frills make it perfect for lightweight link management.

MaskerAid - Developed by Casey Liss, this app automatically places emojis over the faces in a photo. It helps mask young kids' faces or anyone you'd rather not have shown in an image. But you can also use it to add any arbitrary emoji in a picture. I don't need to use it often, but it's a good tool for the arsenal.

Slopes - I've had my eye on this app but didn't have the opportunity to use it until my birthday when I went skiing for the first time in years. It lives up to the hype, accurately and automatically tracking how many and which runs I went down. At the end of the day, I got an excellent record of my total elevation and distance skied, plus time spent active or sitting in a chairlift. I was blown away by the detail provided by this premium yet lightweight app. The care that the developer puts into Slopes is evident.

Lofi Garden - I can't concentrate on reading or writing with lyrical music playing. But I also don't want my Apple Music listening recommendations muddled by the instrumental, lofi, and electronic music that I play for hours on end while in the zone. So when Lofi Garden popped up on my Setapp newsletter, I knew it was for me. A simple one-click menu bar app, Lofi Garden simply plays and pauses an ever-changing loop of the perfect music for diving deep into a project at my Mac.

Raycast - This quick-launcher/command-central app comes highly recommended by John Voorhees and Federico Viticci of MacStories, so I'm giving it a fair shake. I'll admit that it's powerful with all its third-party plug-ins available. And it's indeed speedy. But I'm finding it difficult to break my muscle memory from Alred. It requires more testing.
📚

Stuff I'm Reading

In addition to still working through the Cirque du Freak series, I've picked up Piranesi as recommended by Jason Snell on The Upgradies.

2022 Book thread:
🎵

On Heavy Rotation

Apologies to the Queen by Wolf Parade
📺

Things I'm Watching

There's so much great stuff to watch; I feel like we're living in the golden age of television.

2022 TV Show thread:
2022 Movie thread: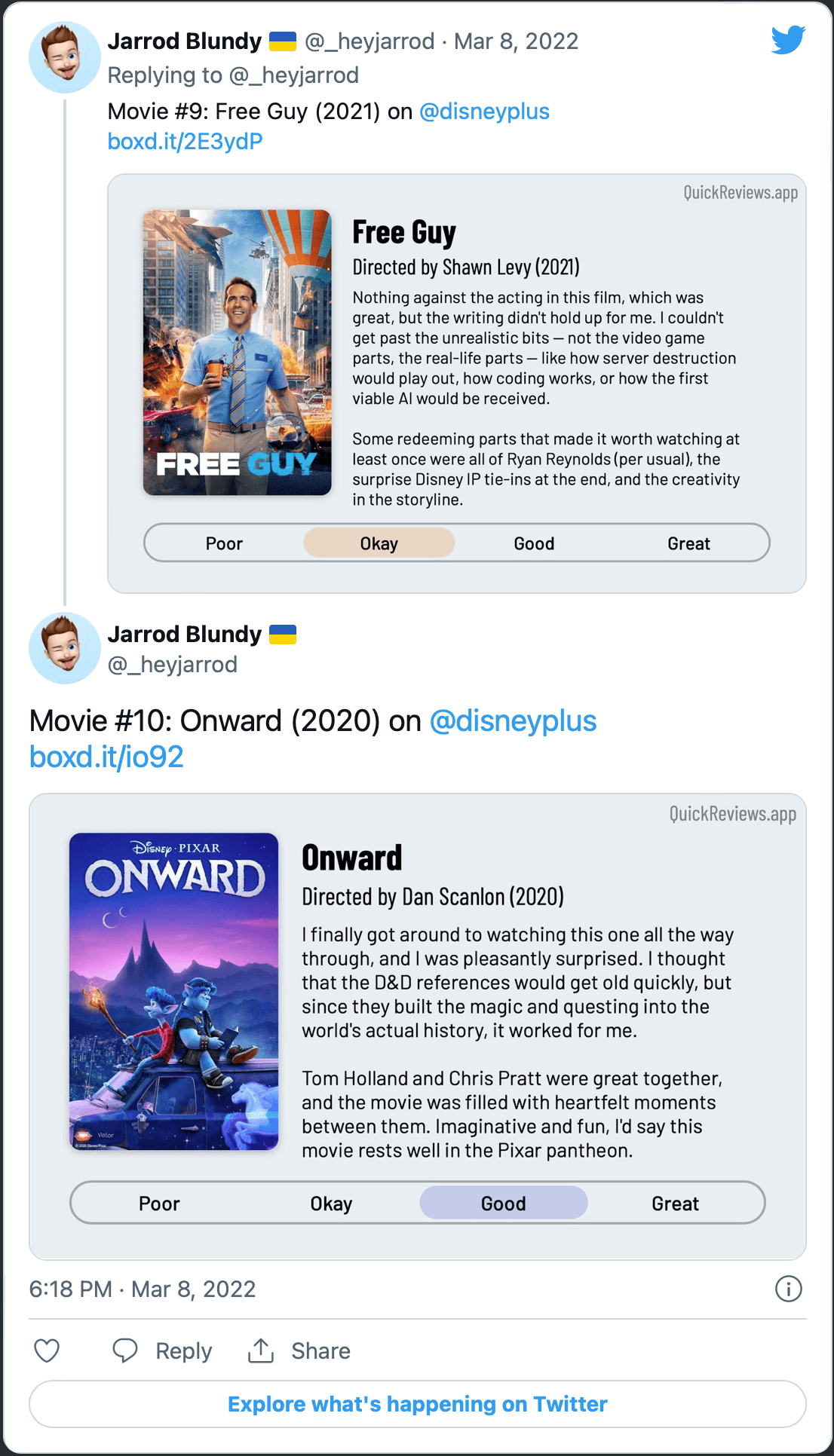 🪴

Hobbies I'm Hobbying

Perhaps the most exciting addition to our household is the Farmstand by Lettuce Grow. My wife and I have been pining for something green and leafy in our house and wanted to be able to grow some of our own produce year-round. This thing not only looks awesome but works exceptionally well! It's a hydroponic grower that provides consistent light, water, and nutrients to your seedlings. We've had it for just a few weeks, and our plants have from this: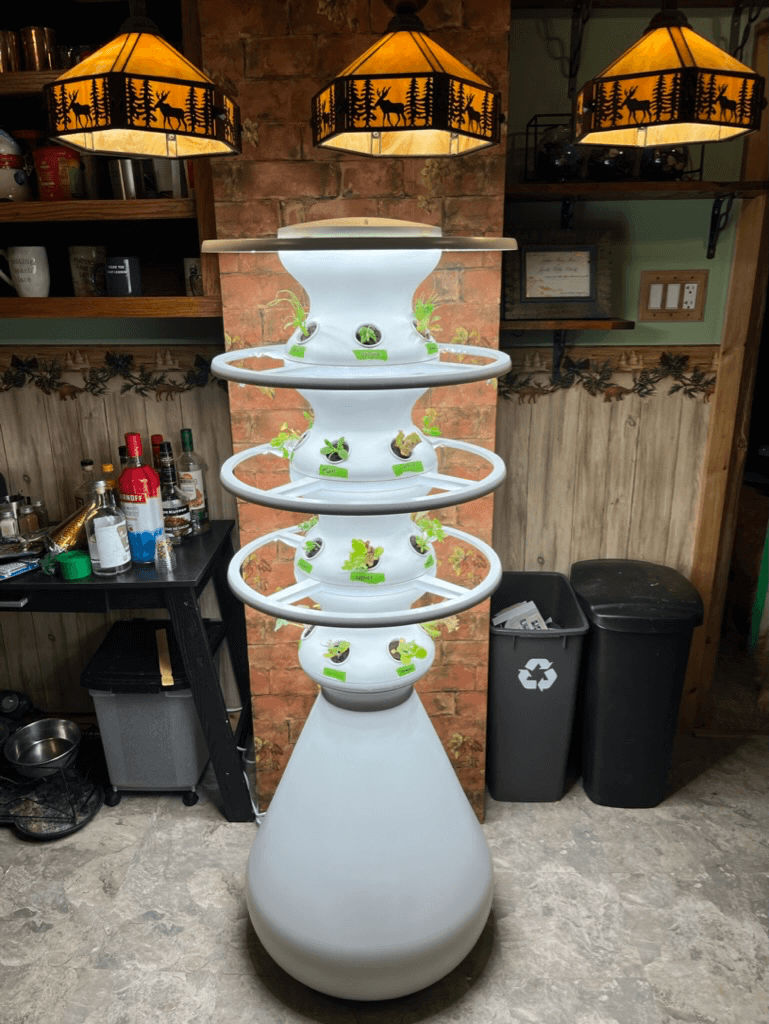 to this: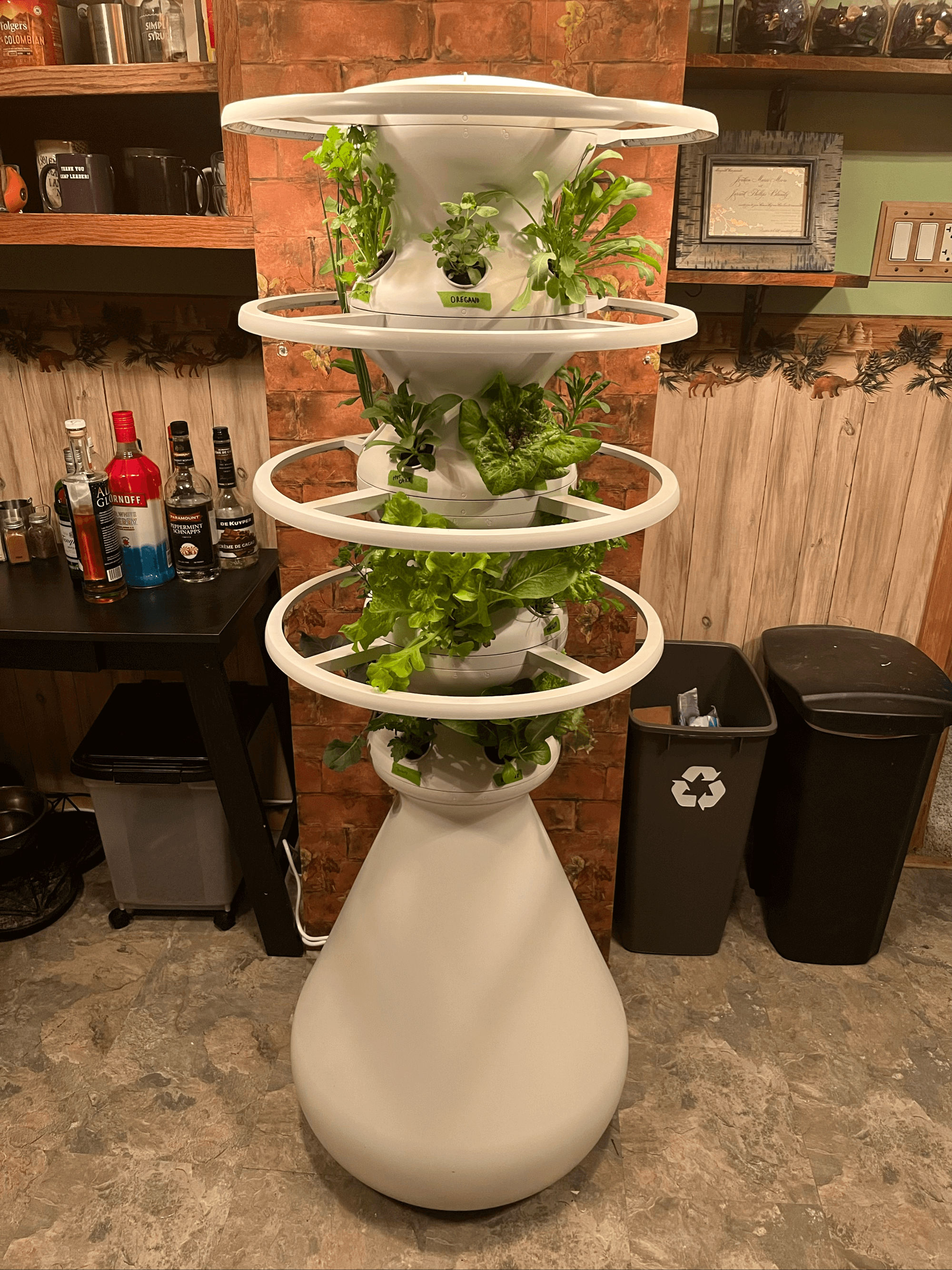 It's super fun to watch everything grow noticeably larger overnight. And I can pick fresh lettuce to put directly onto a sandwich. We're going to have a lot of fun with it!
(Look interesting? My referral code at checkout gets each of us $50 in credit: FRIEND-I6CK)
But I've also gotten out both downhill and nordic skiing ⛷️, and lots of snowshoeing and hiking 🥾. Winter might be on its way out here, with the mud season to follow.
---
❮ Previous post
'I Can't Tell the Difference'
March 16, 2022
Next post ❯
Apple Tries New Purchasing Flexibility with the iPhone SE
March 20, 2022