⌘ January 17, 2023
A Few Thoughts on Today's
M2

Pro/Max Macs

Although for a while there, Apple seemed like the only company rallying against "speeds and feeds", they've really dived back into them. And even though we're only a few chips into the Apple silicon translation, already my eyes glaze over and ears muffle up when they're blazing through the stats of these, admittedly, incredibly chips.

Day-to-day, the only M2 chip improvement I'd be excited to have is more and faster unified memory. I see the "This Website Is Using Significant Memory" message from Safari far too often on my RAM-maxed M1 Max mini.

I'm happy to see the Great Mismatched MagSafe Cable Debacle is over.

Mac mini now starts at $599! That's a pleasant surprise. Although to be fair, I can't remember what it started at yesterday. Probably $699.

The odd-numbered GPU cores in the M2 Pro are, well, a little odd. Probably due to binning.

Oh hey, the MacBooks Pro got proper HDMI 2.1 support — improved from HDMI 2.0 — which had been a notable miss on an otherwise stellar port lineup.

I got excited about that last-minute big HomePod rumor, but alas, no sign of a new big brother in the family.

I had also hoped that when the next Mac mini update materialized, it would bring with it the silver and black "mini" version of the Magic Keyboard with Touch ID. But I haven't heard anything about that particular white (well, black, in this case) whale. And — checks apple.com/store — well, well, well…the plot thickens: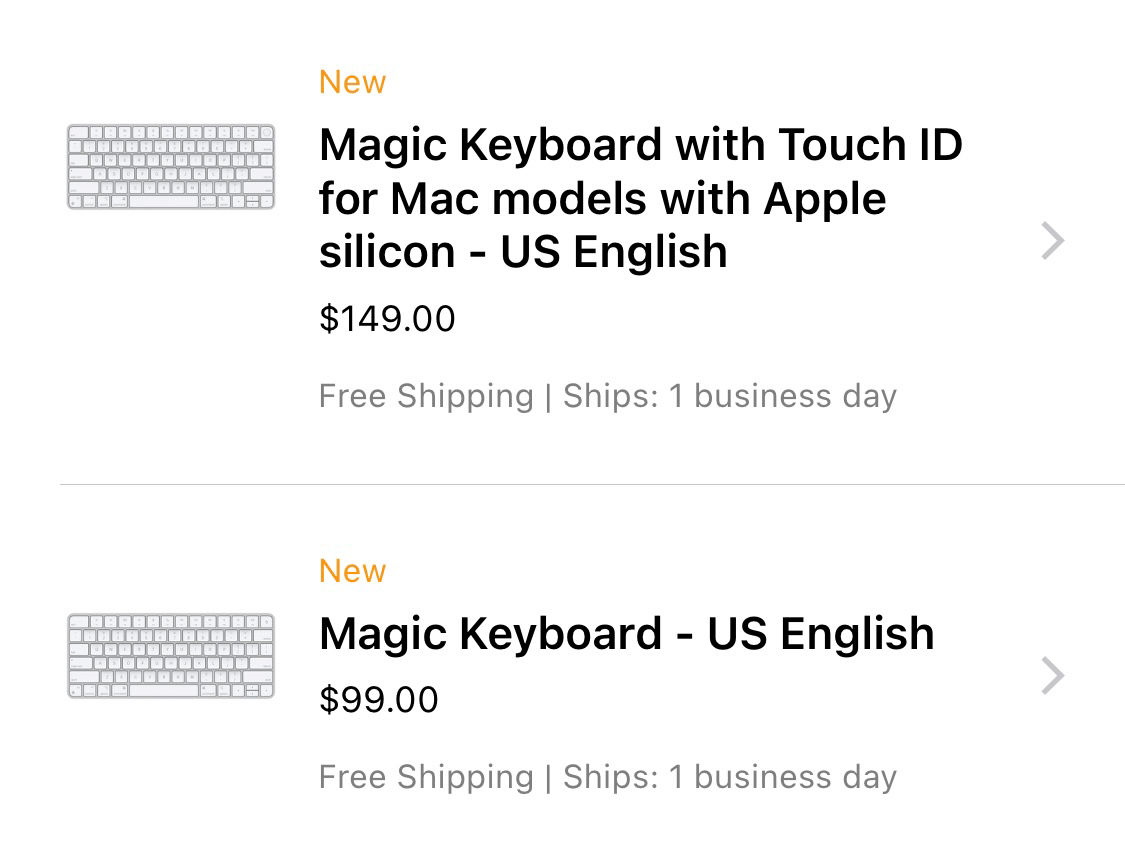 So it looks like the Magic Keyboard (not that Magic Keyboard, this one) did get updated today. It's got the "New" badge and a mouthful of a name I don't think it had before. The go-to keyboard that Apple wants you to buy is now officially known as the "Magic Keyboard with Touch ID for Mac models with Apple silicon". There is another version known simply as the "Magic Keyboard" which lacks the Touch ID button and is compatible with all Macs — including Intel ones like the lone Mac Pro. Both still charge via Lightning rather than USB-C. And neither comes in that glorious silver frame with black keys. 🙁
I'll just leave this here:
Release the Magic Keyboard with Touch ID in black/silver without the numeric pad, you cowards!
And finally, I was glad to see some new faces presenting the products today. And, as much as I like Johny Srouji in his lab, Tim Millet, as heard on Upgrade, did a great job introducing the new chips. I could see Tom moving up the chain into Johny's position down the road.
All-in-all, we got some very welcome — if unsurprising — upgrades today.
---
❮ Previous post
Pew Pew
January 16, 2023
Next post ❯
Well Played, Apple
January 18, 2023