⌘ November 8, 2023
Letters with Kev, November 2023 [#1]
For the Letters project this month, I'm corresponding with Kev Quirk. You can follow along with our conversation both here on my site, and his site at kevquirk.com.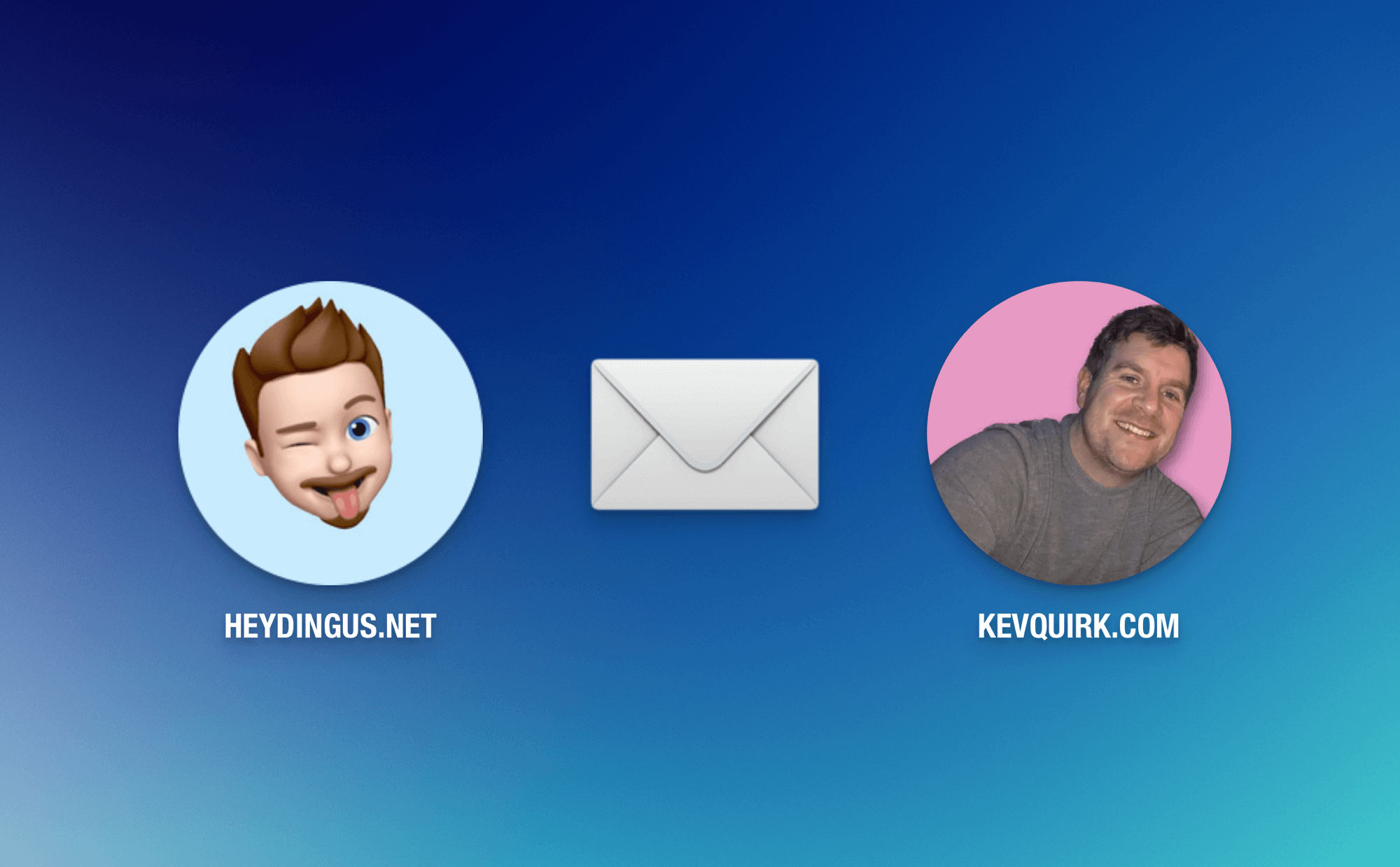 (Image inspiration: Jose Munoz) ⌘
---
Hey Jarrod,

Really glad you agreed to have me on as your penpal for November; I'm looking forward to getting to know you better over the next few weeks.

For context to both our readers, Jarrod and I have exchanged a few emails already, so I'll respond to a few of the questions Jarrod asked in his previous email, then introduce myself etc. Thanks to ChatGPT, here's a summary of our conversation so far:

Jarrod, the owner of heydingus.net, is considering using Buttondown for his newsletter but is concerned about the additional cost given his inexpensive hosting. He mentions his experiences with hosting costs and asks Kev about his experiences with Micro.blog's native newsletter feature.

Kev shares that he uses Buttondown to send his RSS feed to subscribers via email and sees it as a way to ensure that his website remains the primary source of content. He mentions that he never sends traditional newsletters, and Buttondown automatically handles email distribution.

Jarrod asks Kev about his experience with managing engagement across various platforms and discusses his thoughts on maintaining both a blog and microblog or consolidating them into one platform.

Kev appreciates Jarrod's blog and offers to be involved in Jarrod's letters project for November, which Jarrod gladly accepts.

So for engagement across platforms, I only use Mastodon so there's nowhere really for me to syndicate to and subsequently check. I did try Micro.blog's newsletter feature and it seemed to work pretty well. It allows users to send a regular roundup (monthly or weekly, if I recall) or you can send emails whenever a post is published. The problem I had with it was that if I were to use Micro.blog, I wouldn't want to host my main blog on there, as I don't like Hugo and I personally think Micro.blog had some gaps when it comes to a "proper" blog - I just like to have more control than Micro.blog offers. So that would leave my microposts and let's be honest, who wants to see a roundup of those hit their inbox. :-)

Ok then, a bit about me…I've been writing on my blog for over a decade now, it's one of my favourite hobbies, and one that I've made a lot of friends from.

I'm in my late 30's, married with 2 sons, 2 dogs, a blind cat, 4 fish tanks and 6 chickens. We live in a 200 year old converted barn on 2.5 acre smallholding in North Wales, which we're currently renovating. We moved down here a little over a year ago and although the adjustment has been difficult, it's been an amazing adventure so far.

Professionally, I'm an SVP at a very large bank where I run a global team within the cyber security organisation. I've been working in cyber for around 15 years now; I originally started off in the British Army, served in Iraq and Afghanistan, then got out and went to work at Hewlett Packard as a network engineer. While at HP, I transitioned over to the cyber side, then moved to the bank around 7 years ago.

Aside from looking after young people, animals and cyber security analysts, I also have a deep love of watch collecting and motorbikes. I have around 50 watches in my collection, and currently have 3 motorbikes, one of which is a project that I'm fixing up (it's around 90% done).

I've been subscribed to your blog via RSS for around a year now, I think. I can't remember where I first discovered it - probably on Mastodon on Micro.blog, either way, I really enjoy your writing, so thank you for that.

Question for you to end my inaugural letter - how do you discover new blogs to follow? I'm always on the lookout for new, interesting people to follow and everyone seems to have their own way of hoovering up RSS feeds, so interested to hear yours. Also, do you wear a watch? If so, what one(s)?

Looking forward to your reply.

Kev
---
Hey Kev,
I'm excited too! Thanks for offering to write with me this month and continue our existing email chain into the Letters project. It's such a treat to get into these longer, more detailed discussions with folks like yourself from the internet whom I like and respect. Great idea to employ ChatGPT to recap what we've discussed so far. It's a succinct summary.
Just one place to check for replies and engagement with readers and other writers…that's the dream! I think I first discovered you and your site on Micro.blog, which I think is where you hosted it before moving to Kirby, right? Or maybe the fediverse was working so well that I didn't realize you were engaging through a self-hosted site and Mastodon. Looking back through your many site designs and hosting swaps, I can appreciate that you'd want more control than that Micro.blog offers. I'm currently on a Blot site and it gives me just enough control to keep me both tinkering and happy. But the draw of migrating fully over to Micro.blog is so tempting to have everything all in one place. Gah, I can't decide. But I probably won't make any major changes unless I'm sure I can recreate my current site. Thanks for indulging me in bouncing these hosting/newsletter/engagement ideas around.
My brief bio: I'm approaching my 30th birthday, but still feel like a kid most days. My wife and I have lived in northern New York State for a couple of years, in Ohio for five years before that, and I grew up and lived in Michigan before that. I work as a Mountain Guide, but have also been a Scout Camp Director professionally. I like to say that I earned the "Boy Scout Degree" with a major in Outdoor Rec, and minors in Leadership and Youth Studies. I love guiding people through experiences in the outdoors — it's my happy place and I'm thrilled to get to share it with others. I have big aspirations, but am still working out how I'm going to achieve them all.
I've been following along a bit with your farmhouse renovation. Your mowing woes had me worried for the mower. Hopefully, the livestock idea works out to keep those fields under control! But I didn't realize you had all that going on with the zoo of animals. I imagine things are quite lively at the Quirk household. Over here across the pond, I feel like my hands are full enough with no kids, one dog, one cat, and a turtle, minimal property maintenance (although that's picking up now that we've purchased our first home), and just a bunch of side hobbies. I'm in awe that you're managing to juggle it all, along with family life and what sounds like a demanding professional career. My hat is off to you, sir!
It sounds like you've had a storied career. I'm curious about how blogging, running a Mastodon server, and web design interface with what you do for work. My job in the outdoor field keeps me off the computer enough of the time that it's exciting to stretch those muscles and interests in my off time. Is the day-to-day of cybersecurity different enough from tinkering with your own code that it's still fun to continue to monkey around on the computer when the workday is through?
Oh! Tell me more about your watch collection! I love hearing enthusiasts talk about their interests, no matter the topic (and it looks like you do too). There's a podcast that you might enjoy and that I wish would come back called Enthusiast! where the host did really short interviews with people about their obsessions. A similar ongoing show is The Last Detail (technically part of the Thoroughly Considered podcast) by the guys at Studio Neat. Anyway, how did you get into watches, and what do you look for now that you're a more experienced collector? I wear an Apple Watch and have had one on my wrist every day for over 7 years now. I upgraded to the Ultra version last year and adore it.
As for your question about discovering new blogs to follow, you've actually caught me at a telling time. Just this evening I scooped up the OPML file from Robb Knight's App Defaults project and ended up with 60+ new blogs with nearly 300 new blog posts in my RSS reader. I'm sure to find some nuggets there from silly folks like us who jumped onto that blogging bandwagon. But when I'm not guzzling down OPML files, I usually find new blogs organically through the links that other people share. It's quite common for me to fall down a web browsing rabbit hole, scooting from site to site and link to link. For example, I subscribed to Jan-Lukas Else's feed tonight because I saw you recommended it on your site. Oh, and I recommend the Bear Blog Trending Posts feed for an eclectic mix of popular posts on that service. Jason Kottke's site is another gold mine for new people to follow.
I thought I was going to pare back on internet reading this year, but apparently not.
Sorry about this book I've written for you; "If I had more time, I would have written a shorter letter," as they say. But I can't wait to hear more about your internet hobbying and watch collecting.
Take care,
Jarrod
P.S. I just discovered I'm not even following your Mastodon account, so there must have been a Micro.blog tie-in at some point. I've rectified that mistake!
P.P.S. Thanks for reading my site. It still astounds and humbles me that anyone is tuning in — much less fine folk like yourself with more talent than time.
---
❮ Previous post
Letters with Robert, Fall 2023 [#2]
November 7, 2023
Next post ❯
Time to take the pin out of what Humane's been up to
November 9, 2023