⌘ April 10, 2023
Dark Noise Does the Subscription Transition Right
Dark Noise, the best-in-class white noise app, is out with version 3.0 and introduces — among other things — a subscription plan: Dark Noise Pro ($2.99/month, $19.99/year, $49.99/lifetime). I don't fault developers who go down this route. I think they should earn additional income for developing new features, supporting new OSes, and generally keeping the app updated. But sometimes it doesn't feel like they successfully balance the transition from a paid-up-front model to an ongoing subscription. Sometimes, it feels like you're repaying for the same features that were already included in the initial transaction. Nobody likes it when the terms of an agreement are changed without their input or consent, so these bumpy transitions bring out the grumpiness in folks.
But Charlie Chapman, Dark Noise's developer (and host of the excellent Launched podcast, on which he has agonized over this decision for literal years), did it right. For one, the free tier is very (too?) generous. I imagine the vast majority of users will feel no pressure to upgrade to the paid plan because of the wide selection of sounds available for free. Better yet, people who previously paid for the app before the introduction of Dark Noise Pro will have every existing feature, like sound mixing and the full current sound catalog, unlocked for them forever. They haven't lost out on anything; the terms of the transaction haven't changed.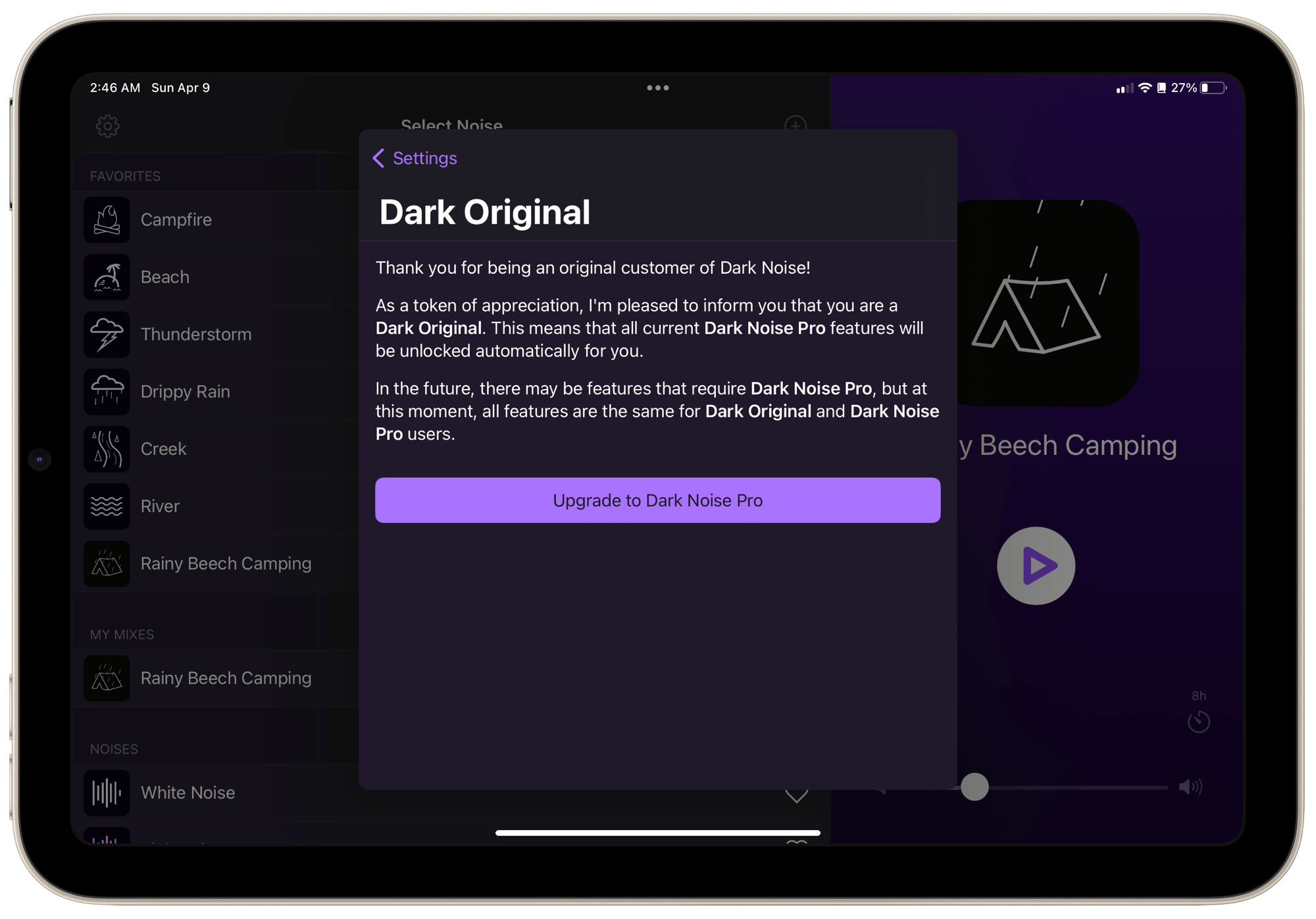 Chapman will undoubtedly develop new features down the road, and will rightfully put that shiny new stuff behind the subscription plan. The additional income, I hope, will allow him to spend more time making his already great app even better. And if those new features seem worthwhile at those prices, I'll happily enter into a new agreement.1 But for now, I'm very appreciative that I can continue to use the app as I always have, without needing to pay any more. It's been a smooth transition that other developers would do well to follow.
---
As an aside, I always prefer annual subscription options for apps over monthly ones. I don't want the mental overhead of reconsidering an app every month. Sure, maybe I'll pay for one month up front to try it out, but if it sticks I'll typically start an annual subscription. It usually saves me a few bucks overall, and it feels more fair to look back after a full year's worth of use and then answer the question, "Would I pay for this app again?"↩︎
---
❮ Previous post
7 Things This Week [#89]
April 9, 2023
Next post ❯
Apple's Newsroom Blog Debuts New 'Quick Read' Post
April 11, 2023