⌘ June 1, 2023
Why I Happily Spent $70 on an App I Almost Ignored
I gotta hand it to Gentler Streak, the health app that encourages more sustainable exercise. Its pricing tactics got $70 out of me when I was considering dropping the app altogether. I'd heard good things about it and was giving the free version a try, but didn't feel like ponying up another subscription fee1 for the full version. I checked in tonight thinking I would just delete it and move on since I wasn't getting all that much out of the app without their premium features. But with a massive limited-time discount off a lifetime unlock, I sprung for it.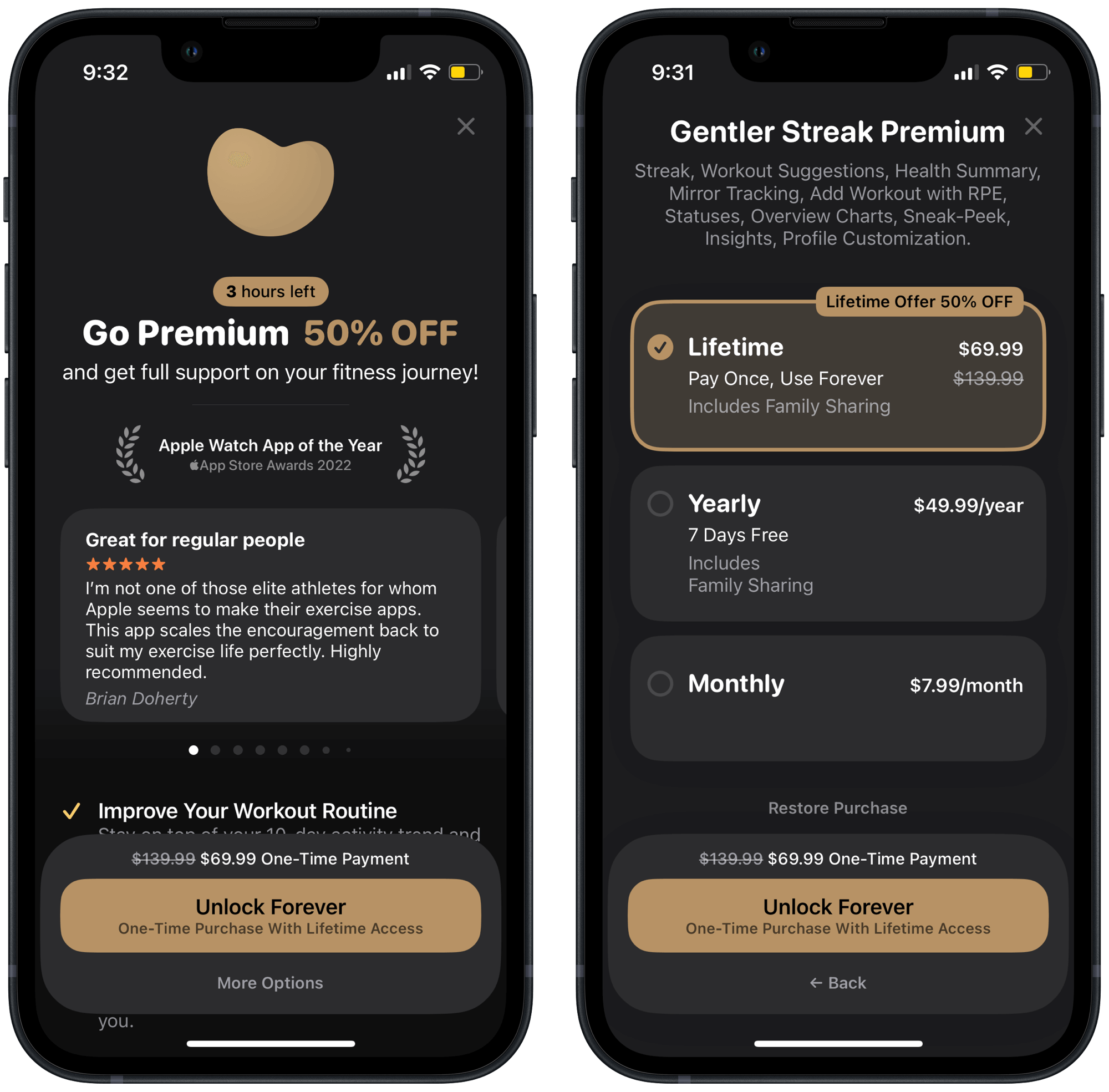 Two things pushed me over the edge — developers, pay attention because, apparently, this strategy works: First, the unlock included Family Sharing, so I felt like I was buying for "us" rather than for "me". Second, the lifetime was close enough to the annual2 subscription price that it felt like a "no brainer". For "just" $20 more, I could use the app forever and never have to think about another fee.
I absolutely recognize that $70 is a bunch of money to spend somewhat spontaneously on an app, especially since I wasn't already enamored by it. But I have a feeling that I'm going to like using Gentler Streak, and I feel good about compensating developers fairly for their software. My typical threshold when I start second-guessing a subscription is when it passes $10 per year. Why there? Probably because that's what Marco Arment charges for Overcast Premium, which is one of my most-used apps. Honestly, it feels like a bargain at that price, so it's probably unfair that I hold other apps to that standard.
With that admittedly convoluted-yet-still-compelling logic, I feel like I just paid for seven years of Gentler Streak usage upfront (at a substantial discount off their typically yearly fee!) and then I still get to keep using it. Even if the app goes defunct or they renege on the "lifetime" unlock after that time, I'll still feel good about the deal.
One last note. I wish I could have done the week-long free trial to make sure I actually do want and use the premium feature set. But with the limited-time deal, I didn't want to get stuck with a more expensive price by waiting. My gut says that there would have been another substantial deal offered down the road if I had prolonged the purchase, but who knows?
In the end, the Gentler Streak developers earned $703 when they very nearly earned $0. And, as I'm fully aware, they largely earned it with good old-fashioned sales tactics. Their good reputation paved the way, but it was the pricing strategy that sealed the deal. Something to consider.
---
I should note here that I don't bemoan subscription pricing for worthwhile apps. I typically prefer them for all the same reasons that developers like offering them: they get reliable, ongoing income and can continue to develop and support their app that I like to use. I want the app to get updates and to still be available for me to use 5 or 10 years down the road. I'm usually a bit dubious of lifetime unlocks for that reason — what will happen when that initial payment money runs out?↩︎

I prefer annual subscriptions to monthly ones because it typically ensures some savings and I don't feel as nickeled-and-dimed.↩︎

Minus Apple's cut, of course. And since it's not a subscription, they won't be able to take advantage of the drop from 30% to 15% commission on the second and subsequent years' transactions. Hopefully, they're already part of the Small Business Program!↩︎
---
❮ Previous post
Letters with Jose: May 31, 2023
May 31, 2023
Next post ❯
7 Things (Which Are My Last-Minute WWDC23 Predictions) This Week [#97]
June 4, 2023