⌘ July 11, 2023
Letters with Jason, July 2023 [#1]
For the Letters project this month, I'll be corresponding with Jason Becker, the instigator of this whole series of projects around the web. You'll be able to follow along with our conversation both here and on his site at json.blog.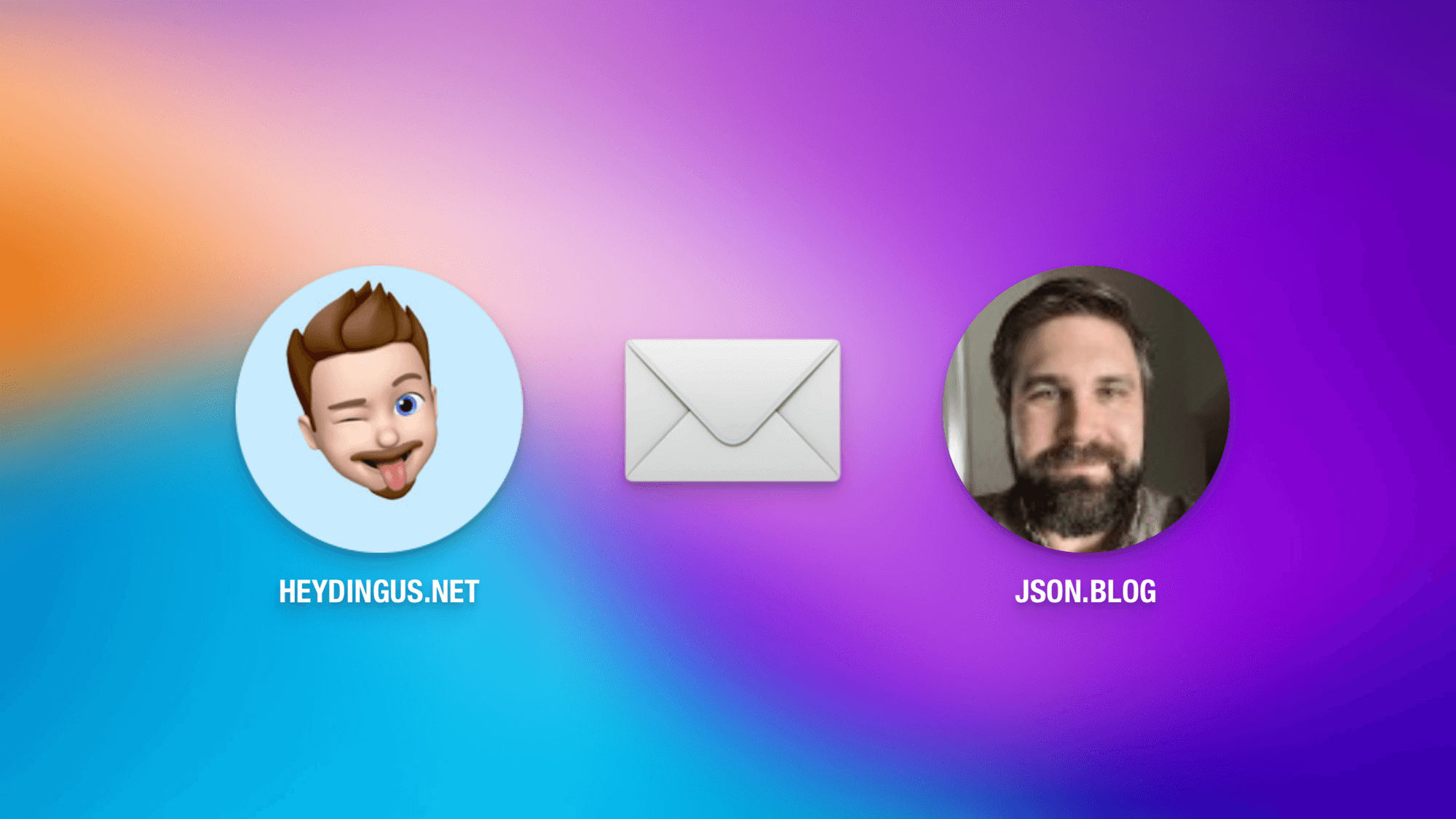 (Image inspiration: Jose Munoz) ⌘
Jason's First Letter
Hi Jarrod,

It's a bit strange to be starting one of these. For those that don't know me who are reading along, and as a reminder to Jarrod, I started writing Letters on my own blog this year (https://json.blog/letters). I wanted to have a different kind of online social interaction, and I wanted to do it with people I may not really know. I thought it'd be a nice way to build up a dialog, be a part of building an Internet more like the one I wanted, strengthen some para-social relationships, and make sure the "long form" content on my blog kept flowing.

Jarrod reached out early, but not early enough for me to have booked up my year. But I'm glad that he decided to do his own project on his blog. I agreed to be a part of that project, so here I am, following my own rules, and writing the first letter for the month of [July] to Jarrod.

By way of further introduction, I'm the Chief Product Officer at an education-finance technology company, leading engineering, design, and product management. I love what I do, because I get to bridge problem solving and consultative work in my area of expertise (education policy), my skills as a data practitioner, my danger as a software developer, my taste (which exceeds my talent), and my never-strong-enough management skills to solve real problems for K12 schools. It's wild to be a part of a startup for the last nine years from pre-product, pre-revenue, pre-Series A to now being a "real" company with over 50 employees.

I moved to Baltimore, MD about 7 years ago where I live with my fiancée (which I still have to look up how many "e"s each time), her mother, and our two aging dogs. Prior to that, we lived in Providence, RI for 10 years, and I grew up on Long Island, NY.

These days, besides work, I'm focused quite a bit on volleyball. I played (poorly) in high school, and I play now (slightly less poorly) in adult recreational leagues. This was one of my "I'm vaccinated, let's go!" activities I reintroduced into my life after 17 years away from the sport. It's been a ton of fun (and exhausting) and at this point it feels essential to my mental health. I also read quite a bit of fiction (or at least I think), typically hitting between 30-40 books a year. I love to travel, and travel quite a bit for work. Recently, I spent a week split between Portland, OR and Seattle, WA and had a great time getting out of my own routine for a bit and wandering. My style of travel is what I call "urban hiking"— I choose a spot for each of my meals in different parts of a city and wander between them all day long and see what I stumble into. I love getting a feel for somewhere different, and I love to walk.

I've been lightly following Hey Dingus, largely impressed with your consistency and keeping an eye on the "Projects" page especially, which is the type of thing I'd like to expand on my own site (see /books, /letters, etc). How do you feel like it's going? Is it the outlet you hoped for? What's success for you?

Looking forward to our month.

Jason
My First Note Back
Hey Jason,
Oh boy, I'm going to have to step up my game this month. That letter had me in awe of your skill as a writer. It flowed, man.
Thank you for that fun introduction. Given the room to stretch out their descriptions, I've found that everyone I've corresponded with so far has highlighted such interesting parts of their lives. You are no exception.
For a brief introduction of my own, I'll say that I like to exist at two ends of the spectrum of "extremely online" and "completely disconnected". Often flip-flopping between them with little warning.
Perhaps a little more explanation is necessary. My day job is as a mountain guide and gear shop specialist, I've spent most of my summers as a camp counselor, and I spend much of my free time outside. I've spent months (years?) of my life in a tent, gleefully leaving the internet-connected world behind during those times. But I've also been a certifiable nerd and Apple enthusiast for as long as I can remember. In fact, in the time between being a full-time camp director and my current job, I spent a few months working as a Technical Specialist in an Apple Store. Technology engages the part of my lizard brain that loves shiny things in a big way. So anytime that I'm not working and I'm not playing in the woods, I'm probably devouring the latest tech news, spelunking the web, or — as of the last few years — sharing that passion through writing my blog.
Lately, I've been considering more about how I can build a better bridge between those two interests. Sure, I get into all the topographical navigation apps, track my rock climbing fitness and routes, try the latest camping gadgets, and am generally known as the "tech guy" in my outdoor circles. But I can feel that there's more to share. I'd like to write more about my experience in the outdoors — to share how and why they make me feel so alive — but it's proven difficult to break into that genre.
Honestly, that's one of the reasons I was so eager to follow in your footsteps for this project. I saw it as a way to try out a different kind of writing.
But enough about me, you offered so many jumping-off points about yourself that I want to explore!
What does it mean to work at an "education-finance technology company"? Do you create finance software for K-12 schools? I was corresponding with Chris Verbree last month about how special it is to be part of something — a company, organization, community — from the very beginning. We agreed that having the opportunity to influence the movers and shakers (and sometimes being one yourself) is compelling. What have been your takeaways seeing that company, and your role within it, grow from its infancy?
Your "urban hiking" approach to traveling sounds like the perfect way to explore a new city. I get intimidated by big cities and tend to stick close to my hotel or AirBnB. Case in point, I recently visited your old neck-of-the-woods, Long Island, for the first time but didn't get out to see hardly any of it. We used DoorDash for a couple of meals and wandered only once. But with a plan and destinations in mind, I could see enjoying the exploration much more.
Your excitement for volleyball is palpable, and I'm so happy you've found your way back to it. I strongly believe that having a hobby to stretch your body is as good for you as having one to stretch your mind. Like you, all kinds of foot-powered travel appeal to me. I went for a 10-mile run just this morning that I only intended to be a 5-miler. I just felt so good to be out and moving that I couldn't stop. A mental health tonic, indeed!
Thank you for your readership of HeyDingus. "Consistency" is my theme for the year, so I'm quite tickled to hear that it has been noticed. After several years of stasis, my appetite for new side projects there has grown considerably. I'm not holding myself to them all going on forever, but they sure are fun to toy around with. My /lists page has been a creative outlet in particular.
Oh, and I'd love to hear more about your pets and what you love about them. I saw your post at the end of June that Gracie's health hasn't been the best. Allow me to offer my condolences. It's so hard to see a family member in decline. My wife and I have a cat, a dog, and a turtle that we call (and treat like) our "fur babies". They bring us such joy and it's hard to imagine our family without them.
Finally, I'd like to offer my gratitude for kicking off this Letters project movement (can we call it that?). You nailed the allure of it when you said it was to build up an Internet like the one you want to see. Thanks for putting it out into the world.
Talk to you again soon,
Jarrod
---
If you'd like to be part of this Letters project, please reach out! I might still have spots open.
---
❮ Previous post
Kyle Bradshaw: 'Threads readies handy explainer of Mastodon and the fediverse'
July 10, 2023
Next post ❯
9to5Mac: 'Porsche unveils revamped CarPlay experience with climate controls and more'
July 11, 2023