⌘ September 13, 2023
Brief Thoughts After Apple's Wonderlust Event
I didn't get to watch the event live today, and I haven't checked out any other coverage. So here's what's rattling around my head after just having finished the keynote. (I think most of my before thoughts hold up.)
---
The "Apple products saved my life" video to start the event was, as ever, quite moving. Very keen of them to do the theme around birthdays that might not've been. Tim Cook once said that Apple's greatest contribution to the world will be their impact on the health field. I can see that they're taking that very seriously.
I showed my wife the (somewhat corny) carbon neutral scene because I thought they were throwing around some pretty astounding figures. She's not into tech, and not into Apple fandom. Her response? An enthusiastic "That's pretty cool! And quite the commitment to climate." Kudos, Apple. Kudos.
I didn't expect much new with the Apple Watch Ultra, and there's not much to it. But we got a new model number, the Ultra 2, which was a moniker I wasn't anticipating. That brighter (and dimmer) display, plus the Double Tap gesture will be things I look forward to in a future model, but certainly won't be upgrading this year.
Did anyone else notice the theme of the original iPhone ringtone, Marimba, when they were talking about calls?
I love that they didn't beat around the bush about leather being a less environmentally friendly material, especially at Apple's scale. (I'm down with the FineWoven textile. And while I'd been thinking about phone cases and watch bands, I hadn't even considered all the other leather products Apple makes. Good to see that they've gone whole hog with replacing the AirTag cases, MagSafe Wallet, and more.)
The iPhone 15 looks really nice with that color-infused glass. And it looks to be a really great value. I caught myself thinking that it was the Pro phone introduction at one point.
Speaking of the Pro phones…
The titanium finish looks even better than I imagined. I love that they went with the brushed finish, as opposed to the smooth finish of the Apple Watch Ultra. (I'm not sure I see the difference between

"

white titanium" and

"

natural titanium" though.)
We all thought it would be a periscope lens shooting down vertically into the device to enable a longer zoom. I bet a lot of folks at Apple smirked as they innovated with the folded tetraprism glass.
I hate having to make the choice to take a Portrait photo, and rarely do so in the moment. The fact that the data will be captured so that you can apply the effect afterward is pretty cool.
The Action button looks great. I wasn't sure if it enables both ring/silent switching via a long press plus other actions with a regular press or if you need to choose only one action.
A 3x longer range Ultra Wideband chip is quite the improvement. Curious, though, that they went with calling it a

"

second generation" chip, rather than the

"

U2

"

chip. Maybe a licensing disagreement with the band? But they've always been on very friendly and cooperative terms with

U2

.
It's very cool to extend the satellite messaging service to roadside assistance. I can see a progression where they keep integrating with different emergency types until eventually they can handle all kinds of general satellite messaging. That'd be an insta-upgrade for me.
The

A17

Pro chip (will next year's iPhone 16 get the

A17

non-Pro?) is laying a solid foundation for the next-gen M-series chips headed for Macs. The gaming-focused improvements and boasting about the all-new

GPU

have me wondering if they'll be back in the high-end

GPU

conversation even without a quad-sized M# Extreme chip.
I had zero expectation that this year's iPhone would be able to capture spatial videos. But turns out you'll be able to record those (reportedly emotionally moving) 3D-ish videos to watch on a Vision Pro without the cringyness of wearing the headset to do so. Color me hella impressed.
Did you detect the flex on the prices staying the same this year on all the models? Sure, the Pro Max starts at $100 higher, but comes with the higher storage tier, so it's more of an elimination of the lower tier than a price increase. Higher prices were heavily rumored for the Pro phones at least.
I see we're saying goodbye to the mini-sized iPhone. You can't buy the iPhone 13 mini anymore, even though the regular iPhone 13 is still for sale.

🤞

for its reintroduction next year.
That photography room in Apple Park looked incredible. I can see the newest Apple Store design influence there. Or was it the other way around?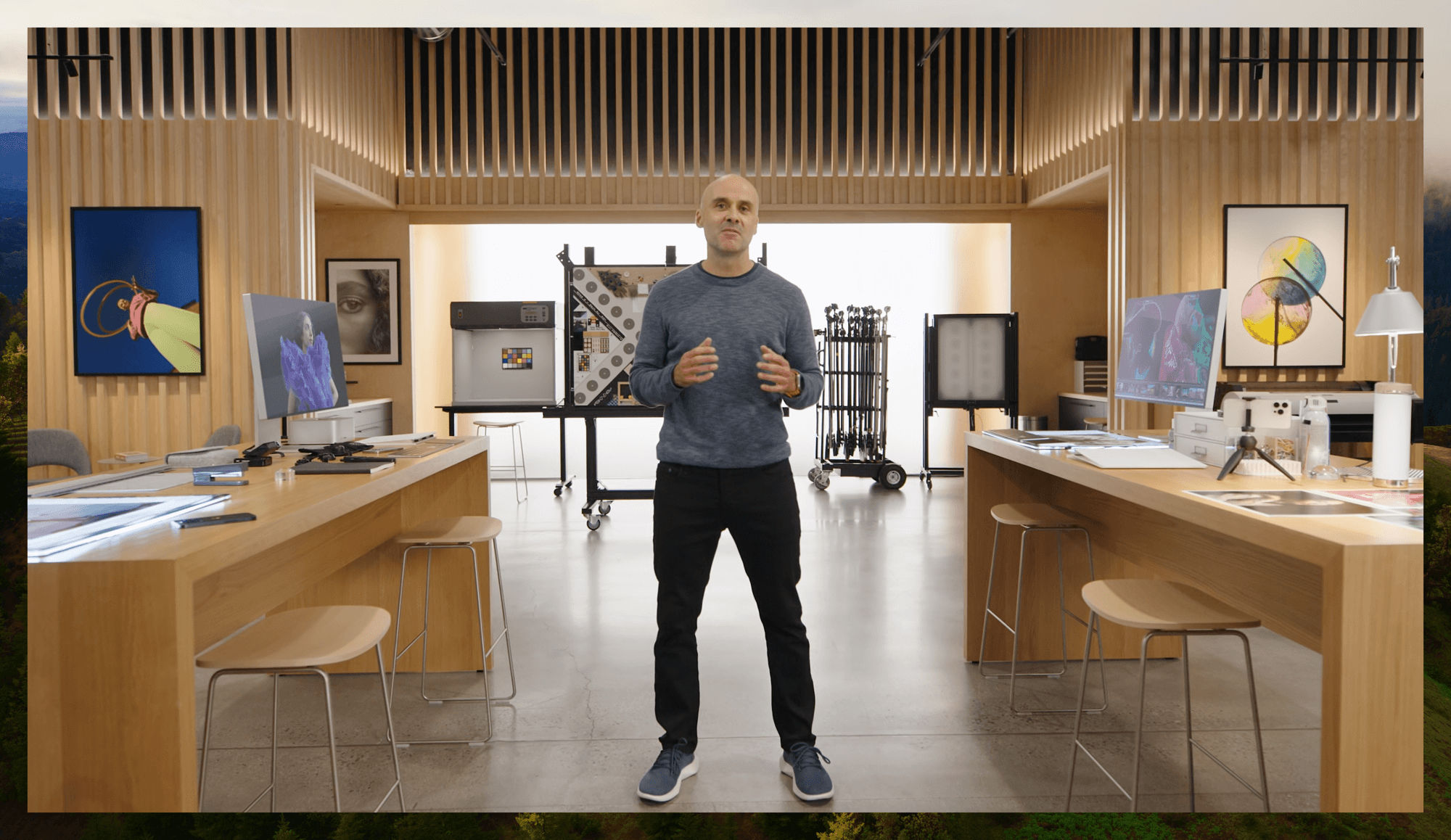 Does this room remind you of somewhere? ⌘
---
My overall impression is that Apple is at the top of its game with reducing and reversing environmental impact, materials sciences, chip design, camera hardware, and so much more. The rate at which they extend their lead leaves little hope for other companies to catch up. And they do it all with such cool confidence and careful consideration.
It was another great presentation. I'm excited to go dive into all the details!
---
❮ Previous post
Gruber: 'Apple's Two-Pronged Annual iPhone Strategy'
September 12, 2023
Next post ❯
Viticci's Very Good™ Lede
September 18, 2023