⌘ October 8, 2021
Now, October 2021
What's New?
As I sit here asking myself, "What's new this month?" I struggle to come up with anything substantial. I've fallen into the comfort of an easy routine in my new job. I feel more confident all the time in my role there. After 18 months of turmoil between the pandemic, leaving my job, being unemployed, and finding my new job, I now feel that life is back on an upward trajectory, and I'm looking forward to the months to come.
The most significant thing of note from the past month was undoubtedly celebrating three years of marriage with my wonderful wife. My wife and I have made a point to take a trip of some kind each year for our anniversary, and I'm so glad that we do. It's always a special time for us to reconnect, talk about the past year, and discuss plans for the future. Since our birthdays are only a couple of days apart, we do something similar each February. They're some of our favorite times of the year.
This year, we took time off work, booked a cabin near Lake Placid, packed up the car with our fur babies and hiking gear, and drove the 9+ hours to Adirondack Park. This was my first time in New York State, and, I have to say, it's way more gorgeous than I expected. Both my wife and I loved it there, and we're reconsidering our next move, which may now be east instead of west. Autumn weather was a little further along near Lake Placid, and you can see some of my favorite snapshots of the week here.
Less substantially, but still exciting, is that it's new iPhone season. As planned, I used the iPhone Upgrade Program to trade in my iPhone 12 Pro and "upgraded" to an iPhone 13 mini. I LOVE it! I broke tradition and went with the bright and bold PRODUCT(RED) color. The lighter weight and more reachable screen have made a big difference in how I use my phone each day. It feels quicker and easier to pull out for fast interactions. While I do miss the telephoto camera lens and gaze longingly at tack-sharp macro photos coming off the new Pro models, I'm very happy with my choice to go with the mini. All those photos I took in the Adirondacks are off the 13 mini's camera if you want some examples.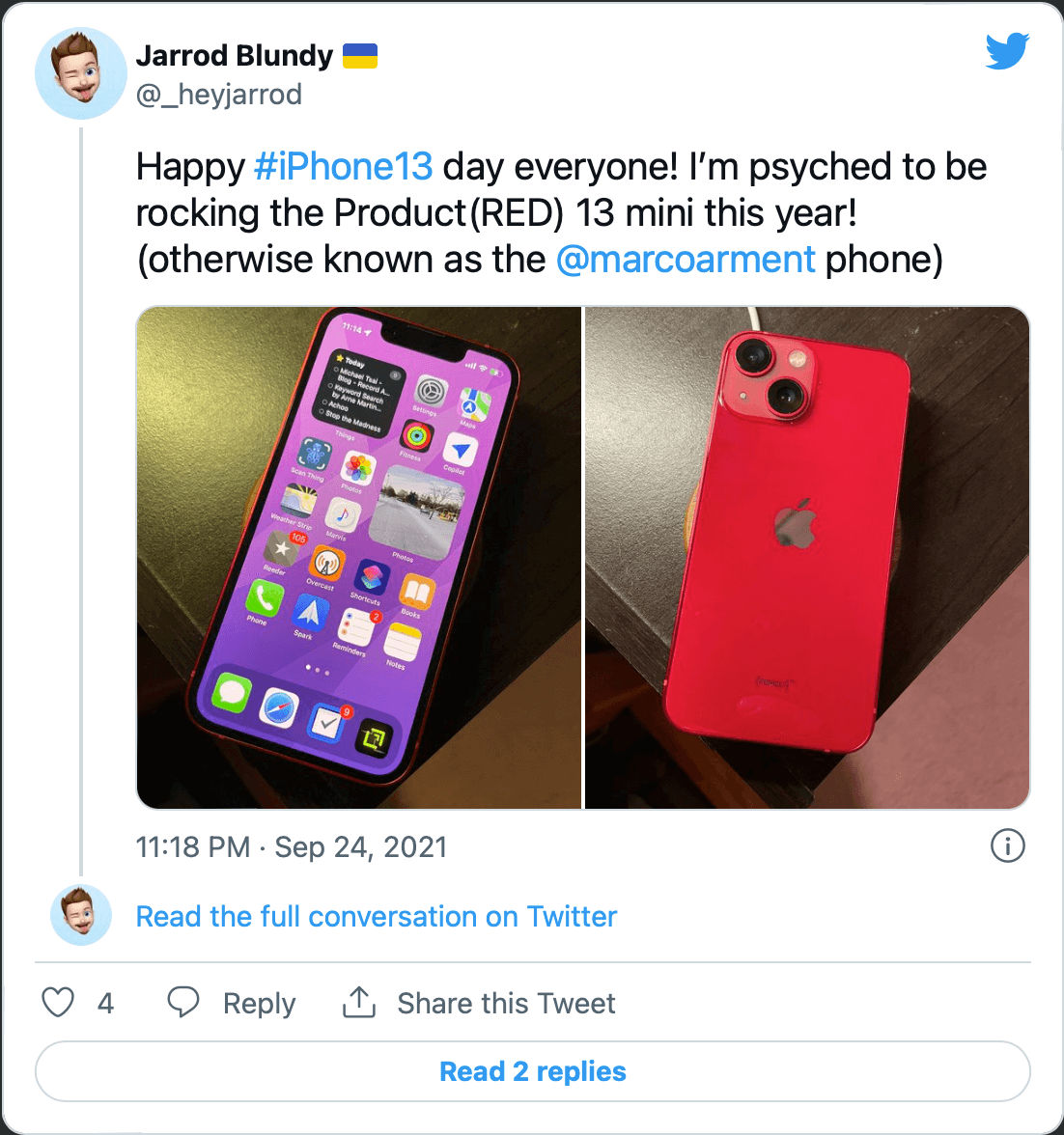 Apps I'm Trying
Marvis — A next-level music player for iOS and iPadOS. It's so fluid, fast, and fun. I love that I can customize the Home screen to just the content I want to see when I hope the app, and the gestures make getting around the app effortless. A big improvement over the stock Music app, if you ask me.
Halide — Remember how I said I've been pining over losing out on the macro camera from the iPhone 13 Pro? Well, the wizards at Halide have built a macro mode into their pro photography app that uses machine learning to make up the lens difference and works on all kinds of iPhones. I've only had it for a day, but I can already tell that I'm going to enjoy using it. Maybe I'll learn more about manual photography while I'm at it.
Matter — Although I'm overall pleased with my current all-in-one Read-It-Later solution of Reeder, I'm always on the lookout for the next cool app on the horizon. I've linked to an upcoming project from Readwise that I'm excited about, but Matter is another app that has just opened to the public that I'm giving a fair shake. My likes: effortless highlighting and text shot sharing, estimated read times, synced read progress, and automatic audio versions of any saved article, which are quite well done. Dislikes: Rendering articles isn't rock solid, which it needs to be for me to trust that I'm getting the full article that I saved with all its images. Matter probably won't pull me away from Reeder yet, but it has informed me what I want to see from an actual next-gen reader app.
PeakVisor — I used this app a bit while in the Adirondacks. Like the stargazing apps that have come before it, PeakVisor lets you point your camera at mountains around you, and it will use what it sees along with location data to overlay labels for all the peaks. Some bonuses: a neat 3D AR view of peaks as if flying above them, and route beta / a tick list to help you bag those peaks.
Safari Extensions
With the release of iOS 15, Safari Extensions have been significantly souped-up. Here are a few that I'm testing (along with 1Password, Grammarly, and a few others for which I already had apps installed).
Vidimote — Get all the video settings you could want for every video on the web. This includes playback speed, picture-in-picture, full-screen, and more. Unfortunately, too many sites block the native controls, and Vidimote brings them back.
Keyword Search — I use Alfred on the Mac to prepend abbreviates to searches to search specific sites on the internet. For example: "hd" searches just this site, "ms" searches MacStories, "sc" searches Six Colors, and "w" searches Wikipedia. Keyword Search brings that power to Mobile Safari. Pro Tip: It even works from Spotlight, which means it works from anywhere on iOS. Just use your customized shortcut and then tap the Safari search result that pops. It just works!
Honey — This app catalogs coupon codes for all kinds of websites. Before, I had to pull up the app extension or search the app itself for codes. With the Safari Extension, Honey's automatic savings are just a tap away.
Stuff I'm Reading
Despite its relatively short length, I am still reading Ikigai: The Japanese Secret to a Long and Happy Life. It's well-written and has made me add Japan to my destination shortlist. I'll have more to say once I finish the book.
On Heavy Rotation
The Lucky Ones (Deluxe) by Pentatonix — Hard to go wrong with Pentatonix, and they're on top of their game in this deluxe version of their latest album.
A Beautiful Life by Heartless Bastards — Raw and beautiful.
Free Love by Sylvan Esso — Airier, but still weird and wonderful.
Things I'm Watching
Ted Lasso — It was probably too big an ask to expect the second season to recreate the magic of its nearly perfect first season. I still love this show and commend its creators for taking it in a different direction than I think we all expected. I can feel that they have multiple story arcs to tell, and look forward to seeing how it all gets wrapped up in the end. The season finale lands today!
The Other Two — At the recommendation of Alex and Merlin on Do By Friday, I tried out this show. It's about a teenage boy who becomes an overnight singing sensation…except it's not. It's actually about his two older siblings who are struggling their way through life. It's got the dry humor that I just love, and I can't wait to get through the first season so that I can get caught up on what Alex and Merlin have to say about it.
Brooklyn Nine-Nine — The final season just dropped, but my wife and I needed a refresher of where the story left off. So we went back to season 7 and are going from there. This show fills our slot for "a happy show in which we like all the characters" nicely.
Raya and the Last Dragon — A beautifully crafted movie featuring a beautiful message of trust. Disney did well with Raya.
Cruella — Also a Disney movie, but taken in a completely different direction than Raya. It's been many years since I've seen 101 Dalmatians, but watching this live-action origin story for Cruella de Vil made me want to revisit it and see how much they tied together. It was entertaining from beginning to end, with Emma Stone killing it in portraying Cruella.
Hobbies I'm Hobbying
As I mentioned at the top, I've become more comfortable in my routine as of late. That's good, but it also means that I haven't been branching out to try new things as much as I'd like. That's why I'm excited to launch a new project here on this site that I think will help me reach two objectives at once: try new things, and blog more. My working title for the project is "Challenge!" and it's loosely based on what the hosts do on the Do By Friday podcast. Each week, I'll assign myself a new challenge to try out, and then I'll write about the experience. I've got ideas for the first challenges, but if you have any suggestions, I'd love to hear them! Look for the first installment to launch here soon.
---
❮ Previous post
7 Things (Which Are Pics From My ADK Trip) This Week [#29]
October 3, 2021
Next post ❯
7 Things (Which Are Some of My Favorite Silly Jokes) This Week [#30]
October 10, 2021