⌘ August 29, 2021
7 Things This Week [#24]
A weekly list of things I found interesting, posted on Sundays. Sometimes themed, often not.
---
(1) Yours truly on turning off head tracking for audio sources — Twitter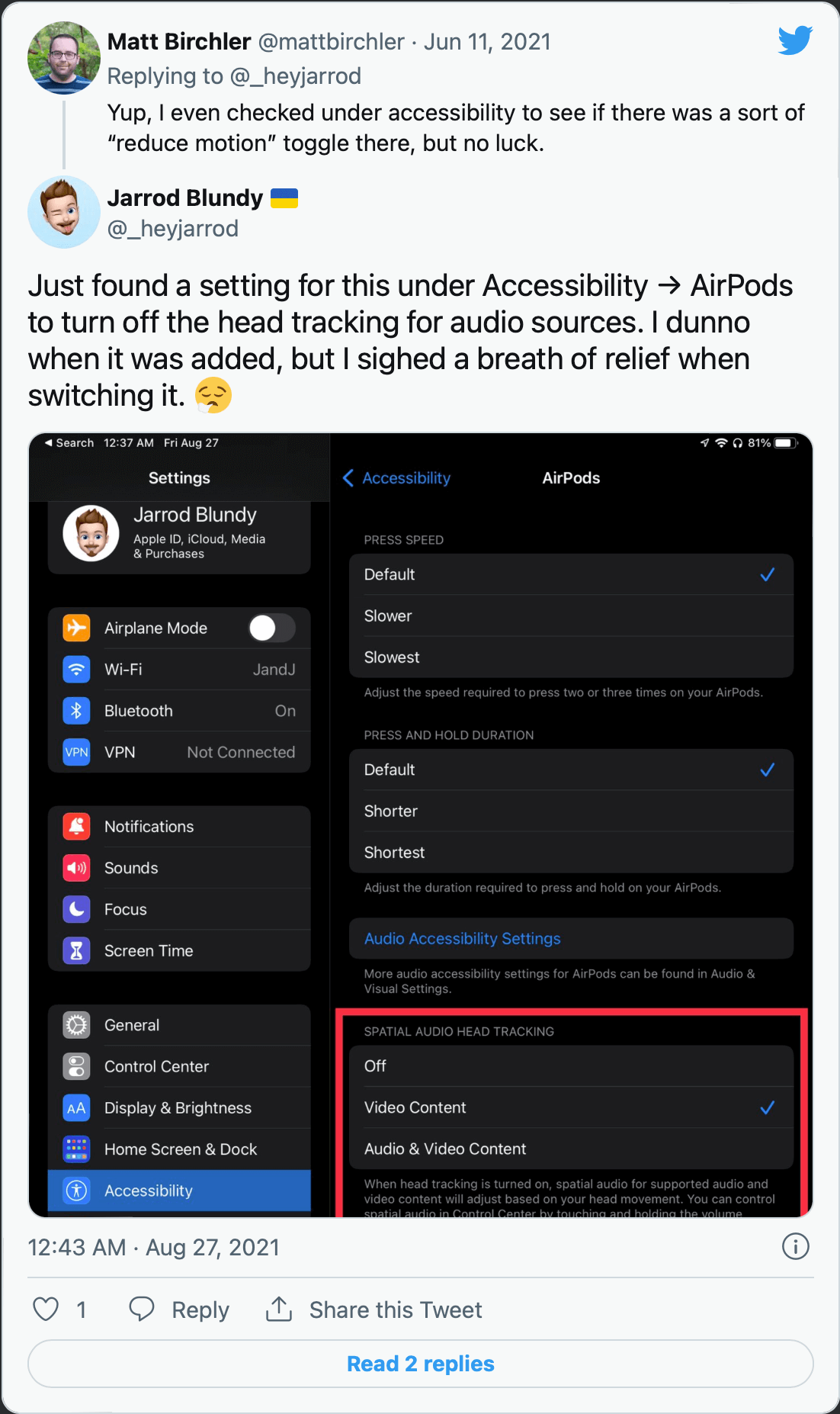 Seems like this toggle should exist within the normal AirPods or Music settings, but I'm glad it exists nonetheless!
(2) Apple Makes Season One of TV+ Mystery Drama 'Home Before Dark' Free to Watch — MacRumors
"Home Before Dark" is a drama series about Hilde Lysiak, a child journalist who published a newspaper called the Orange Street News in her hometown of Selinsgrove, Pennsylvania.

The series follows the young girl as she moves from Brooklyn to the small lakeside town her father is from, where she unearths a cold case that everyone else in the town had attempted to bury.
I really enjoyed both seasons of this show. Though it would appear to be a kids show, it punches way above it's weight class. It's good TV. Full stop.
(3) MKBHD Studio Tour — YouTube
Welcome to the studio channel!
The MKBHD YouTube Channel moved into their new studio last year, and by watching their videos you could get a sense for the huge upgrade in space that it was. But this tour revealed just how massive the studio is. Tons of room to expand for years to come, from what I can see. And plenty of computing horsepower to go around with nearly everyone rocking a Mac Pro and Pro Display XDR. You love to see it.
(4) Jacob Collier & Tori Kelly - Running Outta Love (For The Late Show With Stephen Colbert) — YouTube
Back in 2020, Tori Kelly and I performed our song 'Running Outta Love', from Djesse Vol. 3, for Stephen Colbert's show!

Video Directed and Edited by Jacob Collier.
Two of my favorite artists come together or a kick-ass song and video. Tori Kelly's voice is exquisite, and Jacob Collier's music and video styles are unlike anyone else's.
(5) You Signed Up For This — Maisie Peters
"I'm my own album's biggest fan, and I have been for ages," Maisie Peters tells Apple Music of her debut You Signed Up for This. "I've been writing music for a while now, and there are so many different avenues I could have gone down and so many different albums I could have made. I feel so surely that this is the right one." Peters doesn't exactly need to be her record's main cheerleader. Those already in her corner include Taylor Swift—whose influence shines across all of Peters' output—and Ed Sheeran, who signed the Brighton-born singer-songwriter to his Gingerbread Man record company in 2021 and who joined her in writing three of the songs here. "We just worked really well together," says Peters. "This can feel like a very lonely [job], so it's great having a teammate and having someone rooting for you."
I've raved about her for months, and I'm thrilled for Maisie Peters' debut album to be out. Although their music is quite different, I got some real Taylor Swift folklore and evermore vibes from the songwriting. It's hard to pick a favorite this early, but if I had to, I'd go for "I'm Trying (Not Friends)". I'd keep an eye on Maisie Peters if I were you.
(6) Kuo: iPhone 13 to support LEO satellite communication, allowing users to make phone calls and send texts without cell signal — 9to5Mac
Ming-Chi Kuo today released an intriguing note for Apple investors, indicating that he expects the upcoming iPhone 13 will support low-earth-orbit (LEO) satellite communication features. This would allow an iPhone 13 user to send messages and make phone calls, even when they are not within standard 45/5G cell tower coverage.
This rumor came way out of left field. But it would be pretty awesome to worry less about cell coverage for basic calls and texts in more (and more remote) places.
(7) Newsletters; or, an enormous rant about writing on the web that doesn't really go anywhere and that's okay with me — Robin Rendle
But if websites are so great then why did everyone (including me) move to newsletters? Why did blogs die off? Well, there are ten million answers to those questions, but only three I want to focus on.
An engaging, insightful, and creative post by Robin Rendle about how and why newsletters have exploded around the web. Spoilers: Predictably, it comes down to simplicity and getting paid. Newsletters and web blogs are pretty interchangeable for me, but that's because I've found ways to funnels all of them into my RSS reader. I'd always prefer for content to live out on the open web rather than locked behind a emailed newsletter. That's one reason I'm so thrilled for the MacStories team who built their own custom tool so that they could deliver their weekly newsletter in a way that's more true to open web standards (among a plethora of additional amazing features) for Club MacStories members.
---
Thanks for reading! If you found these things interesting too, or have something exciting to share, please drop me a line on Twitter!
---
❮ Previous post
7 Things This Week [#23]
August 22, 2021
Next post ❯
7 Things (Which Are My Most Recently Liked YouTube Videos) This Week [#25]
September 5, 2021