⌘ December 9, 2022
My Wife Made Her First Automation
They say that opposites attract. While I don't think that's always true, I will say that my wife is a self-confessed non-techie. So I was both surprised and delighted when she took me up on an offer to learn how to build an automation in Shortcuts.
You see, she had asked if there was a way that we could get the heat turned up earlier in the morning now that she's starting new shifts at work that require her to get up around 5:30am. Our Ecobee thermostat is programmed to cool off to 62°F while we sleep or are out of the house and rise to a nice 69°F starting at 7:00am.
The frugal part of me was reluctant to have the house heat so early, seeing as her early shifts are sporadic, and it seemed wasteful to have it heat for an extra hour or two while we're usually in bed.
I thought about how we could easily instruct the thermostat to heat the house extra early only on her 7am-7pm shift days. My mind started whirling through the possibilities: Could I build something that looked through her calendar to identify the early shifts? Maybe she should run a shortcut that writes a value to Data Jar the night before, and then we'd scheduled Shortcuts to check that value to determine the heating time. All complex, convoluted, and hard to explain; not, therefore, a winning pitch for someone who prefers the house to be less "smart".
Luckily, sanity won out in the end, and the perfect solution popped into my mind: a personal automation in Shortcuts that triggers when her phone's alarm goes off. I'm the sort of person that sets a different alarm every morning based on how late I stay up, but my wife is quite consistent on when she gets up for work. And Shortcuts offers an automation trigger based on specific alarms. I explained how it would work — namely that she wouldn't have to do anything differently; she'd continue to use the same alarm that she always does for the early shifts — and offered to help her set it up on her phone. Here's what she made: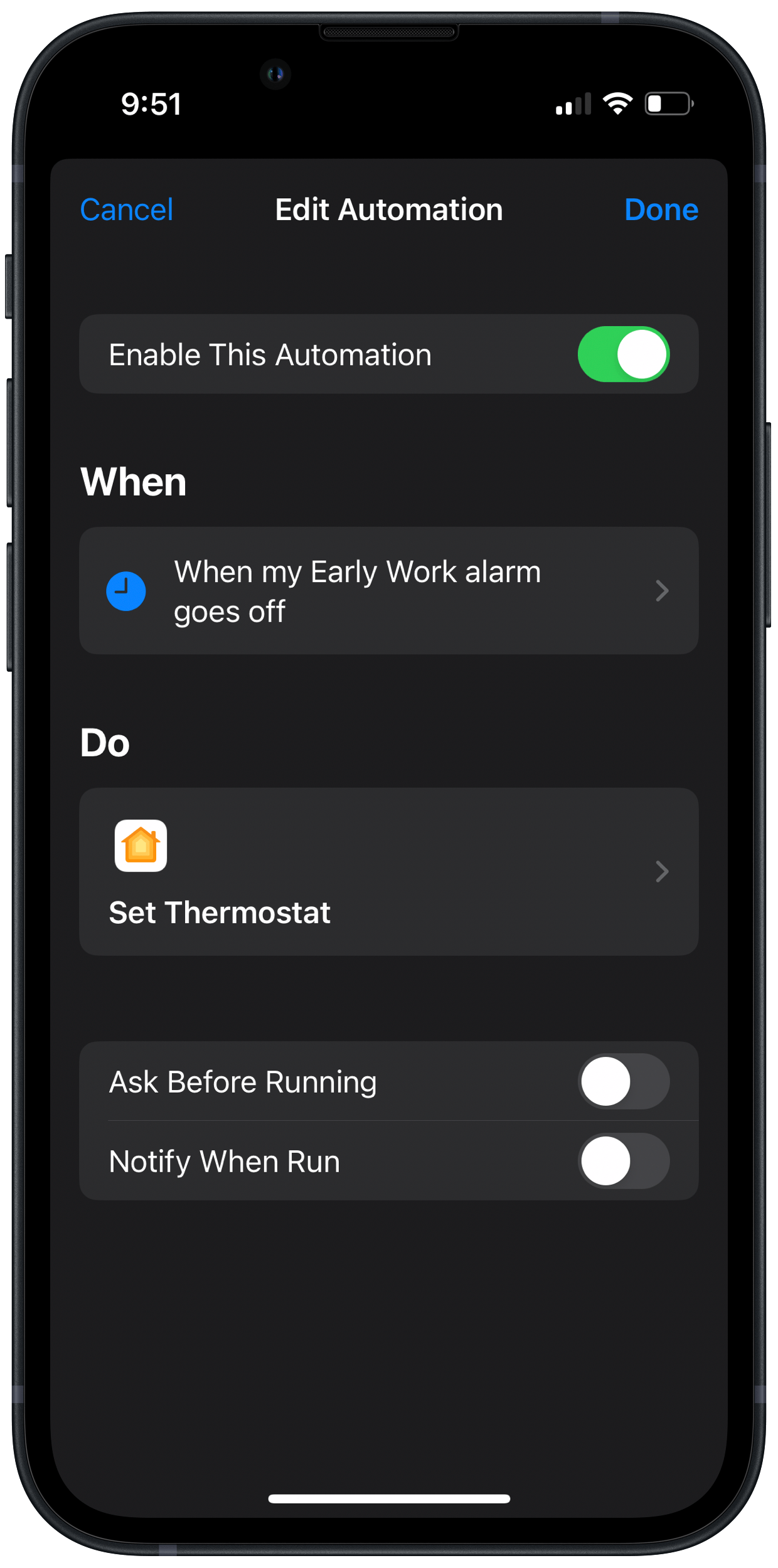 And here are the trigger and action:1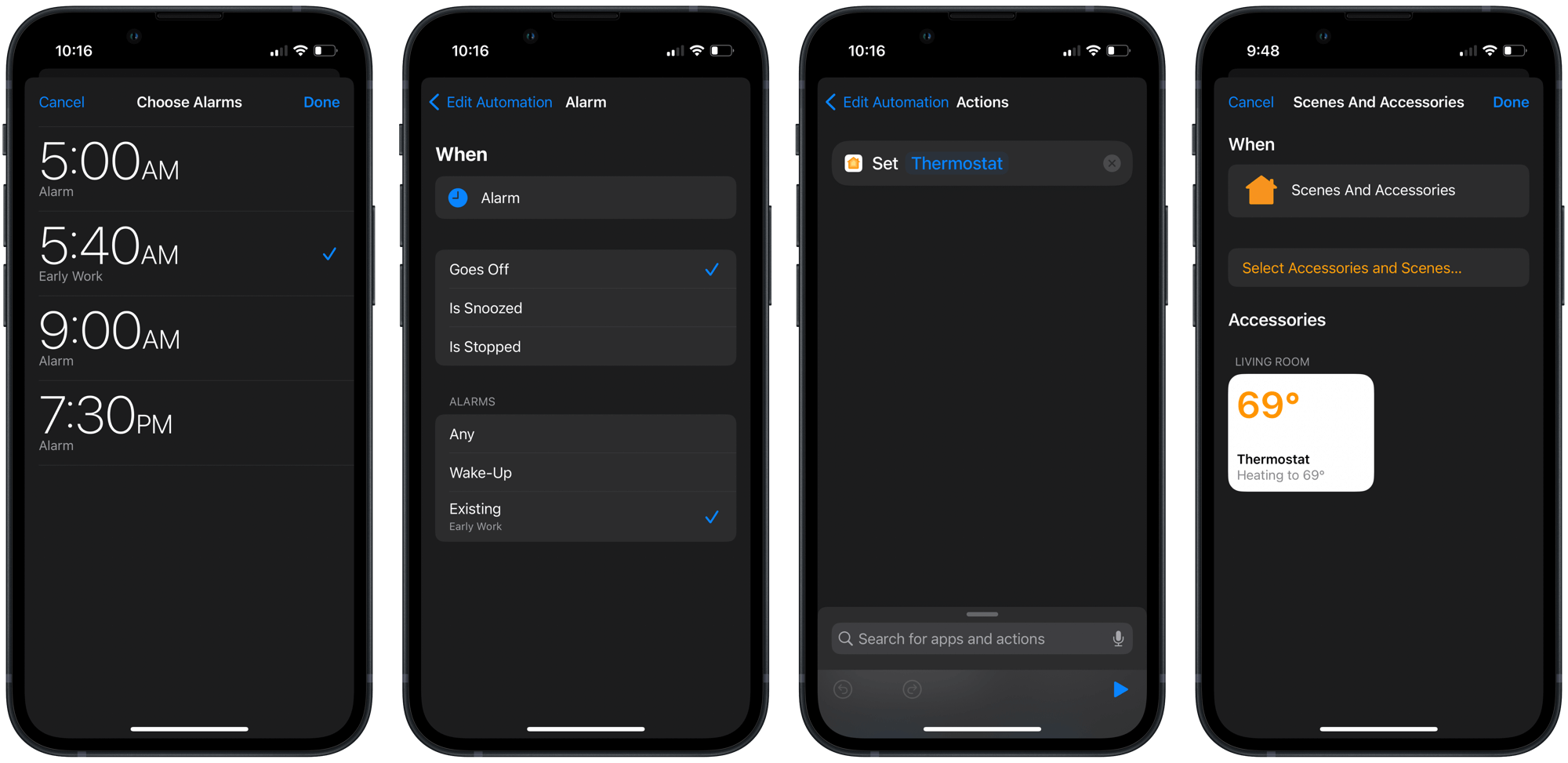 You can select among all your existing alarms for the specific one you want to be the trigger. I recommend naming it first, so you don't lose track! She went with action starting when the alarm goes off — as opposed to when it's stopped — so that the furnace can do its thing even if she hits snooze once (or twice). In the 'Control My Home' action, you select the accessory or scene you want to set and then long-press it to adjust it to the desired setting.
Back on the overview page, we turned off the 'Ask Before Running' and 'Notify When Run' toggles so that there are no extra barriers between the alarm sounding and the furnace starting.
Automations don't get much more straightforward than this. It's just a knowable trigger and a single action. But despite being a cinch, this automated task could bring more value to my wife than any of the countless tech tips I've shared with her over the years. And I can feel vindicated that the smart home is an improvement. It may end up being the gateway drug to more convenience automations… Only time will tell. In any case, for a few days now, my wife hasn't had to endure a cold start to her already early mornings, and I haven't had to worry about it either.
Now that's technology at its best.
---
Or as Apple calls them, 'When' and 'Do'. I applaud them for the approachable terminology.↩︎
---
❮ Previous post
How to Automatically Cross-Post from Instagram to Micro.blog with Make.com
December 9, 2022
Next post ❯
Shortcuts Tips: Save a Decade of 'New York Times' Covers
December 11, 2022