⌘ October 17, 2023
Letters with Robert, October 2023 [#1]
For the Letters project this month, I'm corresponding with Robert Silvernail. You can follow along with our conversation both here on my site, and on his site at ultrasexybeast.net.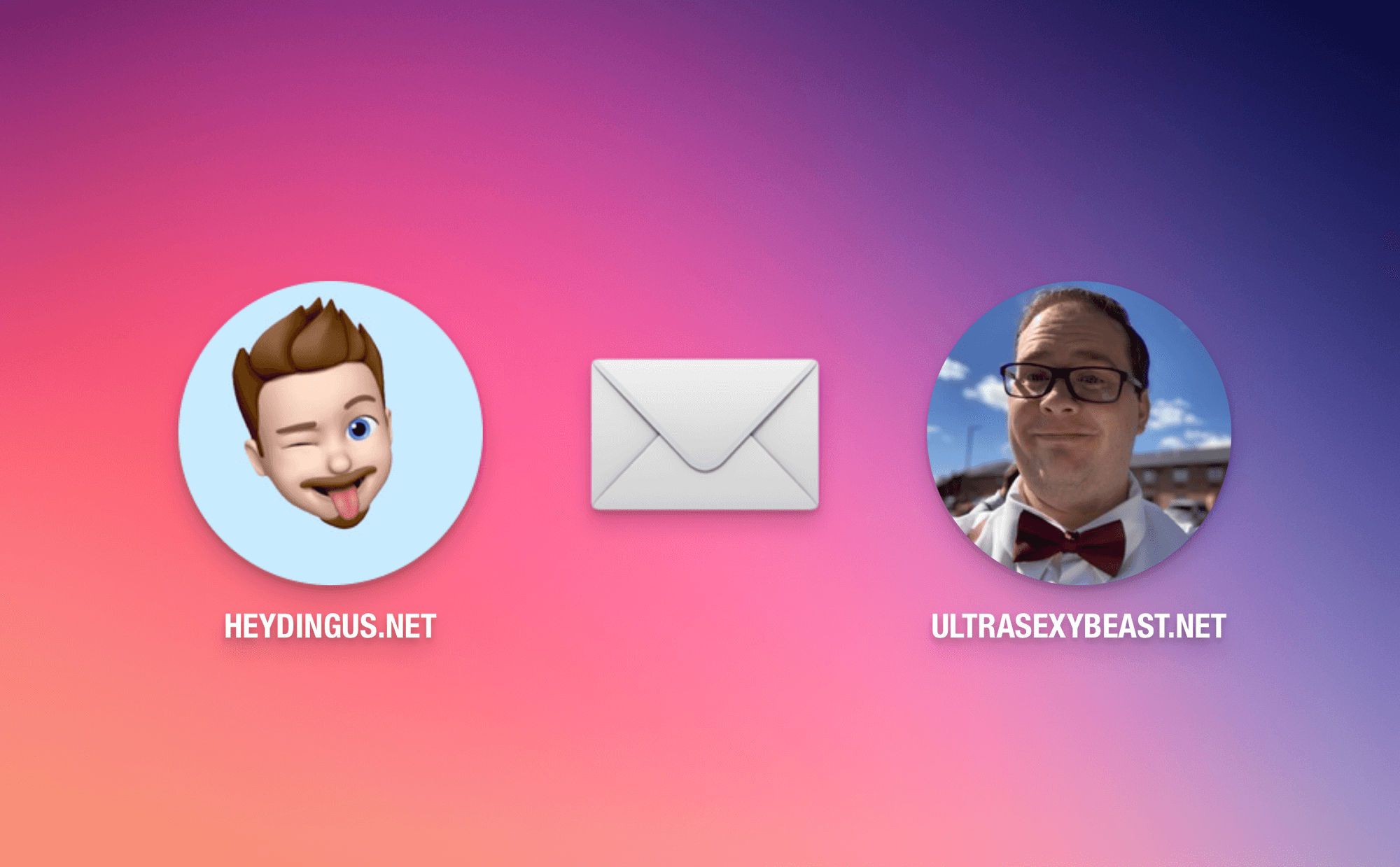 (Image inspiration: Jose Munoz) ⌘
Dear Jarrod,

I have to admit, it feels a little odd to be writing you a letter, much less to be included in this series. But here I am, I've had months of notice and yet I'm typing this at the last minute in my true ADHD procrastinating fashion. I'm sitting here with a Fresca Vodka Spritz, spilling my thoughts into the Notes app while Last Week Tonight with John Oliver prattles on in the background.

To be quite honest, when you invited me to be a part of this project, I was quite surprised, and incredibly flattered! What could I possibly have to say that is interesting to your readers? Well, I still don't know… But we're all on this journey together! I've been an avid reader of HeyDingus since day one. It has truly been a pleasure watching it evolve and transform in to your unique voice on the internet. I've really fallen behind in keeping up with my favorite blogs and podcasts these days, but my daily news/blog reading starts with HeyDingus before I move on to my local newspaper, and then Apple News App headlines.

I suppose I should introduce myself and share a little more about me! My name is Robert, I'm 36 year old and grew up (and also left and have now returned to) a small town in Michigan. Like you, I grew up as a member of the Boy Scouts of America, but my first major hobby and first job was in technology - I worked in the technology department for the school I graduated from. I've had the incredible opportunity to serve the largest Boy Scout council in America- first in Marketing, then a few cities and promotions later- as a Senior Executive. I traveled all over the state and met tons of really awesome people. I even successfully directed the pilot two brand new summer camp programs! Flash forward (and insert a long story here) and I've returned to my hometown and the Education sector as a Technology Coordinator where I lead small team to provide IT Services to a small school district.

But all the boring stuff aside… I've recently found a new way to volunteer in my community - volunteering for the Free Fair Association! I answered a Facebook post in the spring where they were advertising for a volunteer to manage their wireless networks. No weekly or monthly standing meetings? And I can use my skills? And I can expands some of my skills? Sign me up! A few meetings, a few walkthroughs, and a few months later- the fair was in town! Armed with a box full of Mesh Access Points, a DC to AC Inverter in the back of my car, and some Alien Tape (The carnival company hadn't hooked up their power yet), we set out in the pouring rain to install the temporary radios inside of ticket booths all over the midway… It hadn't yet dawned on me that I was now responsible for the scanning of around 20,000 tickets per day… but little did I know this was only the beginning; I come to play a surprisingly critical role in the "World's Largest Free Fair" and it's 300,000 visitors.

More stories to come about my newest adventures in education and carnivals, but at the risk of too much rambling in this letter, I'm going to take this chance to sign off.

Until Next time - Kvetha Fricai!

Robert

(Image credit: Robert Silvernail) ⌘

(Image credit: Robert Silvernail) ⌘
---
Hey Robert,
Writing this letter to you also feels very strange to me. And also very familiar. That's because (as you well know but other readers won't because you carefully avoided revealing it in your letter) you're my best friend! We've spent nearly two decades in each other's lives, the physical one and the digital one. You're the Robert who is frequently mentioned here!
We haven't written asynchronous letters to each other like this for a long time, but, honestly, it's like we're blasting back to the beginning of our friendship. Remember how I would sneakily email back and forth with you on the (gasp) Windows PC in my bedroom because I wasn't supposed to be on the computer that late at night?
Oh man, it's all coming back now. Before we figured out how to IM with Google Talk, do you remember what we did to have a more instantaneous chat? We used LogMeIn so that I could share your screen and we'd take turns typing into a TextEdit window! Well, "take turns" might be stretching the truth. I recall a lot of fighting over control of the mouse and keyboard.
Honestly, anybody enjoying HeyDingus owes you a debt of gratitude. If it wasn't for your generosity in letting me play with (and eventually keeping) your Mac, and your kindling of my technological interest (let's be honest, I had no other computer nerd friends) I don't know that I'd be publishing anything to the web. We'd probably still be emailing — email has been my love language since those sneaky beginnings — but the world wouldn't get to see it. So thank you for reading and encouraging my writing. It means a ton to me that despite having my phone number, you still go to heydingus.net to check in what's on my mind.
And with those formalities and thank yous out of the way, I can actually jump into responding to your letter!
Mine, too, is a procrastinatory letter. I've been meaning to get to it for nearly a week, but couldn't. You see, I still had to respond to my previous Letters project correspondent. And my brain wouldn't let me move on to yours until I first fulfilled that obligation. I think you can understand that brain logic. But that means that it's 1:30am here. I long since finished my Saranac Clouded Dream IPA. My wife is working the night shift, and Ollie and Phin are keeping me company while occasionally shooting me looks that say, "When are we finally going to go to bed, Dad?"
My reluctant writing companions. ⌘
Something that jumped out to me as you kindly introduced yourself and relayed that condensed version of your bio is that you seem to jump between BIG projects and small (in size, though not in stature) ones. From serving the LARGEST Boy Scout council to leading a small team in a small school. Working in a school in Traverse City, which Wikipedia tells me is "the largest city in the 21-county Northern Michigan region," back to serve a very small school near Ionia. Now you've jumped back into a project that serves more visitors than all of the population of Barbados!
Do you feel a conscious pull toward these bigger and smaller projects, or has it just worked out that way? What skills have you learned from small team initiatives that have aided you when taking on huge responsibilities? And vice versa?
I, too, have been thinking about dipping my toes back into some volunteer work. After leaving my professional job with the Boy Scouts in 2021, I haven't given much of my time to any particular organization. Signing up as a Climbing Merit Badge counselor would be of interest. A local friend also recently told me about an organization in town that takes kids on backpacking treks. Apparently, there are a bunch of youngsters that live here, in the heart of the Adirondacks, but never get the opportunity to explore the backcountry. It boggles my mind that it's not included in some part of the school curriculum here, but I would enjoy helping to introduce kids to the great outdoors for the first time. Oh, and I guess there's a local concert band that plays throughout the winter. I might give that a try too.
I'm curious to hear about more escapades from the Free Fair! What was super memorable about the experience, and do you think you'll pick up the same job with them next summer? Other potential topics for next time: What are some of the goals you're working towards? What's piquing your interest now that would have surprised the you of ten years ago?
I'm very much enjoying getting back to our roots here, and eagerly await your next letter. I can't wait to see it up on your new site. 😉
Thanks for doing this with me!
Take care,
Jarrod
---
❮ Previous post
Letters with Jason, Belated [#3]
October 17, 2023
Next post ❯
The Spiciest of New Apple Pencil Hot Takes
October 17, 2023